Anxiety is a serious issue for older adults. Between three and fourteen percent of seniors experience symptoms that meet the criteria for diagnosable disorders like generalized anxiety disorder, panic disorder, and obsessive-compulsive disorder.
Even though they don't have a diagnosable disorder, another 27 percent also experience symptoms of anxiety on a regular basis that have a significant impact on their day-to-day functioning.
If you have a parent or loved who may be struggling with anxiety, keep these four tips in mind to help them manage symptoms in a healthy way.
1. Recognize the Signs
The first step to helping a loved one manage anxiety is being able to identify their symptoms. Common signs of anxiety disorders include:
• Excessive fear or worry
• Refusing to do activities they used to enjoy
• Being obsessed with a routine
• Avoiding social interactions
• Sleep troubles
• Muscle aches and tension
• Shakiness or weakness
• Self-medicating with alcohol or drugs
2. Let Them Know You're There for Them
Many seniors are hesitant to talk about their struggles because they don't want to be a burden. If you think your parent or a loved one is dealing with anxiety, it's important for them to know that you're there for them and aren't judging them.
3. Prevent Falls
As they age, seniors typically struggle with impaired balance, which can cause a lot of anxiety and make them worry about falling and getting hurt.
One way to show the senior in your life that you support them is to take steps to prevent falls and help them feel safe in their homes. Some ways you can do this include:
• Installing grab bars in the bathroom
• Removing loose rugs and other slip hazards
• Rearranging cupboards and cabinets so items are within easy reach
• Investing in a medical alert system
4. Encourage Them to Seek Professional Help
You should also encourage your parent or loved one to work with a professional.
Make an appointment with their doctor and let them know what you've noticed. You may also want to schedule an appointment with a therapist or hire a home care aide to come in and check on them a few times a week.
There are lots of things you can do to help a parent or loved one manage their anxiety in a healthy way. If you're not sure where to begin, start with these four tips.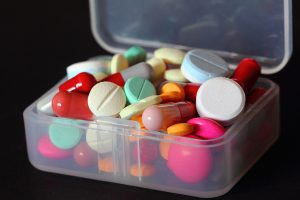 Are you tending to your ever-growing spring cleaning checklist? If you don't have "clean out the medicine cabinet" as one of your ToDos, add it today and don't forget these important reminders:
Dispose of Old Medicine
Unused prescriptions, expired over-the-counter drugs, empty boxes, and bottles . . . it's easy for a medicine cabinet to become cluttered over the year with superfluous items. Take some time this spring to clear it out and safely dispose of the medicine you no longer use.
Check expiration dates and recycle old medicine boxes and bottles (remove prescription labels before you toss them or mark out private information)Follow instructions for disposing of medicine or check with your local pharmacy or law enforcement agency about upcoming drug take-back events
Simplify your daily medicine schedule by sorting pills into color-coded pill organizers with day of the week and time of day compartments
Upgrade Home Health Items
As you get older, is your doctor recommending you check health metrics at home more regularly like blood pressure, temperature, or blood sugar? Having handy, reliable home health tools to gather and record important health data could play a significant role in helping you manage a chronic illness, prevent infection, and be alerted when something seems off. Don't forget to check that these tools are in working order:
An accurate thermometer to check one's temperature regularly
A reliable blood pressure monitor with memory for recording readings
A blood sugar monitor with strips (especially if you are one of the 25% of adults over 65 with diabetes)
A pulse oximeter (if you have frequent respiratory infections or heart disease)
Update Medical ID
Did you know that most smartphones offer you the ability to store important medical ID information in the event of an emergency? Simply find the Health app or Medical ID feature in the settings on your phone and input important information like birth date, known medical conditions, allergies, blood type, and emergency contact numbers.
If first responders are unable to get this information from you at the scene of an accident, they are now trained to check your smartphone. Medical ID information can be accessed from the lock screen of most smartphones without having to enter a passcode.
Don't forget to check the stock on your first aid kit – refilling items like band-aids, wound solution, NSAIDs, cold compresses, antibiotic cream, sterile gauze, and elastic bandages could come in handy during your summer adventures.
Background
This type of cancer occurs mainly in older adults, with an average age at diagnosis of 73 years, with 9 out of 10 cases of bladder cancer diagnosed in persons over age 55. The American Cancer Society (ACS)(2012) reported that over 73,000 cases were diagnosed in 2012 and that this diagnosis rate has been relatively stable over the last 20 years. Men are three times as likely to get cancer of the bladder as women (American Foundation for Urologic Disease, 2008) and the incidence increases with age.
Risk Factors
Risk factors include chronic bladder irritation and cigarette smoking, the latter contributing to over half of cases. Male gender and age are also risk factors.
Warning signs
The classic symptom of bladder cancer is painless hematuria (blood in the urine). Older adults may attribute the bleeding to hemorrhoids or other causes and feel that because there is no pain, it must not be serious.
Diagnosis
Assessment begins with a thorough history and physical. Diagnosis may involve several tests including an intravenous pyelogram (IVP), urinalysis, and cystoscopy (in which the physician visualizes the bladder structures through a flexible fiber-optic scope). This is a highly treatable type of cancer when caught early. In fact, the ACS (2012a ) estimates that there were more than 500,000 survivors of this cancer in 2012.
Treatment
Once diagnosed, treatment depends on the invasiveness of the cancer. Treatments for bladder cancer include surgery, radiation therapy, immunotherapy, and chemotherapy (ACS, 2012). Specifically, a transurethral resection (TUR) may involve burning superficial lesions through a scope. Bladder cancer may be slow to spread, and less invasive treatments may continue for years before the cancer becomes invasive or metastatic, if ever. Certainly chemotherapy, radiation, and immune (biological) therapy are other treatment options, depending on the extent of the cancer.
Immune/biological therapy includes Bacillus Calmette-Guérin (BCG) wash, an immune stimulant that triggers the body to inhibit tumor growth. BCG treatment can also be done after TUR to inhibit cancer cells from re-growing. Treatments are administered by a physician directly into the bladder through a catheter for 2 hours once per week for 6 or more weeks (Mayo Clinic, 2012a). The patient may be asked to lay on his/her stomach, back, and or sides throughout the procedure. The patient should drink plenty of fluids after the procedure and be sure to empty the bladder frequently. In addition, because the BCG contains live bacteria, the patient should be taught that any urine passed in the first six 6 hours after treatment needs to be treated with bleach: One cup of undiluted bleach should be placed into the toilet with the urine and allowed to sit for 15 minutes before flushing (Mayo Clinic, 2012a).
If the cancer begins to invade the bladder muscle, then removal of the bladder (cystectomy) is indicated to prevent the cancer from spreading. Additional diagnostic tests will be performed if this is suspected, including CT scan or MRI. Chemotherapy and/or radiation may be used in combination with surgery. When the cancerous bladder is removed, the person will have a urostomy, a stoma from which urine drains into a collection bag on the outside of the body, much like a colostomy does. Bleeding and infection are two major complications after surgery, regardless of type, whether a TUR or cystectomy is performed. Significant education of the patient related to intake/output, ostomy care, appliances, and the like is also indicated.
Adapted from Mauk, K. L., Hanson, P., & Hain, D. (2014). Review of the management of common illnesses, diseases, or health conditions. In K. L.
Mauk's (Ed.) Gerontological Nursing: Competencies for Care. Sudbury, MA: Jones and Bartlett Publishers. Used with permission.
Save
Save
Save
Reaching the golden age does not always come only with a great life experience but also with reasons to make you feel lonelier than ever. Years have passed by and many of those people you encountered and loved so much may have passed away over time. This is something that remains in your heart forever.
Feeling lonely is not something to be ashamed of but also not something to control your life. Discover below the best ways in which to reduce loneliness for the elderly in your life. They deserve to live happy during this new stage in their existence. Help them rediscover the joy of living!
 Develop a Strategy to Defeat Seclusion
If you have elder people you love, you must engage more in their life. It is unavoidable for them to feel lonely from time to time. This is why they need your love and support more than ever. Make them feel loved and an important part of your life. Offer them reasons to smile and continue every day. Do not forget about them or ever leave them feeling like no one has time for them anymore.
Allow Them to Feel Useful
Feeling like there is nothing left for you to do in life is the worst possible feeling. Older people should be treasured because they have a life experience to share. Learn to listen to them more often, spend more time with them and allow these amazing people to teach you what they know. Engage with them in activities that are suitable for their age and help them keep themselves active. Never leave them alone for too much time and always advise them on how to stay clear of sadness and depression.
 New Bridge for the Generation Gap
The generation gap between young people and older ones is obvious. However, there should always be a bridge built with love, compassion, and respect or understanding to help keep these two generations together. Teach your children to appreciate the elderly. If they have grandparents, guide them towards building close relationships with them. Spending time together and sharing experiences will be a great way in which to reduce loneliness for the elderly in your life. It will also be a great life lesson for your children.
To ensure a better life experience for them at this stage you can also consider professional help in care homes in Maidstone. The main stages of life are the same for all of us. We may go through them differently and face varied challenges, but we all get to the same place sooner or later. Let's treasure the amount of experience and life stories these amazing people have to share. We will learn more from them than from any other experience in our life.
Save
Save
Save
Save
Save
Save
When seniors develop diseases affecting cognition, like the various kinds of dementia, caregivers typically make an effort to make their living environment as safe and comfortable as possible.  Sometimes caregivers make lots of changes to a senior's living space, with the best intentions of helping them.  However, this can have a two-sided effect, because seniors with mentally deteriorating illnesses can find change to be a confusing or frightening thing.  Caregivers might change the entire layout of a house, remove everything that could be a hazard, or add numerous locks to provide security.  Changes like these can actually prove to be disorienting for a senior, in addition to being helpful.  So the question becomes, how much change can seniors with Alzheimer's handle?
It's typical to find instances where seniors have lived in the same home for decades, and have a curious ability to navigate the living space with a sort of muscle memory after memory-harming diseases like Alzheimer's set in.  Routine is very important to the delicate psyche of an elder with dementia, so finding the perfect balance of what to change for their own good can be tricky.  Making abrupt overwhelming makeovers to their home's layout can make them flustered and end up actually making  it more difficult for them to get around, adding to their impaired cognition. So it is best to maintain an environment that is familiar as much as possible.  And make any alterations subtly and slowly over time.
The necessity to make changes will depend of the severity of a senior's individual case.  If the Alzheimer's is in the mid to late stages and a senior is wandering out of the home constantly, then immediate action to prevent hazard is surely appropriate.  Installing door alarms or adding locks can be great helps. If a senior with dementia typically kept a messy household, then the mess may add to their unease or make it easier to trip and fall.  De-cluttering their living space can be advantageous in these cases.
Thus, change will surely be necessary at times.  Though it is advisable to make changes as gradually and calmly as possible, to avoid overwhelming or distressing what was comfortable, normal, and assuring to the mind of a loved one with dementia.  Routine is key for security in these instances.  It may also be helpful to make sure you let them see when you move something, or set their things some place, to help then more easily adapt to the change.