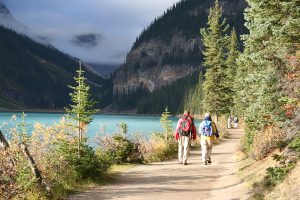 While senior fitness offerings continue to explode in gyms around the country, the age-old tradition of simply 'going for a walk' still touts loads of health benefits, especially for older adults.
Brisk walking a offers low-impact activity that is relatively simple, can be done most anywhere, is fun to do with friends, and is easily modifiable to increase calorie burn. In addition to strengthening your bones and muscles, routine walking can also help prevent lifestyle conditions like diabetes and high blood pressure, as well as improve your balance, coordination, and even your mood.
If you are looking for quick ways to take your daily walk to the next level, don't miss these expert tips:
Speed Up
The best exercise is that which gets your heart rate up to at least 55 to 85% of your MHR (maximum heart rate). The formula for MHR = 220 – your age. So if you are 65, for example, your maximum heart rate is around 155. Speeding up your walk so your heart rate climbs over 109 (70% of 155) for at least 10 minutes is going to count as good aerobic exercise that is helping strengthen your heart muscle.
Climb Hills
Walking up an incline naturally requires the body to work harder and use up more energy. This can help you build endurance over time and tone muscle groups in your legs you weren't previously engaging. If you are concerned about a weak knee, reduce lateral knee movement and prevent discomfort with a knee brace specifically designed for walking.
Change Terrain
Instead of doing your usual walk around the roads in your neighborhood, head to a local trail and take a hike. Hiking up and downhill will burn more calories as well as pose a greater challenge to your balance and coordination skills. Exercising like this in nature has also been shown to boost feelings of attentiveness and positivity.
Add Intervals
Incorporate more intervals of high-intensity activity into your walk and you can both improve your endurance and aerobic capacity as well as give your metabolism a boost. 5 minutes of brisk walking punctuated with 30 seconds of squats, lunges, or crunches, followed by another 5 minutes of walking and then 1 minute of jogging and so on and so forth also spices up your walking routine and makes it a little more fun.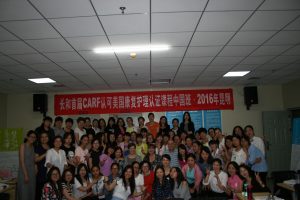 This week we celebrate National Nurse's Week beginning on May 6th and ending on May 12th (Florence Nightingale's birthday). The profession of nursing has come far since its inception. When I went to nursing school in the late 1970's, we were still wearing blue pin-striped uniforms and caps. There were striping and pinning ceremonies to mark milestones in the 4 year journey to the Bachelor of Science in Nursing degree, and it wasn't until the early 1980's when my nursing school started to eliminate those bulky caps that were so difficult to keep on our head. When the mandatory uniforms and nursing caps were no longer the symbol of the nurse, we had to develop other ways for patients and families to recognize us. I hope that we are now recognized for the knowledgeable care and comfort that we provide to others. It has been said that nurses are the backbone of the healthcare system.  I would suggest that we are that and much more:
Nurses are timeless. Florence Nightingale left the comforts of home care for the sick. Nurses are there for the beginnings and ends of countless lives. We hold the hands of the young, the old, and everyone in between. The shifts are long and if a patient needs us, we work overtime to finish the job. We might wear a uniform, scrubs, a lab coat, or a suit, but we transcend fashion to don whatever our patients need for safe, quality care.
Nurses are trusted. Gallup polls consistently show that the public trusts the ethics and honesty of nurses above even that of physicians, making us one of the most trustworthy professions in the eyes of the people.  Nurses adhere to the ANA Code of Ethics that emphasizes supporting patients' autonomy and the concepts of beneficence, justice, fidelity, and veracity. All nurses receive education in ethics, with patient care at the center.
Nurses are inspiring.  How many people can say that their jobs changed a life? As a rehabilitation nurse, one woman who had experienced a stroke told me, "I had stroke and died three times. I was in ICU for weeks, but I didn't feel alive until I came to rehab. Rehabilitation nurses helped me live again!" Yes, transforming lives is what nurses engage in daily. In fact, many of us can name that one nurse that we remember and would choose to have with us if we were sick or dying – that nurse who knows how to inspire and care.
Nurses are experts.  Nurses are expert caregivers, patient advocates, teachers, and researchers. We know the realm of health care better than anyone because we are the licensed professionals who are there 24/7. There are more nurses with advanced practice degrees and certifications than ever before. Nursing has evolved into a discipline with multiple specialties that support best practice in numerous areas that affect health and wellness. Nurses hold positions of leadership in government, the military, organizational systems, health care corporations, and major companies, all attesting to the value of our knowledge and education.
Nurses are still carriers of light. Florence Nightingale was known as "the lady with the lamp". I always found that image inspiring. One of my favorite memories from my early career occurred while I was working the night shift on a geriatric unit. An elderly man couldn't get the music he liked to play on the radio, so he asked for someone to sing some old hymns to him. I did so reluctantly at first, holding his hand and singing all the old songs of the faith that I could remember. The next day, I heard him excitedly telling his family members, "An angel came to my room and held my hand and sang to me last night!"  I was puzzled when later he didn't seem to recognize me as the singing "angel".  The following night, he died unexpectedly. Reflecting on that experience, I believe that higher powers were at work there. Maybe I was just the vessel through which a bit of healing flowed. Since then, I have seen countless similar examples of extraordinary happenings when caring nurses are involved.
Nurses do more than just enact art and science. Sometimes…our work is like a little piece of heaven.
With the birth of my daughter's second child, I began to reflect on the important role that grandparents can play in the lives of their grandchildren. Here are five essential tips for older adults who want to have a lasting influence in the lives of their children and grandchildren.
Visit often.  For those of us fortunate enough to live near our children and grandchildren, it is easy to see them often. Grandparents may even be the caregivers while parents are working. Visits don't always have to be planned. Sometimes the best family time is a spontaneous invitation to dinner and a movie. However, sometimes distance can prevent regular visits. Some grandparents make it a goal to see their distant grandchildren once every 6 weeks or every few months. Be sure to take advantage of technology for your time together. Set a regular time to Skype or do Face-time. Don't miss out on the subtle changes in those early years while babies are growing. Exchanging pictures may help, but they don't replace the in-person experience. You may even think of relocating to be closer to family. For older grandchildren, be sure to have their cellphone number. Text them often and exchange pictures to stay involved in their lives and let them know you are available to them. Even small connections throughout the week (but without being annoying to teenagers of course) can make a difference in your relationship with your grandchildren.
Offer to help in practical ways. Working parents with young children will need a break at times. Ask how you can best help. Offer to keep the children for an overnight while mom and dad have a special dinner or weekend getaway. Many grandparents like to take their grandchildren on trips without the parents. Places like amusement parks, the zoo, or day trips to the water park or national forest all provide good diversion and quality time with Grandma and Grandpa while giving parents a rest. For even more quality time, take the older grandchildren on a cruise, camping in the mountains, or to a resort without their parents. For the mom with a newborn, take meals to the house (if you live close), do her grocery shopping or laundry, or send her a new bathrobe to show you are thinking of her. A favorite role model of mine sends the grandchildren a "baby shower in a box" with all sorts of goodies when she can't be present due to distance or health concerns.
Plan special activities. Special activities need not be expensive. This could mean a trip to the park with Grandma or a special morning walk each week with Grandpa. My father used to take every grandson on a bow-hunting trip when they turned 12 years old. This was a rite of passage for every boy in the family. Grandpa would mount their first deer head for them and buy them a special hunting knife to commemorate the occasion. The girls in the family would take a trip to a Disney resort while the men were hunting. Grandchildren remember these events forever.
Attend special events. How fortunate are the kids whose grandparents are able to attend basketball and volleyball games, swimming tournaments, and Grandparent's Day at school! Take advantage of being able to attend those dance recitals and school plays. If you live far, plan your visits to be able to attend some significant events like graduations, wedding showers, or school performances. This makes lasting memories with your family.
Be a constant in their lives. My parents divorced when I was 9 years old, and my paternal grandparents were the one constant in my life at that time. When a child's world is jolted by change, grandparents can be that steadying influence that doesn't change. They provide stability and security in an unsteady world for a child. The most important thing to remember is to be there. You don't have to be the all-star parent or grandparent, but your children will remember that you were there for them when it counted the most.