Telehealth is changing the way we visit the doctor, and how seniors experience long-term care. COVID-19 has made telehealth a necessity for seniors, both for regular doctor visits, and for those in long-term care. Patients are more likely to suffer from diabetes as they age, and studies have also shown that patients with underlying diabetes complications are at an especially high risk for contracting COVID-19.
By communicating with medical professionals over a video-conferencing tool – like Skype or Zoom – seniors and long-term care staff can avoid unnecessary trips that might expose patients to COVID-19. And although it's still early days, many studies indicate that telehealth is good for both doctors and patients, even for complex issues like wound care.
Why have I heard so much about telehealth and telemedicine lately?
The 2020 CARES Act expanded Medicare coverage of telemedicine, in part to address the concerns of patients who  It's one of the measures taken to prevent unnecessary exposure to COVID-19.
Telehealth and telemedicine — What's the difference?
These terms are often used interchangeably. Telehealth is the umbrella term, and telemedicine refers specifically to treatment provided remotely.
Can telehealth deliver the same level of wound care as an in-person doctor visits?
Multiple studies indicate that patients receive the same level of care using telemedicine. This is especially true of patients who add telehealth applications to their pre-existing doctor-patient relationships.
Do I need special equipment?
Everything you need is right there on your smartphone or desktop. In general, you need access to a secure internet connection and audio-visual communication. And in some cases, audio or text alone will suffice.
Who pays for my telehealth appointment?
Medicare covers telemedicine in the event of an established patient-doctor relationship. The CARES Act also has an amendment that allows Medicare to waive this requirement. Many private insurance plans cover telemedicine as well. And in good news all-around, advanced wound care can significantly lower the overall cost of care.
Is telehealth new?
Telehealth isn't new, just recently expanded. You've probably used it without realizing it, via an online portal that your doctor office. It's also been in use for years in rural areas, where many residents live too far from doctors to receive adequate health care from in-person doctor visits alone.
What are the advantages of telehealth?
Aside from wound care, telehealth can provide easier access to a wide spectrum of health services. Seniors in long-term care shouldn't have to sacrifice their mental health needs in order to avoid exposure to COVID-19, and telehealth is helping more seniors access mental health professionals. Remote monitoring is advantageous to patients who need regular health monitoring, including those recovering from a stroke. Telehealth can also provide handy reminders to take medication.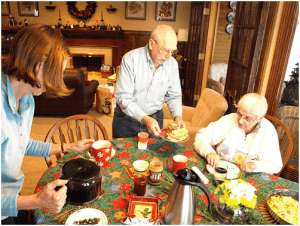 Do mobility issues have your aging parent down in the dumps? Losing the ability to get around independently can definitely strike a blow to confidence and wellbeing levels. Mobility issues don't need to stifle a senior's sense of purpose or enjoyment of life though. Don't miss these 8 fun activity ideas for seniors with mobility issues:
Board games – bring on the board games and give your loved one a cognitive boost. Everything from cards to Scrabble to Monopoly, Dominos, and Checkers is a great place to start. Stock up on gently used board games from local re-stores like Goodwill and invite friends and family to join in on the fun.
Puzzles – putting puzzles together stimulates critical thinking and problem-solving skills as well as engages spatial awareness and concentration. Don't reserve your fun to jigsaw puzzles either; games like Sudoku and Jenga have similar brain-boosting effects too!
Cooking – maybe standing at the stove to stir a big pot isn't feasible, but mixing a green salad at a lower table is. Or helping scoop cookie dough onto a baking sheet. Cooking with your aging parent not only gives them something fun to do but helps them feel like a productive contributor in the home too.
Chair exercises – routine workouts are critical for all older adults, even people who are limited to canes, walkers or wheelchairs. Physical fitness helps prevent unwanted weight gain and lifestyle diseases like diabetes and heart disease. Guides to chair exercises and exercises for those recovering from injuries like fractured hips can be found online.
Art project – get the creative juices flowing and find an art project geared towards your loved one's interests. Perhaps it is painting on a canvas, collaging, knitting, coloring, making jewelry, or even simply framing family photos – the act of creating something can is truly invigorating.
Planting – potting plants is easy and accessible when your loved one can sit in a chair at a table. Mixing soil, placing plants inside pots, and even snipping dead leaves or picking herbs are monthly activities that your loved one can do with minor assistance.
Reading – Nothing beats a good book. If your loved one is unable to hold a book or see words on a page, audiobooks are a great alternative (and can be borrowed for free at your local library).
Video chatting – for seniors with mobility limitations, social isolation is a very prevalent and dangerous reality. Technology makes it easy, however, to connect with friends and family near and far via free services like Skype, Google Hangouts or Facetime. You simply need a smartphone or webcam with speakers for your computer.
Background
There are three major types of skin cancer: basal cell, squamous cell, and malignant melanoma (MM). Basal cell carcinoma is the most common skin cancer, accounting for 65–85% of cases (Kennedy-Malone et al., 2000). According to the American Cancer Society (2013), more than 3.5 million cases of basal cell and squamous cell skin cancer are diagnosed every year. Squamous cell carcinoma is more common in African Americans and is also less serious than malignant melanoma. Malignant melanoma accounts for only 3% of all skin cancers, but it is responsible for the majority of deaths from skin cancer. Older adults are 10 times more likely to get MM than adults under age 40 (Johnson & Taylor, 2012). About 8,420 people were estimated to die from malignant melanoma in 2008. The American Cancer Society (2013) estimated that in 2013 there would be over 76,000 new cases of malignant melanoma in the United States.
Risk Factors
Older adults are more susceptible to skin cancers because of a variety of factors. These include exposure to carcinogens over time (such as through sunburn or tanning booths) and immunosenescence, or a decline in immune function. Family history of skin cancers, multiple moles (more than 100), and pale skin also put a person at higher risk. The major risk factor for all types of skin cancer is sun exposure.
Warning Signs
The ABCDE method can help people remember the warning signs of skin cancer:
A = Asymmetry (if a line is drawn down the middle of the lesion, the two sides do not match)
B = Border (the borders of the lesion tend to be irregular)
C = Color (a variety of colors is present; the lesion is not uniform in color)
D = Diameter (MM lesions are usually larger)
E = Evolving (note any changes in shape or size, or any bleeding)
Diagnosis
Annual physical examinations should include inspection of the skin for lesions. Older adults should be taught to report any suspicious areas on their skin to the physician. Persons should particularly look for changes in shape, color, and whether a lesion is raised or bleeds.
Basal Cell Carcinoma
Basal cell carcinoma (BCC) is the most common kind of skin cancer. It is often found on the head or face, or other areas exposed to the sun. Although there are different forms of BCC, the nodular type is most common, and appears as a raised, firm, papule that is pearly or shiny with a rolled edge. (Johnson & Taylor, 2012). Patients often complain that these lesions bleed and scab easily. When treated early, it is easily removed through surgery and is not life threatening, though it is often recurring.
Squamous Cell Carcinoma
Squamous cell carcinoma (SCC) also appears as lesion on areas of the body exposed to the sun, or from other trauma such as radiation. HPV is a risk factor of SCC, and metastasis is more common than with BCC. The lesions of SCC appear scaly, pink, and thicker than BCC. Their borders may be more irregular and the lesions may look more like an ulceration.
Malignant Melanoma
Malignant melanoma MM has a more distinctive appearance than other types of skin cancer. The areas appear asymmetric with irregular borders, a variety of colors (including black, purplish, and pink), and size greater than 6 mm. Malignant melanoma MM is often identified with the ABCDE method and MM accounts for the vast majority of deaths from skin cancer. The good news is that MM is almost always curable when found early. A skin check should be part of an older person's yearly physical.
Treatment
The best treatment for skin cancer in the elderly is prevention. All older persons, especially those with fair skin who are prone to sunburn, should wear sunblock and protective clothing. Most skin cancers, when treated early, have a good prognosis.
All skin lesions larger than 6 mm, or those with any of the ABCDE signs, should be referred for biopsy. There are many nonsurgical interventions. These include cryotherapy, radiotherapy (for superficial BCC or SCC), electrodessication and curettage, and topical treatments. Topical treatments are generally not as effective as more aggressive interventions, but research is ongoing in this area.
The prognosis for MM depends on the extent and staging of the tumor, but when caught very early, the cure rate is nearly 100%. Malignant melanoma MM presenting in older adults is often more advanced and aggressive. Malignant melanoma MM metastases sites are typically the lymph nodes, liver, lung, and brain (Johnson & Taylor, 2012). Surgical treatment is required in malignant melanoma, with chemotherapy and radiation. Adjuvant treatments for MM are also often used.
Save
Save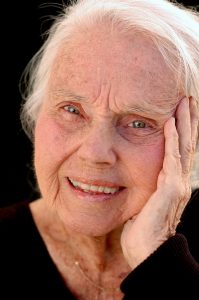 Do you feel that your elders are not safe in their house anymore? Of late, you may be noticing that their house is always in a mess, or that they are not grooming regularly. It is apparent that they are skipping meals and medications. It is all too frightening to see the people who brought you up becoming so helpless and careless in their old age. It is not their fault, but now it is your responsibility to take care of them.
We have put together some tips that will help you plan long term care for your loved ones when you feel they are getting too old to take care of themselves:
1. Confront Your Elders: Sit with them and inquire about the problems they may be facing. Is it an untreated chronic pain that has worsened over time, rendering them unable to do simple tasks that they had no problems executing previously? Is it a loss of a loved one they are mourning? Are they feeling marooned from the rest of their family? Isolation or lack of support can be a major recipe for depression.
2. Express Your Concerns: Sometimes elders feel that they have become a burden on their family. This is why they stop sharing their problems. Maybe if you express your concerns, they will honestly tell you what is troubling them.
3. Respect Their Independence: Unless your elders are not completely disabled, they have the right to make their own decisions. If you think something is right for them, let them know about it in an open-ended way. Never impose anything on them.
4. Keep External Help Handy: You might be confident about your situation-handling capabilities, but it is a good idea to keep home care providers, doctors, and geriatric care managers in the loop. Also, you might consider making your elders meet other people who have used home care services before. Hearing unbiased feedback might remove their fear of the unknown.
Old age is the onset of childhood. Even though we tend to ignore our elders as they age, we should realize that, with age, they need greater affection and care. If you are not able to take care of your elders due to responsibilities and work pressure, taking in professional help is a viable option.