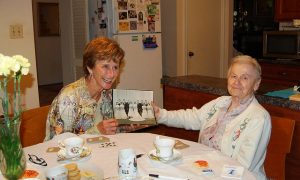 With growing age, keeping up with daily activities can become difficult. Aging seniors cannot do basic chores like cooking and cleaning and even moving around in their homes can sometimes become difficult. Taking care of your aging parents is a noble task, but due to current lifestyles, it has become challenging for children to take care of parents. Since you cannot be with them 24/7, you can change at home to make their lives easier and to avoid accidents. The good news is, now you can get help with your senior care in Dallas or any other city across cities across the nation. There are great options for senior care to simplify and improve your life, putting everyone's mind at ease.
Here are five of the top things you can do to make life easier for seniors living in their own homes.
Create a fall free zone.
Older people have increased risks of falling or slipping even from the smallest things. The following simple changes can reduce the chances of tripping:
Install a cordless or cell phone instead of using a traditional telephone.
Remove throw rugs from the home, as they can be hazardous for people using walkers.
Place electrical cords for the TV, modem, and telephone should correctly to avoid tripping.
Obtain an alarm bracelet or necklace that sends alert to emergency services with a push-button.
Encourage the use of a cane or a walker at all times instead of holding onto walls and furniture.
Purchase non-slippery footwear or flat, thin-soled shoes that fit well.
Change floorings from tiles to wooden.
Create a secure place for pets, so that they do not clutter things in the hallway or the living room.
Teach older adults fire safety tips
The kitchen is a potential area where seniors are at risk of getting burnt. Here are things you can do to prevent danger from fire:
Set up the kitchen so that everything is easily accessible.
Install a smoke detector and check its battery regularly.
Replace faulty appliances.
Avoid putting too many electrical wires in one socket.
Instruct them to call 911 to put out a fire.
Instruct them to avoid smoking in bed.
In case you feel that getting a caregiver is a better resource for your aging parents, you may contact a trusted provider for senior care in Dallas or your local area.
Reduce the risk of bathroom slips and falls. 
A risk assessment of the bathroom identifies the potential dangers of slips and falls and highlights any further controls needed to ensure seniors' safety.
Set the water heater at no more than 120 degrees Fahrenheit to prevent scalding.
Add support and grab bars in the bathing area and near the toilet to assist more natural movement.
Place a rubber mat in tubs to avoid slips due to water.
Install chairs and bars in the tubs to reduce the risk of falling in the bathroom.
Install better lighting or sensory lights in hallways and bathroom areas.
Protect them from strangers.
Older adults are an easy target for scams and crime. You can protect them from these risks by teaching them a few tips:
Don't welcome strangers in the house for any reason.
Don't be fooled by strangers in uniform or with an identification badge. Call 911 immediately.
Install security cameras and an alert system so they as well as you can check who is at the door.
Teach your loved ones the emergency contact information.
Tell them not to give personal information on the phone.
Arrange for in-home caregiver services.
 Most cities and towns across the United States (New York, D.C., Seattle, Phoenix, etc.) now offer in-home caregiver services through agencies like Ultimate Home Health Care in Dallas, Texas. This is a convenient service, because you can simply call to arrange 24/7 caregiver support, just when you need it. That means your aging parents or grandparents can maintain their independence and stay in thir home longer, getting expert care with all of the comforts they enjoy.
Senior care in Dallas is only a phone call away and is always available for your aging parents or grandparents. Ultimate Home Health Care is a great agency to consider for seniors in the Dallas area. Ultimate provides the best 24/7 caregiver services sent directly to the homes of seniors in need of help throughout the DFW area in North Texas. From cooking meals to providing transportation to social events, you can trust Ultimate Home Health Care's caregivers to assist your parents with love and care.