In the movie classic, The Wizard of Oz, little Dorothy knew then what has become a staple in the lives of elderly seniors today; "there is no place like home!" Dorothy, the main character in the movie, was swept away by a tornado from her home to a far away fantasy land. The only way back home was for her to follow the directions of the Good Witch Glenda's magic spell which required Dorothy to click her red shoes together three times and think of the phrase, "there's no place like home, there's no place like home, there's no place like home!" Afterwards, she woke up from a deep sleep in her own bed and in her own home.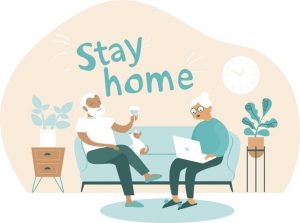 Today, roughly 90 percent of older adults aged 65 and over prefer aging in place rather than moving to an assisted living facility or nursing home according to a study conducted by AARP. Like Dorothy, these older people know what Dorothy knew then, that "there is no place like home", and they plan to stay in their homes as opposed to living in a long term care facility.
What Does Aging In Place Really Mean?
The Centers for Disease Control and Prevention (CDC) defines aging in place as "The ability to live in one's own home and community safely, independently, and comfortably, regardless of age, income, or ability level." Although aging in place is the new trend for senior living, changes to an elderly senior's body due to aging, may pose a problem. However, with a few low-cost home modifications, the goal to age in place is easily achieved and the benefits from doing so are rewarding.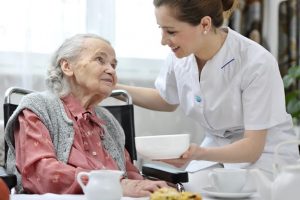 There are however, some seniors living with medical conditions and other limitations that may prevent them from performing normal activities of daily living on their own. If this is the case, they may need to seek assistance from a home care provider or a family member. With in-home care assistance for routine daily life activities, aging in place is still achievable in spite of those limitations.
3 Common Reasons Elderly Seniors Should Age In Place
Elderly seniors choosing to age in place are doing so for any number of reasons. Even though assisted living facilities have been on the rise since 1979, over a million Americans are opting out of that option. Here are five common reasons why:
1.    The growing high cost of living in an assisted living facility!
According to LongTermCare.gov, the average cost for a one bedroom at an assisted living facility is over $3,000 a month. Of course, this price may increase if additional services beyond the basic ones mentioned in the contract are needed. For example, if the resident requires assistance from a healthcare provider or home health aid. This service could add an additional $1,600 a month. Therefore, staying in your own home will definitely save money, even if you had to hire a personal care provider. In most cases, an elderly person's medicare will cover part or all of the cost of home healthcare.
2.    Aging in place is more comfortable!
Living in your own home is much more comfortable. All the treasures you hold dear are in your long term home. In fact, the American Society On Aging found that 56 percent of seniors 65 to 74 years old and 63 percent of those 75 years old and older reports that the "emotional" value of their home is worth more to them than the sales value. This is most likely because their home may be the same home they raised their children in and the memory recall is priceless.
3.    Aging in place offers more independence!
Maintaining an independent lifestyle is very important to the elderly population. The ability to go where you want, when you want is a very liberating feeling and doesn't diminish your quality of life. Responsible adults do not like being told what they can or cannot do. In assisted living facilities, meals are served at a certain time of day, activities are scheduled around their schedules and outside visitors are monitored which can be intrusive.
Just like little Dorothy, "there is no place like home" for today's elderly seniors choosing to age in place. The benefits for doing so are very rewarding. Aging in place offers elderly seniors an opportunity to save money to enjoy life's extra pleasures as well as allows them to enjoy the comforts of living at home. In addition, aging in place allows elderly seniors to maintain their independence.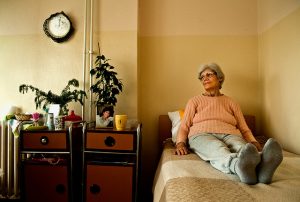 While there's no 100% absolute way to ensure your elderly parent or loved one doesn't fall,
there are things that can be done to help minimize the risk. I'll give you a quick checklist of
five steps to a safer home for a senior. Likewise, click here for some alternative ways to
steer clear of falls.
1. Furniture, accessories, and narrow pathways:
Is there furniture crowding a room or creating narrow pathways? Are there inessential
items or decorations all over the house? None of us like to throw things away and we all
know seniors love to keep antiques and knick-knacks, but sometimes they can pose a
hazard to elderly home safety. That old rug underneath the coffee table can trip you easier
than you think. Make sure there is nothing impeding easy travel throughout the house. A
straight path is the easiest path so there should be no navigating around corners or edges.
2. Doorsills and steps:
Now, these two sound like obvious culprits, but you'd be surprised how often they're
underestimated. A quick remedy is to paint doorsills a different color or buy reflective tape
for the edge as a reminder that they're there. This goes for the edge of stairs as well.
Confirm that there's no loose carpeting, unstable wood, or erosion of any kind on steps or
doorsills. Also, make sure any area with a step or uneven surface is very well lit.
3. Lighting:
This one is perhaps the easiest of all. Double-check that all areas of the house are well lit,
with bulbs at least 60 watts or higher in each socket. Remove all exposed cords and make
sure any lamp or light-switch is within easy reach. If the lamp closest to a favorite reading
chair is hard to reach while sitting, move it closer. Also, check that there is no risk of any
lamp falling or being tripped over. Again, lamps should remain within reach, but still out of
the way.
4. Telephones:
Keep a telephone, within easy reach, in each room. This prevents your elderly loved one
from feeling compelled to rush to a ringing phone. Not only can getting up too quickly cause
light-headedness or dizziness, but it can also cause an elderly person to lose focus on their
surroundings and mistakenly fall in an easily preventable situation.
5. Bathrooms:
Bathroom floors and shower tubs can get slippery, we know this. To combat slipping,
guarantee there are either bars affixed to the wall or a counter to grip while getting up and
down off the toilet and in and out of the shower. Also, purchase adhesive grip-tape for the
tub bottom and again, provide adequate lighting throughout the bathroom. Shower rugs
can also slip so place double-sided tape on the bottom of the rug to impede the rug's
movement.
If you are worried about a loved one, these are very easy and painless steps to minimize the
risk of in-home falls. As mentioned before, however, there is no 100% way to prevent accidents so medical alert systems provide a great backup. Not only do they give you peace
of mind when you're not around your loved one, but they make the wearer feel safe as well.
Jacob Edward is the manager of Senior Planning in Phoenix Arizona. Senior Planning is geared towards helping
seniors and the disabled with finding and arranging types of care, as well as applying for state and federal
benefits.