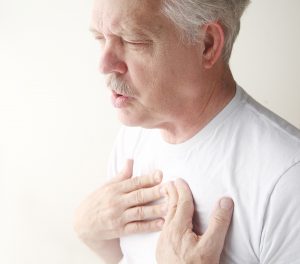 Background
Tuberculosis (TB), caused by Mycobacterium tuberculosis, is a contagious infection that involves the lungs but can attack any part of the body. Primary TB is caused by inhalation of air droplets from an infected person through coughing, sneezing, laughing, or other activities in which particles become airborne (NCBI, 2011).
Risk Factors
Older adults and immunocompromised persons are at the greatest risk. According to the CDC's and Prevention Morbidity and Mortality Weekly Report [MMWR] (2012), the incidence of TB in 2011 has declined by 6.4% since 2010. There are a reported 3.4 cases per 100,000 populations in the United States, which translates to about 10,521 new TB cases in 2011. However, data continues to point to a trend of foreign-born or racial/ethnic minorities being disproportionately affected by TB compared to U.S.- born persons. This gap is continuing to widen despite an overall decreased number of cases in both groups (MMWR, 2012). The AIDS epidemic has contributed to the spread of TB, particularly in less developed countries; this may be due to the suppression of the immune system that is associated with AIDS.
Nursing home residents are considered an at-risk group due to the typically higher rates found in this population. General guidelines from the Advisory Committee for Elimination of Tuberculosis (Centers for Disease Control and Prevention [CDC], 1990) set a concrete strategy for prevention and management of TB in nursing homes to decrease the spread among this institutionalized and vulnerable population. Thus, older adults who may be discharged from acute care facilities to a nursing home will generally undergo TB skin testing prior to discharge.
Warning Signs
The CDC (2013) lists the following signs and symptoms of TB:
• A bad cough that lasts 3 weeks or longer
• Pain in the chest
• Coughing up blood or sputum (phlegm from deep inside the lungs)
• Weakness or fatigue
• Weight loss
• No appetite
• Chills
• Fever
• Sweating at night
A person can be infected with TB and have no symptoms. This means they may have a positive skin test, but cannot spread the disease. Such a person can develop TB later if left untreated. Those with active TB can spread the disease to others and should be treated by a physician or other health care provider.
Screening for TB is simple and can be done at the local health department, clinic, or doctor's office. A Mantoux test is an intradermal injection that is read for results in 48–72 hours after administration. A result of 11 mm or greater of induration (not redness, but swelling) is considered a positive result. It is recommended that older adults undergo a two-step screening wherein the test is given again, because there are many false results in older adults. A positive TB skin test should be followed up with a chest Xx-ray to rule out active disease.
It must be noted that persons who received a vaccine for TB may have a positive reaction. A TB vaccine is commonly given in many countries outside the United States.
Diagnosis
For older adults born in the United States, a positive skin test may prompt the health care provider to initiate preventative treatment. The medication isoniazid (INH) is generally given to kill the TB bacteria. Treatment with INH often lasts at least 6 months. Few adults have side effects from the medication, but those that are possible include nausea, vomiting, jaundice, fever, abdominal pain, and decreased appetite. Patients taking INH should be cautioned not to drink alcohol while on the medication.
Treatments
Patients with active TB can be cured, but the medication regimen is complex, with several different drugs taken in combination. Caution should be taken to avoid spread of the disease. This generally means isolation for patients in the hospital with active TB. In 1998, the FDA approved a new medication, rifapentine (Priftin), to be used with other drugs for TB. Medications should be strictly taken for the entire period of time (many months) to kill all of the bacteria. Older adults may need assistance with keeping track of these medications; evaluation of medication management should be included in the assessment. The use of a medication box set up by another competent and informed family member to ensure compliance with the medication regimen may be helpful, because it can be overwhelming for some persons. Adequate rest, nutrition, and hydration, as well as breathing exercises, may help with combating the effects of TB. Since over half of all patients with actively diagnosed TB have come to the United States from other countries, language may be a barrier. Education requires understanding and may necessitate an interpreter to ensure understanding of the complex regimens required to eradicate the bacteria.
Adapted from Mauk, K. L., Hanson, P., & Hain, D. (2014). Review of the management of common illnesses, diseases, or health conditions. In K. L. Mauk's (Ed.) Gerontological Nursing: Competencies for Care. Burlington, MA: Jones and Bartlett Publishers. Used with permission.
Background
Urinary tract infections (UTIs), also called cystitis (inflammation of the bladder), are common among older adults and are more frequent in women. They are a primary cause of urinary incontinence and delirium. Catheter-associated urinary tract infections (CAUTIs) are more common among older adults (Fakih et al., 2012) and is mainly attributed to the use of indwelling urinary catheters. Many indwelling catheters are thought to be unnecessary (Cochran, 2007) and one study noted that physicians were often not aware of the purpose for which their patients had a catheter inserted (Saint, Meddings, Calfee, Kowlaski, & Krein, 2009). UTIs have been show to increase morbidity and mortality, length of hospital stay, and cost of hospitalization (Kleinpell, Munro, & Giuliano, 2008). CAUTI is considered preventable and is not reimbursed by Medicare. Therefore, hospitals will largely assume the financial costs for preventable infections of this type.
Risk factors/Signs and symptoms
Several risk factors are associated with UTIs in general. These include being female, having an indwelling urinary catheter, the presence of urological diseases, and hormonal changes associated with menopause in women. Signs and symptoms of UTIs include urinary frequency and burning or stinging felt during voiding. Pain may be felt above the pubic bone, and a strong urge to void but with small amounts of urine expelled. The most significant risk factor for CAUTI is prolonged use of an indwelling catheter. In hospital-acquired UTIs, 75% are associated with the use of an indwelling catheter (CDC, 2012). In women, signs and symptoms of CAUTI may be more severe than those reported by women by patients in the community who do not have an indwelling catheter. Lethargy, malaise, onset or worsened fever, flank pain, and altered mental status have been associated with CAUTI (Hooton et al., 2010).
Diagnosis
A thorough assessment should be done of the patient's urinary output, including amounts, color, odor, appearance, frequency of voiding, urgency, and episodes of incontinence. A urine specimen should be obtained if UTI is suspected. Laboratory results will show the type of organism causing the infection, and the sensitivity will tell what medication the organism is susceptible to. These results should be reported promptly to the physician or nurse practitioner caring for the patient and so that a diagnosis and treatment plan can be made.
Treatments
Prevention of UTIs is considered a primary nursing strategy. Elderly female patients can be instructed to make lifestyle modifications such as: increasing their fluid intake; emptying the bladder after sexual intercourse; practicing good perineal hygiene, including wiping front to back after toileting; getting enough sleep; and avoiding stress (PubMed Health, 2011). Although many of these common sense strategies are recommended by primary care providers, there is a lack of scientific evidence to support some of them. Many UTIs will clear up on their own, particularly if the person increases oral fluid intake during early symptoms. However, with many older adults, antibiotic treatment may be needed. In general, a course of three 3 days for healthy adults is thought to be sufficient, but for more resistant bacteria, a longer course more than five 5 days may be needed (PubMed Health, 2011). For those with repeated or chronic UTIs, a low dose of antibiotics taken for 6– 12 months may be indicated (Hooton et al., 2010). If the underlying cause is CAUTI, treatment will be more aggressive. Monitor the patient's temperature at least every 24 hours (Carpenito, 2013). Encourage fluids. Evaluate the necessity of continuing an indwelling catheter if one is in place.
Alternatives to indwelling catheters should be considered for appropriate patients. Intermittent catheterization, if appropriate, is preferred over indwelling catheter use, especially for long- term maintenance of bladder management (CDC, 2009; Hooton et al., 2010). Condom catheters may be an appropriate choice for some males. If an indwelling urinary catheter is necessary, the catheter should be removed as soon as possible, per the physician or nurse practitioner's orders, to reduce the risk of CAUTI.
Adapted from Mauk, K. L., Hanson, P., & Hain, D. (2014). Review of the management of common illnesses, diseases, or health conditions. In K. L. Mauk's (Ed.) Gerontological Nursing: Competencies for Care. Burlington, MA: Jones and Bartlett Publishers. Used with permission.
Save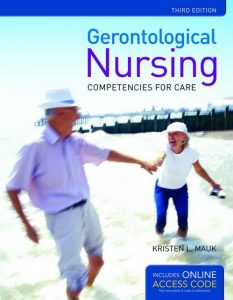 Gerontology nurse practitioners face a unique set of challenges within their field. It comes with the territory of caring for older adults that issues such as death, dying, terminal illness, and chronic illness are commonly addressed.
Common Challenges
There are many challenges families face when caring for an older relative. For example, the loss of independence a geriatric patient may have. Families may need to step in and care for the aging patient, which, unfortunately, can add stress to their daily lives. This buildup of stress can lead to caregiver burnout, depression, anxiety, tension within the family, and even anger or resentment.
Another possible challenge is the imbalance of perceived "power" within the family. A scenario for this would be if an elderly patient moves in with their adult child and their family. For many years, the patient was the head of household; the one who made decisions and ran the home. Now, the adult child is the head of household, while the aging parent/ family member is an occupant. The family may experience a "power struggle" which can lead to conflict and strife within the home.
Dealing with chronic illness is another prominent challenge – possibly one of the most significant. Dementia, for example, is a condition which does not improve over time. Dementia affects almost half of adults over age 85. The early stages are the most difficult, as patients experience forgetfulness which could lead to safety concerns (i.e., wandering away from home, leaving the stove on, etc.). Family members may become frustrated easy, but as the disease progresses, they may experience a prolonged "mourning" of the patient.
Along with situational components, there are other factors that contribute to a family's dynamic. Socioeconomic level, education level, cultural differences, and even something as basic as personalities all contribute to how a family interacts with each other and deals with stress.
Tips for Geriatric Nurse Practitioners
When dealing with geriatric patients and their families, it's important to first acknowledge that each family unit has unique dynamics. From there, utilizing the nursing process is a great way to address the individual needs of the patient and family. Below are some tips, using the nursing process, that can help geriatric NPs manage the sometimes-complicated dynamics within families.
Assess
The first thing geriatric NPs should do is assess the family's interactions and communication skills. Ideally, meeting with both the family and patient is ideal. Assessing communication skills such as active listening, non-confrontational statements, and body language will help the NP determine how effective communication is within the family, and what needs to be improved. Geriatric NPs can also assess the patient and family's knowledge base, readiness to learn, and if anyone is experiencing any of the stages of grief.
Diagnosis
After assessing the family dynamics and interactions, geriatric NPs can create a "diagnosis" of what they may need. For example, if the daughter of an elderly patient with dementia can no longer care for the patient, the NP will need to take action in terms of finding a suitable living arrangement. Another example is if the son of an elderly patient with a chronic disease becomes easily frustrated and angry with them. The NP would have to develop a plan to address the issue.
Planning
After assessing the family and patient's needs and determining what is needed, the geriatric NP must create a plan to meet their individual needs. Because the needs of the patient and family are unique, breaking apart the needs of each family member will help tailor a plan to help create a healthy family dynamic. For example, using the first scenario above, the NP can create a plan to help the family find a care home for the patient, while assisting to help them manage the emotions involved with possible feelings of loss of control and fear. In the other example, the NP can consider arranging appointments for the son to see a counselor to deal with his feelings regarding his parent's chronic illness, and how to communicate in a positive manner.
Implementation
The implementation phase of the nursing process is putting the plans into process. For the geriatric NP, this means arranging appointments, providing resources, and collaborating with the rest of the care team. Using the examples above, that could mean providing a list of care homes, putting the family in touch with a social worker, and/or recommending a counselor for the significant life change of transitioning to a care home. In the second example, the NP can recommend family counseling as well, and possibly provide tips for stress management for caregivers.
Evaluation
Evaluating a patient and family's response to the recommended plan is one of the most essential pieces of dealing with altered family dynamics. This phase is a delicate process, as the NP needs to ensure the family has not only followed through with the treatment plan, but that it was effective as well. If not, the planning and implementation phase would need to be re-structured. In the examples used above, that would mean making follow-up calls to see how the elderly patient is doing in the care home, how the family and patient are doing with the transition, and if there are any other needs. In the second example, the NP can follow up with the elderly patient's son to see how he is dealing with his parent's chronic illness. It may also mean working to help manage the chronic illness as well.
Conclusion
Working with families is not unique to nurses and nurse practitioners. However, working with aging patients and their families presents a different set of challenges. While it's impossible to provide tips on every potential challenge geriatric NPs may face, going back to basics using the nursing process will help identify each individual need so that a plan can be developed to address them. One of the most important things to remember is to include the family whenever possible in the decision-making process, and to maintain as much dignity and independence as possible for the geriatric patient.