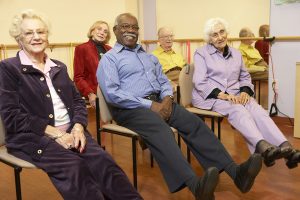 Guest Blog: How to Find the Right Senior Housing Community
By: Derek Hobson
First let's tackle the basics. Many people are wary of senior care homes because there's a stigma that surrounds them; people see them as gloomy, dreary, end-of-life communities. While certainly there was a time when this was the case (several decades ago), most communities have worked hard to battle this stereotype and they have succeeded.
Many communities have done away with "institution" or "hospital" –like settings. Even more have become increasingly lenient on policies regarding residents' possessions; some facilities have been known to permit pets and even furniture to help it feel like home. So, when the time comes to transition into one of these senior care homes, the question becomes, "How do I find the right one?"
1. Find out About Affordability
This is usually at the top of everyone's list and for good reason. Today, people are having children later in life. This isn't a bad thing, but it means that around the same time their kids are going off to college, their parents are starting to need extra care. This can put a lot of stress on adult children, but some senior homes provide help.
Some Assisted Living Facilities will accept private pay for a period of time and then accept the rest through Medicaid. This way, your senior does not need to move and they won't need to fear outliving their assets.
2. Visit the Community (Often)
If you think a community looks good for your loved one, then you should visit and revisit. You should tour the facility on different days of the week at different times. This way, you'll get a much broader view of the day-to-day.
See if people are out and about, if engaging activities are going on, and if there's a general feeling of community. If you show up to an elder care home that looks more like a ghost town, then it's probably not the one for your loved one.
3. Talk to the Residents & Staff
This one is critical, as nothing quite beats a first-hand view into the establishment. Ask residents if they enjoy the community, what they do on a daily basis, and if they're happy.
When asking the staff, of course they're not going to disparage against the home, but one of the most important things to take notice of is how they interact with the residents. If they refer to them by name and have clearly established relationships with them, then this can be a huge indicator of the level of personal care your loved one will receive.
These are the three most important criteria to face when choosing an elder care community and they should give you a well-rounded idea of the facility you've chosen.

Most people don't realize just how big of an impact architecture can have on the lives and well being of elderly individuals. For many years, innovative designs for care homes and retirement living have gone a long way in helping to both support and reassure elderly residents so they feel comfortable in their surroundings, and will do for many years to come. Here are three key ways in which architecture benefits the elderly.
Exposure to sunlight
One of the first architectural considerations for any residential project is 'how does the building sit in relation to the sun?' This can influence many factors such as the garden, conservatories and large windows, all because we want residents to have the best exposure to natural light as possible. Designs for many care homes ensure that there are no rooms that face exclusively north, so all residents receive direct, natural sunlight into their room at some point during the day. Not only are there psychological benefits of enjoying the sunshine, but exposure to the sun in moderation provides a healthy dose of Vitamin D, absorbed into the body to help strengthen bones which is a huge boost for the elderly to starve off the effects of frailty with age.
Green space
Residential architecture is not just about the building, but landscaping the garden area too. Retaining some green outdoor space is important for elderly residents for whom it may not be possible to venture to the nearest public park whenever they wish, so they can relax outdoors without completely leaving their home. For more mobile elderly residents, gardens also provide the opportunity to continue with a relaxing gardening hobby, or to even take it up. In care homes, gardens are kept in pristine condition all year round by qualified gardeners, and when the months begin to get warmer, residents can enjoy the various plants and colorful flowerbeds – some of which they may have helped to plant themselves.
Built to adapt
When it comes to care home facilities and retirement housing, architectural designs must cater for the ever-changing needs of the residents. Therefore, it has to be built to adapt. Many elderly who use wheelchairs will require spacious rooms with height adjustable surfaces, particularly in the kitchen, and ramps fitted on all entrances and exits. These features take even more prominence in care homes with more residents present, with designs also incorporating wide corridors to allow residents in wheelchairs or on mobility scooters to pass one another with ease, and interior walls within a resident's living space fitted as panels that can be easily knocked out to create a larger open plan floor space if necessary.
Author bio: Mick Goode is a co-founder and co-director of Croft Goode Architects, based in Lancashire, UK. As a BIM-focused practice of chartered architects, we have a vast range of experience designing for all kinds of projects, including those for retirement living and healthcare buildings for the elderly and disabled.
Are you experiencing stiffness in your back? Beware; it might be an indication of stress. Though it might sound a bit weird, stress can cause back pains. Being anxious about anything switches on the stress response of your body. As a result, you become tenser as your body prepares you to fight, flee, or freeze in the stress causing situation. Your bloodstream is also flooded with a cascade of chemicals which in turn makes your muscles spasm. As a result, you experience back pain.
How To Reduce Stress And Back Pain?
After you know the reason for the back pain, it is important for you to take control of the stress levels. Here is a list of steps you can take to relieve stress level and the back pain generated from it.
Breathing and Stretching
Stretching can help you a great deal to make the stiffness of the back muscles go away. However, you should be very alert while stretching. Stop stretching if you experience any kind of pain. Deep breathing is a well-known technique which reduces stress. Pilates and yoga are also known to reduce stress and back pain. However, you should always consult a professional before you decide to take up these exercises.
Apply A Cold or Warm Compress
You can apply cold compresses such as ice pack if you have inflammation in your back. If your back is stiff, then you can use hot compresses such as a heating pad. Hot compresses also reduce muscle cramping and spasms. Therapists generally advise taking moist hot compress instead of dry one. To do that you can take a bath in hot water to loosen the sore muscles.
Avoid Caffeine
You should stop consuming caffeine at all. Caffeine increases the stress response in your body, which will prevent the healing of the back pain. You should go for caffeine-free alternatives such as lavender tea, which soothes the body and relieves stress.
Sleep
Sleep is most necessary to repair the sore muscles of your back. Most people who experience back pain also suffer from sleep disturbances which in turn induce stress. You should try different postures for better night's sleep. Do not sleep on your stomach as this posture causes added strain to the back.
Exercise and Rest
Exercise is necessary to Relieve stress. However, too much exercise can increase back pain. If you do too little, then your muscles can become locked up resulting spasm. In short, you need to find a balance between these two. Regular walking and stretching can loosen and strengthen the back muscles.
Control of the stressors of life might not be in your hands, but maintaining your health is. So, practice these tips to not let the stressors interfere with the happiness of your life.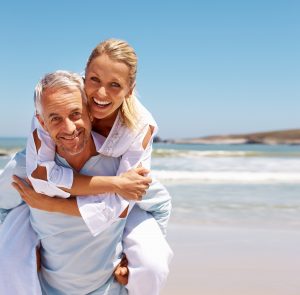 With summer upon us, we are happy to get out and enjoy the change from the long Indiana winter. However, prolonged exposure to that bright sunshine can have dire consequences for us as we age. The risk of skin cancer is higher in older adults, and the major risk factor is sun exposure. Although there are other less serious forms of skin cancer (basal cell and squamous cell), malignant melanoma is the most dangerous kind, accounting for more than 8,700 deaths per year (American Cancer Society, 2013).
As we age and our skin becomes more fragile, sun exposure can take its toll. You can be proactive in preventing skin cancer by following some simple tips:
Wear sunscreen when out in the sun and choose SPF 15 or higher every day, but choose SPF 30 with a waterproof barrier for long exposure. Avoid tanning booths. Wear clothing and hats that protect you from exposure. Ask your primary care provider to perform a skin check with your yearly physical, or visit your dermatologist if you have concerns. Know your own skin and check it regularly using the ABCDE method. Report any suspicious lesions to your doctor right away for follow-up.
The ABCDE method can help us remember the warning signs of skin cancer:
A = Asymmetry (if a line is drawn down the middle of the lesion, the two sides do not match)
B = Border (the borders of the lesion tend to be irregular)
C = Color (a variety of colors is present; the lesion is not uniform in color)
D = Diameter (MM lesions are usually larger)
E = Evolving (note any changes in shape or size, or any bleeding)
The good news is that even the most serious kind of skin cancer can be nearly 100% curable when detected early.
So, enjoy the sun, but be sun smart as well!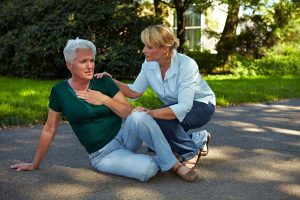 Reviews.com recently spent over 100 hours researching the medical alert system industry to help you choose the right product for you or your loved one. Bay Alarm may be the best choice when considering a home emergency alerting system, yet other systems also won praise for the services they provide.
Officially known as a personal emergency response system (PERS), an alerting device enables the elderly and those with physical disabilities to live independently and still be capable of seeking emergency assistance when needed. Such systems are invaluable when considering that one in three Americans aged 65 or older will experience at least one fall every year. In the event of a disabling injury, a PERS can turn a potentially fatal accident or illness into an event that is survivable.
Reviews.com medical alert systems study evaluates consumer products to determine the best in terms of both efficiency and cost. In this particular inquiry, Reviews.com examined 69 alerting devices. Ratings were based on a number of factors, including the services provided by the parent company. Reviews.com noted that PERS equipment is usually rented rather than purchased from the provider.
They also found wide gaps in the services that are available. In some cases, medical alert systems must be attached to a regular home security system. Some systems received low ratings due to their lack of mobility, while higher ratings were given to those that are easier to install and use or have certain features, including their ability to function even when submerged in water. Other options that were considered important included automatic fall detection and blood-pressure monitoring capability.
Bay Alarm Medical was given high marks for both its capabilities and the personalized service from the provider. Reviews.com concluded in its evaluation that Bay Alarm would be the most efficient in dealing with a medical emergency. Also receiving praise from Reviews.com was Medical Guardian alerting system and MobileHelp.
The Reviews.com evaluation noted the importance of PERS facilities, especially when considering the aging of the American population and the fact that many of these men and women prefer to continue living in their own homes, possibly alone.
You can see the full resource and find the right medical alert system for you or your loved one here: http://www.reviews.com/medical-alert-systems/