According to the Alzheimer's Association, the disease affects five million Americans. However, this number doesn't reflect the many more Americans that are affected by Alzheimer's indirectly. This includes family and friends that take on the great responsibility of caring for a loved one with the disease. Many of these caregivers have numerous considerations to keep in mind, and one of these is altering and modifying the home to provide better comfort and safety.
Let's look at some home preparations and modifications you can make if you need to accommodate a loved one with Alzheimer's.
Safety and Comfort.
The first consideration should be thinking about is how you can reduce the risk of your loved one tripping, falling, or becoming confused or disoriented.
● Remove objects that can be obstructive in high-traffic areas. Avoid having stuff on the floor or low tables and furniture that can be easy to miss.
● Lock cabinets that might contain hazardous chemicals and materials.
● Keep dark corners of the house well-lit and illuminated. This includes stairwells and basements.
● Check your smoke alarms and carbon monoxide detectors.
● Ensure your loved ones don't have easy exits where they can wander out.
Functionality and Design
Making your house function better for Alzheimer's patients means helping them avoid unnecessary disorientation, fear, or depression. The following are some tips:
● Remove clutter or scattered objects that might overstimulate. For example, instead of having five pairs of shoes for your loved one to choose from, leave only one pair. This might eliminate an unnecessary episode of confusion when getting dressed.
● Rearrange furniture in a simple and straightforward way. The way the furniture is arranged can dictate the atmosphere of the room. For example, if the only chair is facing the television, you might have them constantly sitting in front of the TV.
● The Huffington Post suggests that creating a personalized space with familiar objects and smells can be a great way to keep an Alzheimer's patient comfortable. At the same time, you should avoid having busy patterns on furniture or curtains, confusing colors, or rugs that can cause tripping.
Stimulation and Socialization
It's important for your loved one to get plenty of socialization and interaction with others. In a typical household, people are working or living their own lives as they juggle the responsibility of caregiving. Living at home without much visitation can often lead to patients becoming isolated and withdrawn. Try to arrange frequent visits by friends and family members. Consider taking loved ones with you if you have to run errands, going for short walks, or involving them in everyday activities.
How to Modify or Renovate Your Home
In order to maintain safety or functionality, it's often important to do modifications to your home. One of the most common home alterations is improving or renovating bathrooms and kitchens. This is because these are two areas of the house that can be most hazardous and require a little more navigation.
For Bathrooms
Renovations for bathrooms cost an average of about $8,820 depending on the work to be done. Some common and important improvements for Alzheimer's-friendly bathrooms include installing grab bars and handrails, swapping out a bathtub for a shower, and adding lighting and non-slip flooring.
For Kitchens
You might consider a kitchen modification as well. It will vary in complexity depending on your current setup. When restructuring your kitchen for a loved one with Alzheimer's, consider faucets, accessibility of appliances, kitchen counter height, mobility, and difficulty of navigation.
Caring for loved ones with Alzheimer's is a great responsibility. Ensuring their safety and comfort at home will not only make their lives better, but it will make yours easier and remove unnecessary hazards and stress. Having confidence that your loved one is comfortable and at ease will take a big weight off your shoulders. Your loved one will be happy to be living at home. The Boston Globe reported that Alzheimer's patients that remain at home live longer and better lives.
Photo Credit: Pixabay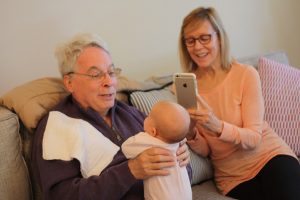 As a devoted caregiver for an aging parent, you have to be ready to face a wealth of new responsibilities. Some of them will be intimidating, whereas others will be unfamiliar and unforeseen. Every now and then, you may feel alone and overwhelmed. However, in spite of all these challenges, caring for an aging parent comes with plenty of rewards too. There are many guidelines you should consider to make the process run smoother. Here are some steps to consider.
Bring the whole family together decide on a caregiving plan 
Before making any decisions, you should set up a family meeting and decide with your siblings what's best for your parent. Should you hire a home care assistant for your parent, or would it be better to put them in respite care home? If your parents are mentally stable but are having difficulties remembering things, or heading out to shop for groceries, you and your siblings may be able to be their caregivers. Split tasks equally by making a weekly plan. This way, your parents get the chance to see their kids, and you won't have to get angry that nobody else but you in the family is looking after the parents.
Split responsibilities equally
Proper elder care takes a lot of time and effort. Careful planning is fundamental for your parents to live happy and not feel like a burden. Always remember that providing care for a loved one is an act of love, loyalty, and kindness. Thanks to advanced technology, it is now easier than ever to keep in touch with aging parents. Medical treatments are improving, life expectancy's are increasing, and seniors are living well into their 70s. If you know little about caregiving, follow the tips below to provide the best care for your elder parent:
Learn everything there is to know about their disability or illness. This will help you be prepared in case something unexpectedly happens.
Look for professional help from certified caregivers.
Go with your gut, and listen carefully to a doctor's advice. If they tell you that an assisted living facility is better for your loved one, then they're probably right.
Elder parents will do anything to preserve their independence, even if it means living on their own with a chronic illness or disability. Don't allow them to struggle and try to make their lives more comfortable by caring for their well being.
You may have heard of rehabilitation nursing, but are you familiar with what rehabilitation nurses do and their essential role in health care? According to the Association of Rehabilitation Nurses (ARN), there are four major domains within the new competency model for professional rehabilitation nursing (ARN, 2016) that can help us understand what rehabilitation nurses do.  In this blog, we will look at the ARN model from a layperson's viewpoint to help explain the role of the rehabilitation nurse. Rehabilitation nurses:
Promote successful living
Rehabilitation nurses do not only care for people, but they promote health and prevent disability. This means that rehab nurses engage in activities that help patients, families and communities stay healthy. Proactively, you might see rehab nurses helping with bike safety (such as promoting the wearing of helmets), car seat fairs (to keep children safe from injury), or stroke prevention through community screenings and teaching about managing risk factors. As rehab nurses, we also help patients towards self-management of existing chronic illness or disability, teaching them how to be co-managers with their health providers so they can maintain independence and have a good quality of life. Another key activity is facilitating safe care transitions. This means that rehabilitation nurses have a special skill set to know which setting of care is best for the patient to move to next and how to make this happen smoothly. For example, if Mrs. Smith has had a stroke and finished her time in acute rehabilitation in the hospital, but she lives alone and is not quite ready to go home, what is the best care setting or services for her to receive the help she needs?  Many errors, such as those with medications, happen when patients go from one place to another in the health system. Rehabilitation nurses can help persons successfully navigate these complexities and be sure that clients get the continuity of care they need and deserve.
Give quality care
The interventions or care that rehabilitation nurses provide to patients and families is based on the best scientific evidence available. Part of being a rehab nurse is staying current on the latest technology, strategies for care, and best practices. This is to ensure that all patients receive the highest standard of care possible. We stay current in many ways, including reading journal articles, attending conferences, obtaining continuing education, and maintaining certification in rehabilitation. Research shows that having more certified rehabilitation nurses on a unit decreases length of stay in the hospital. In addition, all of rehab care focuses on the patient and family as the center of the interdisciplinary team. To this end, rehabilitation nurses teach patients and families about their chronic illness or disability across many different areas including: how to take medications; managing bowel and bladder issues; preventing skin breakdown; dealing with behavioral issues that might be present with problems such as brain injury or dementia; coping with changes from a disabling condition; sexuality; working with equipment at home; and ways to manage pain.
Collaborate with a team of experts
Rehabilitation nurses are part of an interprofessional team of physicians, therapists, psychologists, nutritionists, and many others who work together for the best patient outcomes. For persons who have experienced a catastrophic injury or illness, the work of this team of experts sharing common goals will provide the best care, and rehab nurses are the ones who are with the patient 24/7 to coordinate this process. Through effective collaboration, excellent assessment skills, and communication with the rest of the team members, rehab nurses ensure that patient and families are getting well-coordinated care throughout the rehabilitation process. Remember that rehabilitation takes place in many settings, whether on the acute rehab unit, in skilled care, long-term care, or the home. The nurse's role is to be sure that the holistic plan of care is followed by all staff and that the physicians overseeing medical care are continually informed of patient progress for the best decision-making possible.
Act as leaders in rehabilitation
 Not only do rehabilitation nurses provide direct patient care, they are also leaders in the rehabilitation arena. You might be surprised to learn that rehabilitation nurses advocate at the highest level for legislation surrounding funding and policy for those with disabilities and chronic illness, talking with Senators and Congressmen about key issues. ARN has professional lobbyists that continually watch health policy movement in Washington and keep rehab nurses informed. Rehab nurses help patients to advocate for themselves in holding government and communities accountable for needed care services. Lastly, rehab nurses share their knowledge with others. This is done in a variety of ways through conducting and publishing research, presenting at conferences, serving on local and national committees, and serving in public office. All of the leadership activities done by nurses in rehabilitation are to promote the best quality of care for patients with chronic illness and disability.
Save
Save