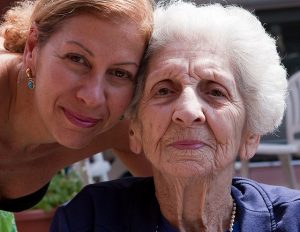 Home care is often preferred by seniors. An overwhelming 90% of seniors want to age in place. It is also affordable compared to nursing homes and assisted living facilities. However, hiring a caregiver may still be out of reach for many families.
1. Home Care Agency
A popular option for hiring a caregiver is through a home care agency. Hiring a caregiver through an agency allows seniors to have personalized one-on-one attention and flexible pricing (choosing less hours means saving on costs). You are also not responsible for any employer obligations like payroll tax and being held liable for any injuries that happen at home. However, this means that agencies pass administrative costs to the family which may still be unaffordable.
2. Family Caregivers
Did you know that there are an estimated 40 million unpaid family caregivers in the United States? Family caregivers perform a wide range of duties like paying bills, running errands, and helping with light household chores. Many family caregivers dedicate on average 20 hours a week towards providing care and some take time off work as well—resulting in a loss of earnable income. While being a family caregiver can save you money, your loved one may have needs that go beyond what you can support.
3. Local Classifieds
You can hire a caregiver directly through your local classifieds or online directory. Hiring a caregiver directly, and not through an agency can provide more affordable home care for your loved one, but there are some extra hurdles. You will need to personally interview and screen potential candidates. This involves meeting with the caregiver, verifying their references, and performing a background check. If your loved one needs care immediately, this process may be difficult and time consuming to do properly.
4. eCaregivers
After learning about using eCaregivers, you can find private caregivers with rates starting at $10-$14/hour for care, versus $20-$24 with an agency, helping you save thousands of dollars in a year while still ensuring quality home care for your loved one. All of the caregivers on eCaregivers have passed a background check so you have a peace of mind that you're hiring a vetted caregiver for your loved one.
About the Author
Peter Kang is a writer for eCaregivers. He is inspired by his caregiver experience with his late grandfather and role model, a Korean War veteran, to help families find affordable care for their loved ones. Follow Peter on Facebook and Twitter.
Save