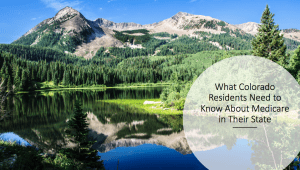 Despite impacting millions of people across the country, not many Americans are familiar with how the Medicare system functions.
Medicare even varies within each of the fifty states, making it more difficult to completely understand. In order to ensure that each citizen is getting their maximum benefits from this program, it is important that people become educated on the topic.
The more that people know about Medicare, the more they benefit. Here are some things that residents need to know about Medicare in Colorado.
Colorado Medicare Options
Medicare benefits are divided into different categories in Colorado. Residents can apply for Part A, B, D and supplement plans.
Medicare Part A covers care taking place in a hospital, and Part B focuses primarily on physician care. Colorado even has some Advantage Plans that are offered by private insurance companies.
Part D provides prescription medicine coverage for those already enrolled in Parts A and B. Part D is provided through some private insurance companies previously approved by Medicare.
Applying for Medicare
The process of applying for Medicare is the same in Colorado as all other states. To be eligible, an individual must be either a citizen of the United States or have held permanent residency for at least five years.
All individuals over the age of 65 are allowed to apply for Medicare coverage. Medicare in Colorado also covers those with disabilities who are under age 65.
Medicare Deductibles
Each Medicare Plan does have deductible costs to consider. Plan A has a deductible of $1,340 for each of the benefit periods. Medicare Plan B has a lower deductible of $183.
After paying the deductible, Plan B recipients are responsible for covering 20% of any amount approved by Medicare. Colorado charges a $405 yearly deductible for the Plan D Prescription Plan.
Medicare Supplement Plans (Medigap)
The Original Medicare plan still leaves a lot to be covered by an individual. Deductibles can quickly add up even with all the benefits provided by Medicare. This is why Colorado offers some Medicare Supplement Plans like Medigap.
Medigap works similar to Medicare, but it works to cover all of the costs that Medicare doesn't. Out of pocket expenses such as coinsurance, copayments and deductibles are all covered by a Medigap plan.
These plans are offered through private insurance companies, similar to some Medicare Supplement Plans.
Experiencing back, shoulder or neck pain? Your body may be speaking to you and you just don't know it. Getting older doesn't have to mean accepting regular aches and pains. Depending on your day to day activity, environment, and mobility, your back pain can be sending loud and clear messages like:
You're not active enough: This might seem counter intuitive, especially to older adults who are avoiding activity so they don't "further injure" themselves or cause more pain. The reality is, low-impact exercise and activity helps to alleviate pain and soreness by stretching out your muscles and spine, boosting blood circulation, and reducing inflammation in your muscles, joints, and tendons. Along with keeping off excess weight.
You're not sleeping well: A bad night's sleep can undo any number of steps you took towards relieving back pain during the day. Older mattresses that don't support proper spine alignment while you sleep can result in the pull and strain of your muscles and tendons and lead to bad posture during the day. Optimize on the natural curve of your spine while you sleep by simply using a pillow – on your side in a fetal position, try sleeping with a pillow between your knees. If you sleep on your back, place a pillow underneath your knees.
You're stressed: Feelings of stress, anxiety or depression can physically translate into tense muscles that lead to back pain and thoughtless behaviors like eating poorly or not exercising, which exacerbate existing conditions. Aging seniors with complex medical conditions or cognitive decline are more likely to experience stress and anxiety as well as feelings of frustration and anger.
You're not practicing self-care: Incorporating daily care routines into your life can make a huge difference in both your experience of back pain as well as your personal outlook on life. Self-care can be as simple as eating a healthy diet, stretching and exercising to care for your body, meditating, decluttering your environment, and practicing self-soothing techniques like rubbing lotion on your hands and feet before bed. Relieving back pain starts with you and your own self-awareness of what you need and deserve to live your best life.
You're sitting down too much: Countless aging seniors will spend hours each day sitting down – at meals, watching tv, reading, and at the computer. Sustained inactivity and sitting in one spot for an extended period of time puts significant pressure on the spine and promotes bad posture, all of which lead to back pain and discomfort. Experts recommend not going more than 30 or 45 minutes sitting in one place without getting up to stretch, walk around, and change positions.
Get this!
According to a recent report published by the American College of Physicians*, people who experience moderate to acute back pain are actually more likely to experience relief when they try exercise, yoga, acupuncture or massage instead of taking pain killers. The comprehensive study revealed that most types of back pain go away over time whether they are treated or not and that drugs should be a last resort for alleviating pain, after mindfulness-based practices, exercise, spinal manipulation, even heat wraps.
http://annals.org/aim/article/2603228/noninvasive-treatments-acute-subacute-chronic-low-back-pain-clinical-practice
Joe Fleming
Co-Founder, Vive Health
Save
Save
Save
Save
Save