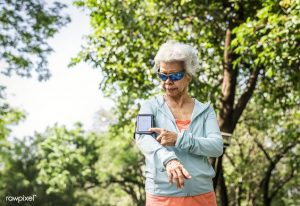 Advancements in technology have changed how people of all ages monitor their health. While the latest gadgets are generally seen as a trend aimed at younger generations, senior citizens have also reaped the benefits of health tracking devices. Here are seven health tracking devices perfect for seniors:
Fitness Trackers
Best for Seniors explain that fitness trackers show health related metrics like sleep quality, heart rate, and steps taken. In some cases, they even help the user reach a specific health goal.
Personal Emergency Response
This wearable gives the wearer an easy, quick, and convenient way to call for help in case something is amiss with their health. If they feel a shortness of breath all they need to do is press a button to call for attention.
Senior Safety Systems
These wearables track the activities of seniors to establish their activity patterns. They can then identify any abnormalities that will alert the doctor to irregularities.
Home Fall Detection System
Falls are a big concern for people in their old age, and this is where detection systems come in. These small wearable sensors detect falls and will instantly send out an alert that will bring help.
Medication Alerts
Medicines are a big part of life for those already in their golden years. These devices send out notices that make sure that the medicine is not forgotten and taken at the right time.
GPS Trackers
Seniors suffering from degenerative conditions need to be constantly monitored as they might wander aimlessly and get lost. GPS trackers help in this regard as they can let family members or carers keep track of them all the time.
Virtual Reality
Virtual reality is helping many different industries break new ground.Coral's article on technology's impact on sports details how VR is now changing how professional teams train. For instance, NFL quarterbacks are now using the technology to practice additional repetitions. This very same tech is also being used to improve and track the health of seniors. VR Fitness Insider reports that virtual reality helps seniors be more active without the need to leave their home. All they need to do is put on a headset and enjoy! They will also get a digital record of the exercise session.
Sure, the aforementioned health trackers may be perfect for seniors, but nothing will ever beat the attention and love that you, as a relative, can provide.
When it comes to consuming sufficient amounts of vitamins and minerals, turns out many seniors aren't. Chronic disease, dietary restrictions, limited income and access to food, reduced social contact, and other factors can increase a senior's risk for malnutrition. There are simple solutions however for addressing the problem – don't miss this quick guide:
Should Seniors Take a Multivitamin?
While the research on the need for multivitamins in the average American adult's diet goes back and forth, when it comes to senior health specifically, experts can agree on some things. With older age often comes diminished appetites, decreased digestive functioning (which can affect nutrient absorption), as well as less energy, bone loss, and reduced muscle mass.
While seniors should invest in core diet staples like fresh fruits and vegetables, whole grains, nuts, legumes, and lean proteins, they may also want to talk to their doctor about nutritional supplements like multivitamins.
Multivitamins for older adults can vary. Some multivitamins with added calcium and vitamin D are ideal for active women over 50, for example, while others may come with herbal ingredients that offer memory or energy improvement.
Easy Ways to Boost Nutrient Intake
While it might seem like nutrition shakes are the simplest solution for undernourished seniors, there are also fairly simple ways to incorporate more whole foods into a daily diet.
A high-powered blender is the ultimate nutritional tool a senior has at their disposal. These hi-tech devices process food at super speeds, helping to easily blend even the toughest ingredients like nuts and seeds. They are especially handy if you are a senior who struggles with dysphagia, the inability to safely swallow foods.
High-power blenders allow you to mix loads of healthy ingredients like fresh fruits, veggies, beans, greek yogurt, nut butters and more into smoothies, shakes, soups, stews, and dips. This simplifies the process of putting a meal together and is a much healthier alternative to processed, packaged and frozen meals.
Recruiting help from a care network can also help boost a senior's nutritional intake, ensuring regular round-the-clock meals that offer variety in addition to nutrients. Free, online tools like CaringBridge.com and TakethemAMeal.com allow family caregivers, neighbors, or simply friends to coordinate a digital calendar where people can sign up to help a senior with meals.
Local nonprofit services may be an alternative as well if a substantial care network is not in place. Meals on Wheels, for example, has chapters nationwide that deliver daily meals to seniors in need, and free senior transportation services are available in many regions and can help seniors get to the store to buy groceries or pick up food.
Being a Grandmother is a wonderful benefit of aging. The experience is truly all that your friends told you it would be. When you didn't think you could love anyone as much as your own children, your grandchildren come along and prove you wrong. You can spoil them and send them home, feed them junk food and cookies for dinner, snuggle and take time to play like you didn't have time for when you raised your own kids. And the best part is that all those things that would have made you a bad parent then, make you an awesome, fun Grandma now.
But what happens when, for reasons beyond your own control, your find yourself moving from the role of Grandma to Mom? According to the Profile of Older Americans (2016), "approximately 1 million grandparents age 60 and over were responsible for the basic needs of one or more grandchildren under age 18 living with them in 2015. Of these caregivers, 593,495 were grandmothers and 429,377 were grandfathers" (pg. 15). The role change from Grandma to Mama is a significant one. The little one you have spoiled and coddled is now yours to raise for the next 20 years into adulthood. This can be a shocking transition, but also a tremendous blessing.
This surprise happened to me at the age of 57. My husband had just retired and we had relocated to a more relaxing place in our life. We already had 7 children between us with an age span of 15 – 34 years of age, the last two of whom were adopted from Russia. So, when our teenagers were ready to graduate from high school, we were looking forward to being empty nesters, having raised children for many years.
Then, along came JJ. Substance abuse, which our pediatrician calls "the scourge of our community", was the culprit that led to our current situation. This is a common problem, although not all children of substance abusers are fortunate enough to be placed in a loving home out of the influence of parents who use drugs. Our journey started when we offered to take our 6 week old grandson for a few hours so his parents could enjoy some free time together. Those hours turned into several days when the parents didn't show up to get their son and nobody could find them. They didn't call to check on him and seemed not to mind that they didn't contact us for days. It wasn't long before CPS removed little JJ from his birth parents due to their substance abuse and neglect of their infant and placed him with both sets of grandparents sharing temporary kinship care. Unable to break free of the chains of drugs, even with unlimited free resources and counseling provided by the community, JJ's parents lost custody of him permanently and we became new parents again through adoption of our precious grandson.
The process of adapting to this life-changing event affects everyone differently. If you find yourself in a similar life-altering stage, then you may benefit from this series on Grandparents Raising Grandchildren. Today's tips are for Grandmas who are now Moms again:
Some things have changed
If you are anything like me, your last biological child may be in his/her 30's, so raising a little one might be a bit intimidating. Lots has changed in 30 years! There is so much more technology to help children learn and play. But this means we have become more tech savvy and not avoid the latest cellphones, computers, or apps. (Any teenager is happy to help you learn to be more techie). Toys are more fun now. Clothes are cuter. There are great innovations like disposable diapers, better bottles, and on-the-go baby food. Kids go to preschool and all-day kindergarten now. But, there are negatives too, like many more immunizations to keep track of. The world doesn't seem as safe in the big cities as it did long ago when we let our children play outside without as much fear of gang violence, guns, or being kidnapped. Yet, there are more guidelines for child-rearing, research on how to educate kids, and better job opportunities for when they are grown. While all these changes may be daunting, you can use them to your benefit and to make your life easier when raising children in your later years.
Some things never change
Fortunately for us, some things never change. Babies are babies, kids are kids, and teenagers are still teenagers. Changing diapers, bathing a baby, suctioning a nose with the blue bulb syringe, putting clothes on a wiggly toddler, and rocking a little one to sleep are still the same. Strategies for teaching math have changed, and maybe kids don't always have books in high school, but the major concepts of the major subjects are ones you will remember. Don't worry – this will all come back to you and you might be surprised how much better you are at parenting now than when you raised your first set of children. You are more relaxed and comfortable because you have decades of experience to draw on.
Your experience is a plus
One of your best assets as a new Grammy Mama (as I like to call this role) is your experience. For me, I raised or help raise 7 children before JJ, so I am way ahead of the new mother learning curve. We already know what works and doesn't work in raising kids. We are not novices, but seasoned experts! So, when you are tempted to feel you are not up to this new challenge, remind yourself that this is not your first rodeo.
You are not too old
It is a normal feeling to think you might be too old to raise another child. Let me assure you that you are not, and you are not alone. There are more than a million other grandparents in America just like you who are doing it, and many are older than you are. Your age gives you wisdom and experience. If you were in another job, you would be a Senior Executive, VP, or CEO – that is what you are in this new job. Embrace your Grammy Mama role. There is a reason why this child (or children) has been entrusted to you. You have been chosen for a remarkable task: to nurture a child who will later thank you for not giving up on him. You are never too old to undertake such a legacy as that.
The human survival instinct is strong and our spirits are made to embrace life. But what happens when your loved one is diagnosed with a terminal illness that has no cure? How do you reconcile the certain death of your spouse, parent, or child? Where can you turn when death is close or imminent?
We are fortunate to live in a society that supports excellent care for those who are coming towards the end of their life. As difficult as this journey is for persons and their family members, the appropriate level of service can provide the needed care and comfort to make the end of life a time of peace and reflection rather than pain and suffering.
Two major services are readily available to bring comfort and promote quality of life even until the end of life. These are palliative care and hospice.
Palliative care is a consultative service for those with life-limiting illnesses who may not yet meet the criteria for hospice or who do not wish to enter hospice yet. The focus of palliative care is comfort and symptom management, but patients may still continue treatments such as radiation, chemotherapy, dialysis, home health, or other therapy.  Palliative services can be provided in the acute hospital setting, in the home, or in a long-term care facility. A new program called PRIME (Progressive Illness Management Expertise) by AseraCare, focuses on symptom management, goals of care planning, medication management, and transition management. PRIME provides palliative care through nurse practitioners and social workers who coordinate care with your regular medical providers. For persons with serious chronic illnesses who experience recurring rehospitalizations, palliative care management can provide care coordination and smooth transitions to other settings, including hospice, at the appropriate time.
Hospice is a supportive and comprehensive service for those who are dying. The National Hospice and Palliative Care Organization states that the foundation of hospice and palliative care is the belief that "each of us has the right to die pain-free and with dignity, and that our families will receive the necessary support to allow us to do so". Generally, to qualify for hospice a patient is expected to live 6 months or less. Hospice uses an interdisciplinary team of physicians, nurses, social workers, home health aides, chaplains, bereavement counselors, trained volunteers and others to provide comfort and support to the dying patient and family. These services are covered by Medicare, Medicaid, and most private and commercial insurances. Hospice care can be provided wherever a patient lives, with 24-hour on-call availability.
End of life decisions are often difficult for families to discuss, but palliative care and hospice programs provide the help that is needed to have these conversations. Their aim is to help provide quality of life until death, helping people "live until they die". If your loved one may qualify for assistance, don't delay in seeking this support. It may be the best way you can help your family member have a peaceful end of life.