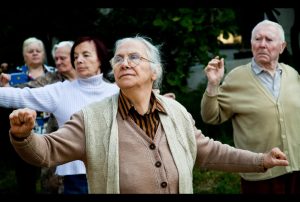 Having a purpose in life impacts its quality regardless of our age. A recently published study on Purpose of Life (PIL) in older adults found that people with purpose experienced fewer disability problems and chronic conditions. PIL is defined as a life with goals, direction, and meaning. People with a high PIL were found to be resilient, healthy and with social support, faith, and good knowledge of health-related matters. Here are some simple ways of keeping these factors in your life as you age.
1. Join an Age-Friendly Gym
Find a gym that has programs for elders. If you don't know many fitness centers that offer such programs, use an online tool like this facility locator on the International Council of Active Aging website. The map shows the available options in a city by name, number, address, and allowed gender. Next to the name of the center, there are icons to show what type of services they offer. Besides fitness centers, you can use the tool to find other services as well, including recreation centers, retirement living facilities, YMCA, community services, etc. Here are 5 places you can visit to stay in shape and find new friends.
2. Become a Volunteer
Consider becoming one of the many elderly who volunteer. Some popular forms of volunteering include fundraising, teaching, mentoring, and preparing/distributing food. Retired individuals are a good fit for volunteering programs because they come from a variety of businesses and sectors. For instance, your input can be valuable for a fundraiser if you have spent your career in marketing and have a strong connection in the community that takes years to develop. Sites like Volunteer Match list opportunities in a variety of areas and for people of different age groups.
You can also offer your services as a mentor to young people in general or in your field of expertise. For food related jobs, check at your local food banks and at any local food service companies. Volunteering can offer both physical and mental benefits. When choosing a form of volunteering, make sure that it engages you, so you don't find the work to be tedious and boring.
3. Visit Your Favorite Places
Start signing off the places you have on your travel bucket list. Hit the road, take the plane, rail, or ship. Don't allow a limited budget to come in your way – look for discounts. A variety of discounts are available, including airfare, dining, clothing, grocery, and entertainment discounts. Here is a list of some of these discounts. Go through them to plan your trip for less. If your travel appliance have gone out of shape, use a home warranty to fix or replace them for free.
4. Learn Something New
Join a class at your library or senior center to stay mentally agile and find people who share the same interests. Check courses at your community college as well. Take a driving course if you feel like your driving skills need a little sharpening. Continue the process of learning.

When you've started to notice changes in an elderly relative, you may wonder if a mental health issue is the cause. While it is important a mental health professional diagnoses these issues, some signs exist indicating that the time has come to make an appointment.
Depression
Depression can occur for a host of reasons. Elderly individuals may be suffering from the loss of a loved one, or they may feel alienated, isolated or otherwise separated from their friends or from their interests outside of the house. Individuals who seem filled with sadness and negative emotions or who are hinting about emotional turmoil may need outpatient or inpatient treatment for depression.
Anxiety Issues/Bipolar Disorder
You may also notice that your loved ones are having heightened periods of elevation followed by periods of deep sadness. They could be suffering from bipolar disorder. Serious anxieties could begin to manifest at this age too. For example, you may notice that your elderly relatives always seem to be thinking about their own death or about expected loss of other loved ones.
Memory Loss
As people age, you may think that it is a normal occurrence for them to forget information that they would have once remembered. However, these early slips could be signs of a more serious problem that is coming into fruition. Your loved ones might now be forgetting about certain dates or social events, but these struggles could turn into failures to take medication or complete other necessary medical tasks.
Personal Care
If you notice that your loved ones are not taking care of themselves as they used to, this situation could also be a sign of mental health issues. For example, you may have noticed that your relatives are no longer brushing their teeth or bathing on a regular basis. Seeking professional help can uncover the root of the issue so that a plan of treatment can be devised.
Social Withdrawal
Your loved ones might also seem to not want to participate in social activities anymore. Whether they are constantly declining invites to attend family functions or they do not want to participate in community activities any longer, these decisions could be signs that a mental health issue is present.
As your loved ones age, you may be the lookout for physical health issues. While addressing these problems is imperative, so is watching for signs of mental health struggles. May is mental health awareness month, get involved to help bring awareness to this important cause!
For seniors, getting old is the new black. You can ask them yourself. Because according to a recent survey, 68% of seniors never feel offended for being treated like one, while 70.3% feel being called 'old' is hardly offensive. The truth is, getting old is blessing – not a curse.
For starters, age brings wisdom. By the time the grey hairs start popping up, you've had your fair share of experiences. You've likely travelled around a bit, held a few jobs, been through good and bad relationships, started a family, and made some life-changing decisions. But when it comes down it, you're all the wiser for it. Going forward you can make better, more informed decisions, and even give your two cents to the younger generation.
As you mature, so too will your relationships. You'll likely cut out the friendships that didn't mean much, and work on the ones that do. Essentially, you'll start seeking quality, not quantity, across all areas of your life – which isn't a bad philosophy to live by. Plus, who said getting old isn't fun?
Take LATA 65 for example, an art organisation in Portugal that's destroying age stereotypes in the street art scene. By giving senior citizens the tools and knowledge to create their own stencils, the organisation's goal is to connect the older and younger generations through art, as well as help the elderly get out and about to engage in contemporary culture.
But that's just one example of how seniors are making the most of their retirement. What else are they getting up to?
How Aussies are living it up in their golden years
Gone are the days of knitting, card games and staying put. Seniors these days are proving to be one the most lively and radical bunch of seniors to date. According to the Golden Years Report, 85% of seniors consider themselves happy, while 80% are doing the things they really want to do.
In fact, most feel younger than they actually are. This can be attributed to being more physically active, learning new things, travelling to new places, having new experiences, being sociable, and having hobbies.
Seniors are also busting 'old age' stereotypes. For example, as technology becomes more prominent in our lives, Aussie seniors are no longer relying on others to show them the ropes. Instead, many are now technically savvy and spend plenty of time online. They also have no problem dressing like younger generations, speaking the same lingo (#YOLO), or even getting tattoos.
While they might not be huge spenders, today's retirees are also spending more money than earlier generations. So instead of slowing down and disappearing modestly into retirement, they're choosing to fork out just as much money (sometimes more) on their later lifestyles. And why not? Retirement isn't an expiry date – it's an excuse to live life to the fullest.
It's safe to say, Australian seniors are reinventing the concept of 'getting older'. They're not confined to the activities and stereotypes usually associated with old age, and are instead open-minded, tech-savvy and progressive. They're not just comfortable with the modern world, they're enthusiastically making the most of it. So if there's one take home message here, it's this – there's still plenty to look forward to.
Background
Urinary tract infections (UTIs), also called cystitis (inflammation of the bladder), are common among older adults and are more frequent in women. They are a primary cause of urinary incontinence and delirium. Catheter-associated urinary tract infections (CAUTIs) are more common among older adults (Fakih et al., 2012) and is mainly attributed to the use of indwelling urinary catheters. Many indwelling catheters are thought to be unnecessary (Cochran, 2007) and one study noted that physicians were often not aware of the purpose for which their patients had a catheter inserted (Saint, Meddings, Calfee, Kowlaski, & Krein, 2009). UTIs have been show to increase morbidity and mortality, length of hospital stay, and cost of hospitalization (Kleinpell, Munro, & Giuliano, 2008). CAUTI is considered preventable and is not reimbursed by Medicare. Therefore, hospitals will largely assume the financial costs for preventable infections of this type.
Risk factors/Signs and symptoms
Several risk factors are associated with UTIs in general. These include being female, having an indwelling urinary catheter, the presence of urological diseases, and hormonal changes associated with menopause in women. Signs and symptoms of UTIs include urinary frequency and burning or stinging felt during voiding. Pain may be felt above the pubic bone, and a strong urge to void but with small amounts of urine expelled. The most significant risk factor for CAUTI is prolonged use of an indwelling catheter. In hospital-acquired UTIs, 75% are associated with the use of an indwelling catheter (CDC, 2012). In women, signs and symptoms of CAUTI may be more severe than those reported by women by patients in the community who do not have an indwelling catheter. Lethargy, malaise, onset or worsened fever, flank pain, and altered mental status have been associated with CAUTI (Hooton et al., 2010).
Diagnosis
A thorough assessment should be done of the patient's urinary output, including amounts, color, odor, appearance, frequency of voiding, urgency, and episodes of incontinence. A urine specimen should be obtained if UTI is suspected. Laboratory results will show the type of organism causing the infection, and the sensitivity will tell what medication the organism is susceptible to. These results should be reported promptly to the physician or nurse practitioner caring for the patient and so that a diagnosis and treatment plan can be made.
Treatments
Prevention of UTIs is considered a primary nursing strategy. Elderly female patients can be instructed to make lifestyle modifications such as: increasing their fluid intake; emptying the bladder after sexual intercourse; practicing good perineal hygiene, including wiping front to back after toileting; getting enough sleep; and avoiding stress (PubMed Health, 2011). Although many of these common sense strategies are recommended by primary care providers, there is a lack of scientific evidence to support some of them. Many UTIs will clear up on their own, particularly if the person increases oral fluid intake during early symptoms. However, with many older adults, antibiotic treatment may be needed. In general, a course of three 3 days for healthy adults is thought to be sufficient, but for more resistant bacteria, a longer course more than five 5 days may be needed (PubMed Health, 2011). For those with repeated or chronic UTIs, a low dose of antibiotics taken for 6– 12 months may be indicated (Hooton et al., 2010). If the underlying cause is CAUTI, treatment will be more aggressive. Monitor the patient's temperature at least every 24 hours (Carpenito, 2013). Encourage fluids. Evaluate the necessity of continuing an indwelling catheter if one is in place.
Alternatives to indwelling catheters should be considered for appropriate patients. Intermittent catheterization, if appropriate, is preferred over indwelling catheter use, especially for long- term maintenance of bladder management (CDC, 2009; Hooton et al., 2010). Condom catheters may be an appropriate choice for some males. If an indwelling urinary catheter is necessary, the catheter should be removed as soon as possible, per the physician or nurse practitioner's orders, to reduce the risk of CAUTI.
Adapted from Mauk, K. L., Hanson, P., & Hain, D. (2014). Review of the management of common illnesses, diseases, or health conditions. In K. L. Mauk's (Ed.) Gerontological Nursing: Competencies for Care. Burlington, MA: Jones and Bartlett Publishers. Used with permission.
Save
Gerontology nurse practitioners face a unique set of challenges within their field. It comes with the territory of caring for older adults that issues such as death, dying, terminal illness, and chronic illness are commonly addressed.
Common Challenges
There are many challenges families face when caring for an older relative. For example, the loss of independence a geriatric patient may have. Families may need to step in and care for the aging patient, which, unfortunately, can add stress to their daily lives. This buildup of stress can lead to caregiver burnout, depression, anxiety, tension within the family, and even anger or resentment.
Another possible challenge is the imbalance of perceived "power" within the family. A scenario for this would be if an elderly patient moves in with their adult child and their family. For many years, the patient was the head of household; the one who made decisions and ran the home. Now, the adult child is the head of household, while the aging parent/ family member is an occupant. The family may experience a "power struggle" which can lead to conflict and strife within the home.
Dealing with chronic illness is another prominent challenge – possibly one of the most significant. Dementia, for example, is a condition which does not improve over time. Dementia affects almost half of adults over age 85. The early stages are the most difficult, as patients experience forgetfulness which could lead to safety concerns (i.e., wandering away from home, leaving the stove on, etc.). Family members may become frustrated easy, but as the disease progresses, they may experience a prolonged "mourning" of the patient.
Along with situational components, there are other factors that contribute to a family's dynamic. Socioeconomic level, education level, cultural differences, and even something as basic as personalities all contribute to how a family interacts with each other and deals with stress.
Tips for Geriatric Nurse Practitioners
When dealing with geriatric patients and their families, it's important to first acknowledge that each family unit has unique dynamics. From there, utilizing the nursing process is a great way to address the individual needs of the patient and family. Below are some tips, using the nursing process, that can help geriatric NPs manage the sometimes-complicated dynamics within families.
Assess
The first thing geriatric NPs should do is assess the family's interactions and communication skills. Ideally, meeting with both the family and patient is ideal. Assessing communication skills such as active listening, non-confrontational statements, and body language will help the NP determine how effective communication is within the family, and what needs to be improved. Geriatric NPs can also assess the patient and family's knowledge base, readiness to learn, and if anyone is experiencing any of the stages of grief.
Diagnosis
After assessing the family dynamics and interactions, geriatric NPs can create a "diagnosis" of what they may need. For example, if the daughter of an elderly patient with dementia can no longer care for the patient, the NP will need to take action in terms of finding a suitable living arrangement. Another example is if the son of an elderly patient with a chronic disease becomes easily frustrated and angry with them. The NP would have to develop a plan to address the issue.
Planning
After assessing the family and patient's needs and determining what is needed, the geriatric NP must create a plan to meet their individual needs. Because the needs of the patient and family are unique, breaking apart the needs of each family member will help tailor a plan to help create a healthy family dynamic. For example, using the first scenario above, the NP can create a plan to help the family find a care home for the patient, while assisting to help them manage the emotions involved with possible feelings of loss of control and fear. In the other example, the NP can consider arranging appointments for the son to see a counselor to deal with his feelings regarding his parent's chronic illness, and how to communicate in a positive manner.
Implementation
The implementation phase of the nursing process is putting the plans into process. For the geriatric NP, this means arranging appointments, providing resources, and collaborating with the rest of the care team. Using the examples above, that could mean providing a list of care homes, putting the family in touch with a social worker, and/or recommending a counselor for the significant life change of transitioning to a care home. In the second example, the NP can recommend family counseling as well, and possibly provide tips for stress management for caregivers.
Evaluation
Evaluating a patient and family's response to the recommended plan is one of the most essential pieces of dealing with altered family dynamics. This phase is a delicate process, as the NP needs to ensure the family has not only followed through with the treatment plan, but that it was effective as well. If not, the planning and implementation phase would need to be re-structured. In the examples used above, that would mean making follow-up calls to see how the elderly patient is doing in the care home, how the family and patient are doing with the transition, and if there are any other needs. In the second example, the NP can follow up with the elderly patient's son to see how he is dealing with his parent's chronic illness. It may also mean working to help manage the chronic illness as well.
Conclusion
Working with families is not unique to nurses and nurse practitioners. However, working with aging patients and their families presents a different set of challenges. While it's impossible to provide tips on every potential challenge geriatric NPs may face, going back to basics using the nursing process will help identify each individual need so that a plan can be developed to address them. One of the most important things to remember is to include the family whenever possible in the decision-making process, and to maintain as much dignity and independence as possible for the geriatric patient.