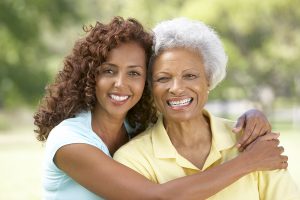 Ever heard of multigenerational living? It's a hot topic these days because many seniors are looking for ways to remain independent longer. As more people enter their advanced years, they and their families are faced with difficult decisions of how to provide the best care possible. For seniors hoping to keep their independence, living with family is the next best option to aging at home. Even if your house isn't big enough to handle more people living in it, there are companies who remodel homes specifically for seniors moving in.
 As noted in NYU Professor Eric Klinenberg's "Aging alone in America," 33% of American seniors make the decision to remain out of care facilities. With medical progress and healthier living, remaining out of a care home has become more practical than it once was.  Among the rest of the world's population, living with the elderly is more common, but as Americans, we tend to stay separated from our parents once we move out. With the economic downturn of 2008, however, young adults are staying in their parents' homes longer and older people are moving back in with their children. Seems like we're becoming more European every day!
Since elder care facilities commonly drain assets, there are obvious cost benefits to bringing your parents to you. Even more importantly than saving money, living at home helps seniors stay healthy by maintaining a routine. Things we take for granted like housekeeping, cooking, or yard work are types of physical and mental exercise that people do not receive in assisted living centers. After years of retirement it's easy to lose one's routine. If someone completely loses their routine they can develop what is called aging atrophy, which means increased dependence on those around them. Doing small chores helps combat aging atrophy. Plus, they can perform the cleaning duties or home upkeep you might not have time to do yourself.
Lastly, living in a multigenerational setting allows seniors to maintain control over their environment. At facilities, there is contact with nurses, other residents, and even other residents' families that cause exposure to illness. Keeping a clean environment at home without strangers around can help ward off sickness. If your loved one begins to require too much care to remain healthy at home, however, you should look into home-health services or other living options. Aging is often associated with making major decisions, but keeping parents close can help reduce stress.
Jacob Edward is the manager of both Prime Medical Alert and Senior Planning in Phoenix, Arizona. Prime Medical Alert allows seniors to stay in their homes longer and sells equipment throughout the country. In his spare time, Jacob enjoys dining out and supporting his alma mater Arizona State's Sun Devil sports teams. Jacob lives in Tempe, Arizona.
Save
Save
Some people, when they get to be my age, make a bucket list – that is, those activities they would like to do before they die. Well, I decided to make a list of the things I don't ever care to do and am happy that I haven't done…so here is my short not-bucket list:
Go sky diving. While this might be one many people's bucket list, I have no desire to go skydiving. I just can't imagine that the euphoria at having survived jumping out of plane and relying on a parachute for my life would ever override the sheer terror of the falling feeling. In fact, I would probably have a heart attack and die of fright on the way down.
Own a snake. I hate snakes and would never call one a pet. I would always be worried that it would escape and I would find it in my shoes one day all dried up, or worse yet, that it would curl up in the shower or hide in my closet. A big snake might eat my little dog or cat. Snakes seem like tricky creatures that would give me nightmares. Nope, no snakes for me.
Smoke a cigarette. No, I have never smoked a cigarette. In fact, when I was about 8 years old and my Dad was once smoking a cigar, which he did only occasionally (being more of a pipe man himself), I wanted to be like him and try a smoke. Dad said okay, and told me to take a big deep breath to inhale that delicious cigar smoke. As you might imagine, the fitful coughing after that one drag, combined with his laughter, cured me of ever wanting to smoke anything – thus Dad's lesson. He did, however, teach me great technique in stuffing his pipe, though not smoking one!
Go bungee jumping. Even if we set aside all the health hazards of having your hips and knees nearly yanked out of their sockets, your pelvis twisted and jolted, or the risks of having a stroke from all the blood rushing to your brain as you hang upside down, this is not appealing at all to me. Those with hiatal hernias or GERD should not put this on their bucket list. Similar to my feelings about sky diving, I just would not trust that the bungee cord would be strong enough or short enough to make it worth the thrill. Even with a go-pro camera to record the event, I'm sure that my screaming would overshadow any future comedic home movies that would come from it.
Get drunk.  I can't see the attraction of getting drunk and not remembering what you did the night before. I guess that it makes for funny big screen movies, but vomiting all over the carpet and having to clean it up the next day when sober just doesn't make it onto my list of anything remotely resembling fun. Besides, if I ever got inebriated, I would probably be found dancing on a table in a nightclub, make the evening news, and embarrass my kids to death.
Get a kidney stone.  I have already had one kidney stone and they are definitely not fun. I don't care to have another, so I drink plenty of water throughout the day. It is true what they say, that the pain can be excruciating and intractable. Kidneys stones should be on the "avoid at all costs" list of everyone.
So, what's on your not bucket list?
Strokes are the third leading cause of death in the United States with around 140,000 people succumbing to them every year. What's more worrisome is that Stroke Center reveals that nearly three-quarters of all strokes occur in people over the age of 65, putting the elderly at immense risk. And while we've already provided several tips on how to recover from a stroke in our video 7 Steps to Stroke Recovery, there is another method that could prove beneficial to stroke victims.
While yoga isn't the first thing that comes to mind when thinking of activities for the elderly, it's a pretty good source of exercise for those who have reached an advanced age. Case in point, 94-year-old world champion ballroom dancer Tao Porchon-Lynch swears by the mental and physical benefits that she gets from yoga. That said, how can these benefits affect those in stroke recovery?
Physical Benefits
One of the biggest hindrances that come with a stroke is its lingering effects on the survivor's balance and range of motion. Most stroke survivors find it difficult to perform everyday tasks such as walking or operating household devices.
Yoga's focus on poses and posture addresses these physical issues and strengthens the practitioners' bodies, improving their flexibility and range of motion. Health writer Carol Krucoff details how yoga can help seniors improve their balance, strength, and agility. She notes that seniors have to be extra careful, as they are more prone to injury due to their age. This especially applies to stroke survivors who may have trouble with the poses at the start, but this is an endeavor worth undertaking for stroke recovery.
Spiritual Benefits
One of the biggest hindrances to recovery when it comes to strokes is the toll it takes on the survivor's emotional well-being. The American Stroke Association emphasizes how common depression is in stroke survivors due to both biochemical changes in the brain and the shifts in the psyche of the survivor.
This is why stroke survivors need not only address the physical challenges of recovering, but also the inner challenges that it poses. Fortunately, yoga has a solution for this as well. Lifestyle writer Jane Adamson highlights the spiritual benefits of yoga, as it helps one find inner peace amidst difficulty. This is because yoga is an ancient spiritual practice that aims to, above all else, help its practitioners achieve a sense of serenity. This is in line with the teachings of yoga that highlight the connection between mind and body, meaning that taking care of one aspect also positively influences the other.
Mental Benefits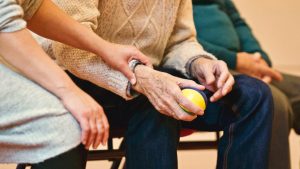 A stroke is sometimes called a brain attack because it occurs when your brain stops getting the oxygen that it needs to function. This is why survivors need help rewiring their brains after a stroke, as going through that sort of trauma leaves lasting effects. Yoga helps break through the mental barriers that come with stroke recovery. In the early stages of recovery, survivors find it difficult to make their bodies do what their brains want them to. And while some may argue the validity of this, a case reported in The Guardian narrates how a stroke patient can regain their sight after going through intensive brain training.
It isn't a stretch to attribute yoga's focus training to alleviating the mental blocks that come with surviving a stroke. Indeed, yoga's emphasis on focus and being present in one's body should aid in the survivor's overall journey to recovery and rehabilitation.
Written exclusively for Senior-care-central.com
by Gwen Watson
Most of us have New Year's resolutions. One of my new goals for 2020 is to age better. Andrew Weil, MD, in his bestseller Healthy Aging: A Lifelong Guide to Your Well-Being (2005) said, "to age gracefully requires that we stop denying the fact of aging and learn and practice what we have to do to keep our bodies and minds in good working order through all the phases of life" (p. 7). You may well ask, "how does one do that"? For me, it means actually practicing what I preach. We are fortunate today to have so much research and information on aging that we can pinpoint some specific areas that are common to successful aging. I have taught these to numerous students and groups of older adults, but it wasn't until I joined the over 50 age group that this knowledge seemed more personally applicable. So, let me share with you five keys that both scientists and the oldest old persons in our society have found contribute to healthy aging.
Have a positive attitude towards life. This includes having good coping skills and being able to deal with grief and loss appropriately.  Most centenarians will say that you should always having something to look forward to. Make a list of places you want to travel this year, vacations to take, people you need to visit, or things that need to be fixed around the house. Then start to cross them out as you do them, and bask in your accomplishments.
Maintain key relationships. These include having a stable marriage and/or being involved in a religious or social community. In George Vaillant's book Aging Well (2002), he reported the results of the Harvard Study of Adult Development. Generativity, or selfless investment in others (including the next generation), was found to be the best predictor of a long and happy marriage. Likewise, studies show that older persons who affiliate with a religious organization, such as attending church regularly, report better health and better social support systems, and tend to remain independent longer.
Maintain a healthy weight through proper nutrition. Eat a diet with plenty of fiber, fruits, vegetables and water. Limit saturated fats, salt, processed foods, and less useful calories from alcohol or sugary drinks.
Stay active. Physically, do some moderate exercise on most days of the week. For persons who are older and unable to do strenuous activity, remember that regular daily chores that include continuous motion such as doing laundry, gardening, or cleaning house can count as exercise and can also be spread throughout the day to accumulate the recommended 30 minutes of activity. If able, brisk walking is highly recommended. Keep your mind active as well. Resolve to take up a new hobby such as a craft, learning to play an instrument, or studying a foreign language. Working puzzles, playing cards, and reading are also good ways to stimulate your brain function and keep your memory sharp.
Avoid negative behaviors such as overeating or drinking too much alcohol.  Adopt an attitude of "everything in moderation". Don't smoke, and if you do smoke, stop. Sadie Delany (1994) at over 100 years of age wrote in her book Having Our Say, "so you want to live to be 100. Well, start with this: No smoking, no drinking, no chewing" (p. 11).
Resolve with me to age more gracefully during 2020 and let's see how we do. Do you have any secrets of healthy aging that have worked for you or your parents/grandparents? Please share them with us.