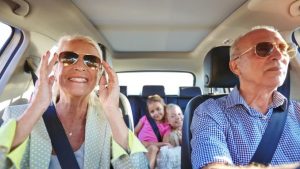 On a list of the greatest fears many seniors have, failing health, hearing loss, and falling often rise to the top. One major fear that few actually talk to their families and doctors about though is losing the ability to drive. In fact, a new AAA study found that over 80 percent of older drivers never discuss their safe driving ability at all with their care networks or medical professionals.
For many seniors, driving is the hallmark characteristic that defines independence. Being able to drive allows seniors to travel, to run their own errands, to get out of their house and socialize. Losing that ability to drive doesn't just strip those things away, but it also requires seniors to ask for help and coordinate transportation, all of which can leave them feeling like a burden on their caregivers.
What is the danger then? Well not only do older drivers who have outlived their ability to safely drive a vehicle endanger their passengers and other drivers on the road, they put themselves at increased risk for injury and even death. Because older adults typically have more fragile bones and higher rates of chronic illness that can complicate an injury recovery, they are more likely to get hurt or even die in a car crash than younger adults.
Talking About Driving with Your Aging Parent
The bottom line is that simply conducting a dialogue about driving doesn't mean a senior will lose their license or be held back from driving. In fact, it is quite the opposite. Just as using a cane for walking empowers a senior with mobility limitations to keep moving, talking about safe driving can empower seniors to take helpful steps that keep them safe on the road.
For example, the Senior Driving division of AAA offers loads of helpful resources, tools, and information that connect seniors with local refresher courses on defensive road wise driving, help them understand how medicine can affect safe driving, and much more.
If you need to have a conversation with your aging parent about safe driving, experts recommend approaching it from a place of compassion and empathy. Instead of accusing them of being an unsafe driver, confess the concerns you feel about their safety on the road and ask them about their own perspective. Discuss helpful driving tools, safe driving refresher classes, and even consider attending a senior driving expo together.