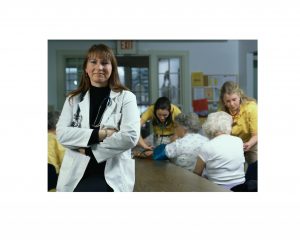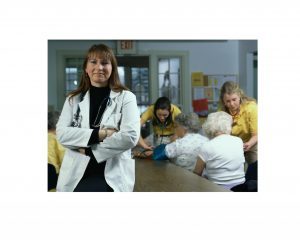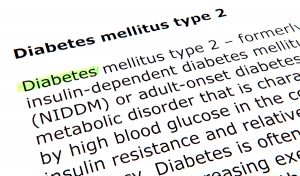 Background
Diabetes mellitus is a common metabolic disorder that affects carbohydrate, lipid, and protein metabolism. It is estimated that about 4.4 to 17.4% percent of adults in the United States have diabetes mellitus (Cory , Ussery-Hall, Griffin-Blake et al., 2010). It is estimated that 11.5 million women and 12.0 million men over the age of 60 have diabetes, but many do not know it. The Indian Health Service reported via the National Diabetes Survey of 2007 that of the 1.4 million Native Americans and Alaska Natives in the United States, 14.2% age 20 years or older have diagnosed diabetes. Rates vary by region, from 6.0% of Alaska Natives to 29.3% of the Native Americans in southern Arizona (CDC, 2007). There are two major types of diabetes, type 1 (T1DM) and type 2 ( T2DM). T1DM is characterized by autoimmune destruction of the insulin-producing beta cells of the pancreas, leading to a deficiency of insulin. New-onset of adult T1DM in older adults rarely happens; however, due to better treatment of T1DM, older adults who have been diagnosed at an earlier age are living longer. About 90% of older adults with diabetes have T2DM, which is often related to obesity. T2DM is characterized by hyperglycemia and insulin resistance; however, impaired insulin secretion may also be present. Diabetes mellitus is a major cause of disability and death in the United States, and is the seventh leading cause of death among older adults.
Risk Factors
The risk of diabetes increases with age (45 years and older). Other risk factors include family history, obesity, race (African Americans, Hispanics, Native Americans, Asian Americans, Pacific Islanders), hypertension, less "good" cholesterol (less than 35 mg/dl), lack of exercise, having a history of delivering large babies (≥9 pounds), personal history of gestational diabetes, and pre-diabetes in men and women (Laberge, Edgren, & Frey, 2011). Type 2 is the most common type in older women (CDC, 2007). The risk of death from DM is significantly higher among older ¬Mexican American, African American, and Native American women when compared to Whites. The Centers for Disease Control CDC (2005) names obesity, weight gain, and physical inactivity as the major risk factors for DM among women.
Diagnosis
The most common presentation for older adults with T1DM is hyperglycemia (high blood sugar). Older adults may not have the classical symptoms such as polydipsia, polyuria, polyphagia, and weight loss. Instead, they may have an atypical presentation (Halter Chang & Halter, et al., 2009). They may first present with falls, urinary incontinence, fatigue, or confusion. Because older adults may have T2DM for years before it is diagnosed, they often have macrovascualar and microvascular complications at the time of diagnosis, so evaluation of these should be considered at that time.
Treatment
Prevention is the best approach to care, which involves identifying those at risk and encouraging lifestyle change. Older adults with diabetes mellitus have a high risk for complications related to macrovascular disease, microvascular disease, and neuropathy. Macrovascular diseases include coronary heart disease, stroke, and peripheral vascular disease, which can lead to amputation. Microvascular diseases are chronic kidney disease, which is the most common cause of end-stage renal disease, and diabetic retinopathy, that which can lead to blindness. Peripheral neuropathy presents as uncomfortable, painful sensations in the legs and feet that are difficult to treat. A lack of sensation may also be present and contribute to the risk of falls. There is no cure for peripheral neuropathy, and it tends to be a complication for which patients experience daily challenges trying to manage the symptoms. A combination of medication to address pain and interventions by a physical therapist seems to be the best current treatment.
Treatment is aimed at helping patients to achieve and maintain glycemic control to decrease risk of complications. The initial treatment approach is to work with the older adult to establish treatment goals aimed at reducing long-term complications. This often requires working within an interprofessional team. Aggressive treatment may be appropriate for most older adults; however the risk of hypoglycemia (low blood sugar) is higher in older adults. Older adults with hypoglycemia may have an atypical presentation with acute onset of confusion, dizziness, and weakness instead of tremors or sweating. The best measure of good blood glucose management and controlled blood sugars is HgbA1c levels (glycosylated hemoglobin). This measure of hemoglobin provides insight into the previous 3 months of blood sugar control. If HgbA1c is elevated, it indicates that the blood sugar has been high over time. For most people, a HgbA1c ≤ 7% indicates optimal glycemic control; however, due to poor health outcomes, for frail older adults or those with a life expectancy ≤ 5 years this may not be the best, and a Hgb A1c of 8% might be more appropriate.
Management is successful when a balance is achieved among exercise, diet, and medications. Medications may be oral hypoglycemics or insulin injection. Insulin injection is used in T1DM and may be prescribed for T2DM because as the person ages, beta-cell function declines. If insulin is needed, it is important to consider if there are visual problems and or hand arthritis that limits the dexterity that is necessary to prepare and inject the medication. For some, a simple regimen, such as premeasured doses and easier injection systems (e.g.,insulin pens with easy-to-set dosages) is the best.
Thorough evaluation of readiness to learn and of the ability of an older person to manage his or her medications must be done. Older adults who need to give themselves insulin injections may experience anxiety about learning this task. Demonstration, repetition, and practice are good techniques for the older age group. Adaptive devices such as magnifiers may help if the syringes are hard to read. A family member should also be taught to give the insulin to provide support and encouragement, although the older adult should be encouraged to remain independent in this skill if possible. Williams and Bond's (2002) research suggested that programs that promote confidence in self-care abilities are likely to be effective for those with diabetes. A plan for times of sickness and the use of a glucometer to monitor blood sugars will also need to be addressed. Additionally, the dietician may be consulted to provide education for the patient and family on meal planning, calorie counting, carbohydrate counting, and nutrition. Many patients benefit from weight loss, so the nutritionist can assist with dietary planning in this regard also.
Due to the increased risk of infection and slow healing that result from diabetes, foot care is an essential component in teaching older adults to manage DM. Some experts believe that good preventive foot care would significantly reduce the incidence of amputation in the elderly. Older persons with DM should never go barefoot outside. Extremes in temperature should be avoided. Shoes should be well fitting and not rub. Socks should be changed regularly. Elders should be taught to inspect their feet daily, with a mirror if needed. Corns and ingrown toenails should be inspected and treated by a podiatrist, not by the patient. Older persons should see their podiatrist for a foot inspection at least yearly. Patients should be cautioned that even the smallest foot injury, such as a thorn or blister, can go unnoticed and unfelt—and often results in partial amputations that lead to a cascade of lower extremity problems.
Adapted from Mauk, K. L., Hanson, P., & Hain, D. (2014). Review of the management of common illnesses, diseases, or health conditions. In K. L.
Mauk's (Ed.) Gerontological Nursing: Competencies for Care. Sudbury, MA: Jones and Bartlett Publishers. Used with permission.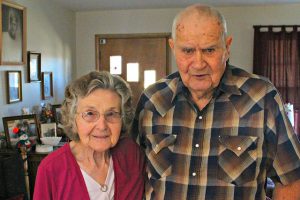 Unfortunately, addiction doesn't just stop in one place and stay there. It can affect many people across all walks of life. It happens to any person, of any age, in any area, in any place of their life. This is why it is important to note those rehabs that specialize in rehab care for the elderly.
With over 40 million seniors aged 65 or older living in the country, it is no wonder that some of them do have an addiction issue. With so many seniors, many of them have taken prescription pills for one health issue or another. As a leading cause of substance abuse in the country, seniors are not exempt from this addiction.
In fact, seniors are more likely to be prescribed these medications and more likely to abuse them than any other age group. This is because they are oftentimes forgetful, may feel like they haven't taken enough, do not realize they are taking too much, or any number of other reasons.
Rehab for these seniors addicted to these medications will be needed.
Addiction in Seniors
Many find it surprising that so many seniors are addicted to medications. Isolation and loneliness tend to be the most common issues for addiction in older adults, especially those abusing alcohol or other drugs.
This type of addiction needs to be addressed in a specific setting and in a specific way. Not only should the root of the problem, such as the loneliness, be addressed, but the specific person should understand that they have a problem. Even though they are older, it doesn't mean that they shouldn't get help.
An addiction rehab with specialists that are trained in senior rehab is required. This is a rehab center that can speak with the senior, understand why they are using or abusing the substance, and then find the best course of action to take regarding their treatment plan.
Seniors, just like the rest of us, are susceptible to addiction. Due to this, it is important to check in on those that are close to you to make sure that they do not feel the need to use. You want to help them when it is needed, visit with them, and let them know you are there. Rehabs for seniors, and others that have drug abuse issues are out there, but it shouldn't have to get this far.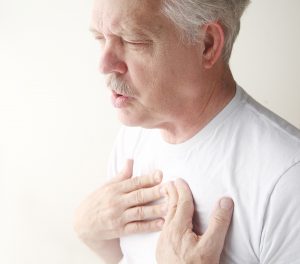 According to the CDC (2010), chronic lower respiratory disease and pneumonia with influenza are the third and ninth leading causes of death, respectively, among older adults. Older adults 65 and older are more often affected by these disorders than younger adults, and the risk of death from pneumonia increases with age. In 2005, there were 651,000 hospital discharges of males diagnosed with pneumonia and 717,000 discharges of females, with greater than 62,000 deaths attributed to pneumonia (American Lung Association [ALA], 2008). The majority of these cases occurred in those age 65 and older, with the elderly having 5–10 times the risk of death from pneumonia as younger adults (Kennedy-Malone, Fletcher, & Plank, 2004).
Pneumonia is an infection of the lung that can be caused by bacteria, viruses, or mycoplasmas. The two most common ways to get pneumonia are through inhalation of droplet particles carrying infectious germs and aspiration of secretions of the nose or mouth areas. Older adults are at higher risk for pneumonia and can get a more serious infection if they also have other chronic diseases such as COPD, heart failure, a suppressed immune system, cerebrovascular disease, and poor mobility (ALA, 2012). The incidence of community-acquired pneumonia (CAP) among people age 65 and older is about 221.3 per 10,000 (ALA, 2008). Streptococcus is the most common bacterial cause, with about 50% of people with CAP requiring hospitalization (Weinberger, 2004). When hospitalized, older people are at risk for poor health outcomes, including respiratory failure requiring ventilator support, sepsis, and longer length of hospitalization, duration of antibiotic therapy and other supportive treatment (ALA, 2012).
Warning signs
The onset of bacterial pneumonia can be sudden or gradual; however, older adults may not present with the typical symptoms of chills, fever, chest pain, sweating, productive cough, or shortness of breath. Instead, they may have a sudden change in mental status (confusion/delirium). Cases of viral pneumonia account for about half of all types of pneumonia and tend to be less severe than bacterial pneumonia. Symptoms of viral pneumonia include fever, nonproductive hacking cough, muscle pain, weakness, and shortness of breath.
Diagnosis
Diagnosis is made through chest x-ray, complete blood count, and/or sputum culture to determine the type and causal agents (if bacterial). A thorough history and physical that includes assessment of swallowing ability and eating (watch for coughing while eating) to evaluate for aspiration risk should be done. Crackles may be heard in the lungs through a stethoscope, and chest pain with shortness of breath may be present.
Treatment
Bacterial pneumonia can often be treated successfully when detected early, and viral pneumonia generally heals on its own (antibiotics are not effective if pneumonia is caused by a virus), though older adults may experience a greater risk of complications than younger adults. Oral antibiotics will significantly help most patients with bacterial pneumonia.
Aspiration pneumonia is caused by inhalation of a foreign material, such as fluids or food, into the lungs. This occurs more often in persons with impaired swallowing. For older adults receiving tube feedings, care must be taken to avoid having the person in a laying position during and immediately after tube feeding because aspiration can occur; it is important to note that tube feedings do not reduce the risk of aspiration. Having the head of the bed elevated or, even better, the person in a sitting position when eating or receiving nutrition through a feeding tube, helps to avoid the potential complication of pneumonia related to aspiration.
When recovering from pneumonia, one should get plenty of rest and take adequate fluids to help loosen secretions (with accommodations made to support the added need to urinate due to the increased fluid intake, a common reason why older adults may not drink adequate fluids). Tylenol or aspirin (if not contraindicated by other conditions) can be taken to manage fever as well as aches and pains. Exposure to others with contagious respiratory conditions should be avoided. Respiratory complications are often what lead to death in the older adults, so they should be cautioned to report any changes in respiratory status such as increased shortness of breath, high fever, or any other symptoms that do not improve. It is important to follow up with the physician or nurse practitioner and get a chest x-ray if ordered, since symptoms may improve with treatment before the pneumonia is actually completely gone.
Prevention of pneumonia is always best. Adults over the age of 65 are advised to get a pneumonia vaccine. Persons younger than age 65 who have higher risk (those with respiratory problems or persons in nursing homes) should get the vaccination. A yearly flu vaccine is also recommended for older adults, because pneumonia is a common complication of influenza in this age group. Medicare will cover these vaccines for older persons.
Age related hearing loss is the most common form of hearing loss especially in the over 65s. While deteriorating hearing due to an aging system is an (unfortunate) natural process, factors such as family history of hearing loss, smoking, and certain medication, prolonged exposure to loud noise will have an impact on its rate of deterioration and resultant severity.
The human inner ear contains hair cells that help pick up information contained within sound waves. This information is then transmitted by way of the hearing nerve to the brain for further processing. As the body matures (or due to exposure to loud noise), hair cells can become damaged and/or die. The process can start as early as in a person's 40s, but presents far more commonly in the over 65s and the over 70s. The body is unable to regenerate new hair cells, so there will eventually come a point when the person senses that their hearing isn't what it used to be. (Although it is often friends and family members that notice the deterioration in hearing ability and alert the individual.)
There are common problems that the hard of hearing report; but how significant their impact on the person's daily life will vary considerably across individuals.
Common symptoms include:
• Difficulty hearing people around you
• Frequently asking people to repeat themselves
• Frustration at not being able to hear
• Certain sounds seeming overly loud
• Problems hearing in noisy areas
• Problems telling apart certain sounds such as "s" or "th"
• More difficulty understanding people with higher-pitched voices
• Ringing in the ears
Loss of hearing and its likely cause can be established after attending a hearing test. The hearing exam or hearing test will cover a review of your medical history and a physical ear exam. If the hearing loss is age-related in nature, it is often managed through the use of hearing aids. There is no cure to undo the natural aging process that results in hair cell decline, so treatment should be viewed as a means to improve quality of life by managing the condition rather than curing it.
Those that willingly or unwillingly leave hearing loss unmanaged may face further longer term health complications, including depression, and perhaps surprisingly, cognitive and mental health decline.
There is a worrying link between hearing loss and dementia currently being explored. Recent research suggests that there is a connection between hearing loss and dementia. The hard of hearing are at a high risk of experiencing social isolation due to reduced communication with their immediate surroundings; and perhaps as a result of this, they are reportedly more likely to develop dementia.
An individual with hearing loss must concentrate harder to hear and often has to use lip reading and facial expressions to fill in the gaps as to what was said. After a while, this level of concentration can lead to fatigue and symptoms that mimic physical exhaustion. Some individuals may choose to simply avoid conversation, as it is too exhausting, thereby opening the door to social isolation.
If you have concerns about your hearing or the hearing of someone you care for, do arrange a simple and quick hearing test.
Information written by Joan McKechnie BSc Hons Audiology & Speech Pathology. Joan works for UK based Hearing Direct. In addition to her role as one of the company's audiologists, Joan helps maintain an information blog on hearing loss.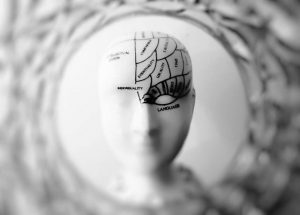 In essence, mild cognitive impairment (MCI) is a condition in which an individual experiences a slight decline in mental abilities. While minor, the decline can be easily noticed by the person concerned or the people they interact with. The changes, however, are not severe enough to interfere with their routine activities and daily life.
Decline Due to Normal Aging vs. Mild Cognitive Impairment: What the Difference?
Gradual cognitive decline is sometimes evident with healthy aging. For instance, the mental processing slows down, the ability to learn new information is reduced, and the likelihood of getting distracted increases.
However, decline brought about by normal aging will not affect overall functioning or the ability to perform routine activities. Normal aging will also not affect intelligence, recognition, or long-term memory.
In normal aging, older people may forget names (and words) and misplace things occasionally. However, with mild cognitive impairment, the person forgets information and conversations one would usually remember, such as planned events and other appointments.
Does MCI Always Lead to Dementia?
Dementia is the general term used to describe the severe decline in mental function that interferes with daily living. There are instances, where a treatable disease or illness causes MCI.
However, researchers also discovered that for most patients with MCI, it is considered the point along the pathway to dementia. MCI can be secondary to various illnesses, including Parkinson's and Alzheimer's disease, vascular dementia, and frontotemporal dementia.
Is MCI Common?
According to the American Academy of Neurology, MCI is present in about 8 percent of people aged 65 to 69, in 15 percent of people aged 75 to 79, in 25 percent of those aged 80 to 84, and in about 37 percent of people aged 85 years or older.
Conclusion
If you suspect you have MCI, it is recommended that you see your doctor right away. While there is no specific test that can confirm a diagnosis, your doctor can tell if you have MCI based on the symptoms that manifest and the information you will provide.
About the Author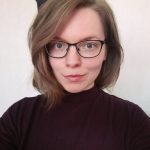 Melissa Andrews is the Content Marketing Strategist for Paradise Living Centers, an assisted living center for seniors with locations in Paradise Valley and Phoenix, Arizona. In her spare time, she enjoys cooking and going on hiking trips with her siblings and cousins.