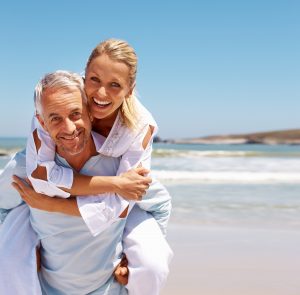 I remember when my father retired at the age of 62 from a busy career as a pediatric surgeon. I thought he would be bored, but he had already compiled a notebook full of chores to do around the house, places he wanted to go, and a bucket list of other accomplishments that had been put on hold. Shortly after his retirement, my Mom confided in me that it was a bit of an adjustment having Dad home all the time. Suddenly, Mom said she seemed to no longer be able to cook right after about 40 years of doing this on her own. Dad had a better way to do things, after all. Once I saw Mom trying to wrap a gift and the wrapping paper seemed too small for the size of present. Dad was trying to give her step by step instructions and after snapping at her, Mom let him wrap the gift himself. Now, while I do concede that Dad was able to wrap the gift absolutely perfectly with the allotted paper, Mom and I gave each other a knowing glance and smiled. Ah, retirement.
So, when my own husband announced that he was going to retire and sell his share of the business at the age of 51, I knew I had to take some action to give our marriage the best chance to survive and thrive against this new challenge. After all, when my father-in-law retired, my mother-in-law had to encourage him to get a part-time job so she could have some "peace". Even she was a bit concerned when my husband decided to take early retirement. Here I offer my short bit of wisdom, gleaned not only from my own experience but also from many wise women who gave me their sage advice to prepare for this season of life: when your husband retires.
Set the ground rules. I had fortunately learned during a brief period when my husband was working from home that there were certain things that would have to be agreed upon before he ever retired if we were to live peaceably. For example, he was not allowed to take over any of my former responsibilities unless I asked him to. Driving the kids around to activities can be helpful, but trying to wash the shrinkable clothes was not. Taking us out to eat after I worked all day was fine, but trying to take over the kitchen was off limits. Helping the kids with business math (not my area of expertise) was great, but trying to be the full-time homeschool Dad was not going to work for any of us.
Have separate work spaces. Jim and I cannot share a computer. I teach partially online and spend lots of time working from home with consulting. We agreed early on that he would set up a separate place in a different part of the house for his computer and desk. This has created much harmony over sharing the work space.
Allow everyone time to adjust to the change. I must admit that it took me several weeks, maybe even months, to realize that my husband was truly going to retire. Once he was home all the time, the reality gradually set in, but I kept reminding myself to give us all an adaptation period as if we were starting a new job orientation, because things were definitely going to change. Our two teenagers were the most leery of Dad being home all the time. For them, the ground rules (i.e. "please just let us do our work and don't change our routine") were particularly essential.
Accept your differences. My husband is a problem-solver and savior. He likes a challenge and wants to fix everything for everyone if he can. While I admire this about him, I didn't want him to fix the nice structure and functionality by which our home was already running. I learned to embrace his strengths and encourage him to accept my weaknesses (like overindulging in carbs and worrying about things I can't control). He likes to exercise every day, watch sports, and spend time on the landscaping. I would rather take the kids to the movies and go shopping. And that had to be ok.
Embrace the positives. While I was a bit skeptical about how our lives would change with my husband retiring so soon, there are so many things to celebrate that I am daily embracing the wonderful opportunities and blessings that his retirement has brought to our family. We are free to travel more. He accompanies me on business trips, even to China twice! He is much more relaxed and pleasant. It makes our family happy to see him have the time and resources to do what he enjoys. Jim keeps busy all of the time and yet does not have the daily pressure of work-related stress. We spend more time with family and have plans to move nearer to the grandchildren and to a better climate.
For all the women who are warily facing their husband's retirement, take heart. I can honestly say that with some forward and deliberate planning, my husband's retirement is one of the best things that has ever happened to us!