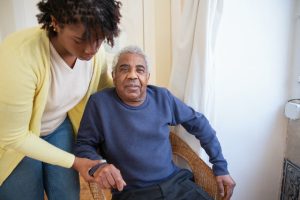 A stroke is a serious, life-changing event that occurs when the brain becomes cut off from its oxygen supply due to bleeding or a blocked artery. Fortunately, many people are able to regain most of their cognitive function by following the guidance of their doctors, physical therapists, and speech pathologists. If your loved one has recently suffered from a stroke, there are many ways you can help facilitate their recovery and improve their quality of life.
Rebuild Skills Through Stimulation And Repetitive Practicing
While recovering from a stroke can be a long and often frustrating process, it is important to help them stay on track through purposeful stimulation and repetitive practice. Practicing simple daily tasks is necessary for the neural pathways to rebuild efficiently. Even simple, repetitive motions like leg bends and hand exercises are critical if your loved one is to gain full recovery after a stroke.
Help They Stay Consistent With Full Body Exercises
Your loved one's physical therapist plays a critical role on their path to stroke recovery. They know exactly which exercises to prescribe for their clients in order to address any lasting effects their stroke has had on their mobility and quality of life. If your loved one struggles with walking after a stroke they may be instructed to complete a series of core, leg, and feet exercises to improve their mobility. Be sure to help them practice these moves on a regular basis and provide ample encouragement along the way.
Don't Underestimate The Healing Power Of Sleep
Sleep is a powerful healer. Studies have shown that those who have experienced a stroke are more likely to regain mobility and improved neuroplasticity if they receive a healthy amount of sleep every night. Subsequently, stroke survivors who struggle with sleep issues such as insomnia, sleep apnea, and restless leg syndrome tend to have poorer recovery outcomes. If your loved one is struggling to get enough sleep after they have suffered a stroke it's important to let their doctor know so they can get to the root of the underlying issue.
Boost Neurogenesis With A Healthy Diet
Your loved one's diet can play a huge role in how well they are able to recover from a stroke. Certain types of foods promote healthy brain functioning and neurogenesis. You can help your loved one incorporate these foods into their diet by helping them with their grocery shopping and incorporating foods like fish, fresh berries, and nuts into their diet. Leafy greens, legumes, and whole wheat are also good choices for stroke patients. Be sure to consult their physician before making dietary changes, especially if they also have special restrictions due to diabetes or high blood pressure.
Prevent Regression By Helping Them Maintain Consistency
Recovering from a stroke can be a lengthy and frustrating process, especially since mobility gains are often incremental. This can be disheartening for loved ones who may have lived a very robust and active lifestyle prior to their stroke. Not only is recovery frustrating, but it can also be a lonely experience, especially if your loved one has lost their ability to communicate as well. Try to be as active as possible in their recovery process and provide ample encouragement along the way.
Incorporate Apps Into Their Recovery Treatment Plan
Aphasia is a common condition that affects a person's ability to understand and communicate and is commonly associated with stroke. Aphasia presents differently in all patients and can be as mild as a speech impediment or as catastrophic as total communication loss. Fortunately, there are inexpensive apps you can download for your loved one that will help them improve their language and cognitive skills. If you're unsure which apps would be most beneficial you should consult their speech pathologist. They will be most familiar with your loved one's specific needs and can point you in the right direction.
Closing Thoughts
Although there might be some plateaus along the way, you can help your loved one successfully recover from a stroke. By helping them stay consistent with their exercises and accompanying them to their appointments whenever you can, your loved one has a greater chance of regaining their cognitive abilities and significantly improving their quality of life.