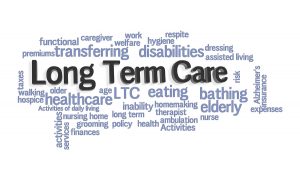 Depending on what long-term care option your loved one chooses, prices can vary. Many families may be surprised to find out that Medicare and private health insurance policies don't typically cover the cost of care. Learn how you can pay for long-term care by reading on!
1. Long-Term Care Insurance
In addition to your health insurance, families can purchase an additional long-term care insurance policy for their loved one. Policies generally cover most services offered by a home care agency, nursing home, or assisted living facility. It's best to purchase a long-term care insurance policy when your loved one is in good health as they may not qualify if there are any pre-existing conditions.
2. Life Insurance
If your loved one already has life insurance, they may be able to add a long-term care rider to their policy. An accelerated death benefit allows your loved one to get a tax-free advance on their policy while they are still alive to pay for the cost of care. If your loved one doesn't require long-term care, their beneficiaries receive a tax-free benefit as long as the policy is in effect.
3. Reverse Mortgage
A reverse mortgage allows the homeowner to draw on their home's equity to pay for long-term care. Your loved one can receive a lump sum or monthly payment and even open up a new line of credit. In the event of their death, heirs are left with the remainder of the home equity after paying off the amount owed. There are both pros and cons of having a reverse mortgage.
4. Annuities
An immediate annuity and deferred long-term annuity can usually be purchased through your loved one's insurance company. A single premium payment for an immediate annuity means they receive a specified amount of monthly income for a designated period of time. With a deferred long term annuity, they will have two sources of funding—one fund that is specifically for long-term care and another fund to use however they would like.
5. Out-of-Pocket
For seniors who don't have an insurance policy or qualify for Medicaid, they must pay out-of-pocket. Planning for long-term care way before it's needed can prevent stress and financial burden. This can benefit those who don't want to pay high insurance premiums. However, only 1 in 4 adults over the age of 45 are actually prepared for the cost of care.
About the Author: Peter Kang is a writer for eCaregivers. He is inspired by his caregiver experience with his late grandfather and role model, a Korean War veteran, to help families find affordable care for their loved ones. Follow Peter on Facebook and Twitter.