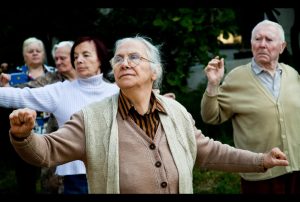 Having a purpose in life impacts its quality regardless of our age. A recently published study on Purpose of Life (PIL) in older adults found that people with purpose experienced fewer disability problems and chronic conditions. PIL is defined as a life with goals, direction, and meaning. People with a high PIL were found to be resilient, healthy and with social support, faith, and good knowledge of health-related matters. Here are some simple ways of keeping these factors in your life as you age.
1. Join an Age-Friendly Gym
Find a gym that has programs for elders. If you don't know many fitness centers that offer such programs, use an online tool like this facility locator on the International Council of Active Aging website. The map shows the available options in a city by name, number, address, and allowed gender. Next to the name of the center, there are icons to show what type of services they offer. Besides fitness centers, you can use the tool to find other services as well, including recreation centers, retirement living facilities, YMCA, community services, etc. Here are 5 places you can visit to stay in shape and find new friends.
2. Become a Volunteer
Consider becoming one of the many elderly who volunteer. Some popular forms of volunteering include fundraising, teaching, mentoring, and preparing/distributing food. Retired individuals are a good fit for volunteering programs because they come from a variety of businesses and sectors. For instance, your input can be valuable for a fundraiser if you have spent your career in marketing and have a strong connection in the community that takes years to develop. Sites like Volunteer Match list opportunities in a variety of areas and for people of different age groups.
You can also offer your services as a mentor to young people in general or in your field of expertise. For food related jobs, check at your local food banks and at any local food service companies. Volunteering can offer both physical and mental benefits. When choosing a form of volunteering, make sure that it engages you, so you don't find the work to be tedious and boring.
3. Visit Your Favorite Places
Start signing off the places you have on your travel bucket list. Hit the road, take the plane, rail, or ship. Don't allow a limited budget to come in your way – look for discounts. A variety of discounts are available, including airfare, dining, clothing, grocery, and entertainment discounts. Here is a list of some of these discounts. Go through them to plan your trip for less. If your travel appliance have gone out of shape, use a home warranty to fix or replace them for free.
4. Learn Something New
Join a class at your library or senior center to stay mentally agile and find people who share the same interests. Check courses at your community college as well. Take a driving course if you feel like your driving skills need a little sharpening. Continue the process of learning.