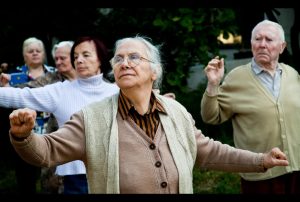 Aging Baby Boomers want fun, creative exercise that not only keeps them active, but also provides an avenue for making friends. Luckily, programs across the country are stepping up to meet this growing demand. Here are five innovative places and programs that are keeping seniors active, independent, and social.
SilverSneakers
SilverSneakers is a unique senior wellness program that gives older adults access to over 13,000 fitness centers and classes across the country, all free of charge through qualifying health plans. Organizations that participate in SilverSneakers offer senior-centric fitness classes like low-impact circuit training, yoga, seated exercise, water aerobics, and fall-prevention fitness. More than just an exercise program, SilverSneakers emphasizes the value that friendship and social support bring to senior health. In fact, 74 percent of active SilverSneakers members report they've made friends through the program.
The YMCA
The YMCA and YWCA offer a wide range of fitness programs designed for seniors. Whether you've just hit your senior years and want to stay fit with Zumba, or you're limited to chair exercises but still want to get out and stay healthy, your local Y has a senior fitness program for you. Most Ys also have pools, which means that seniors of all ages can enjoy low-impact water exercise to build flexibility and endurance without straining arthritic joints. Seniors can make friends in class and join senior group outings led by YMCA staff.
Multigenerational Community Centers
Senior centers are becoming a thing of the past, and multigenerational centers are taking their place. The new multigenerational centers mix the therapeutic recreation typically found in senior centers with social activities, fitness classes, and recreational sports that appeal to all ages. By creating a place where active people of any age can come together — without neglecting the unique needs of aging adults — multigenerational centers let seniors stay healthy side-by-side with friends of all ages. And since interaction across ages has been shown to be more beneficial to senior mental and cognitive health than senior-to-senior socialization alone, multigenerational centers can help keep seniors stay fit in more ways than one.
Ageless Grace
Ageless Grace combines physical and mental fitness to keep seniors healthy in both body and mind. With lessons that range from memory recall and imagination exercises to upper body strength and joint mobility, Ageless Grace takes a holistic approach to senior fitness. The classes are taught by independent instructors and can be found in churches, retirement homes, schools, and community centers around the country. Since Ageless Grace lessons incorporate both physical activity and mental games, they provide ample opportunity for seniors to interact and make friends. Ageless Grace participates in the SilverSneakers program, so qualified seniors can access their classes free of charge.
Senior Sport Leagues
Nothing promotes bonding quite like team sports, and senior sport leagues are a great option for active older adults who want to meet friends while staying fit. Seniors can access established programs like Granny Basketball, Senior Softball, National Senior League Wii bowling, or the National Senior Games Association. There may also be team sports for seniors available through local community and recreation centers. And if there's no established league in your town? Enterprising seniors can start their own social league by advertising through existing fitness and community centers.
Staying active in your later years does more than keep you fit. In addition to helping you retain flexibility, improve your balance, and reduce your risk of heart attack and stroke, staying active can also be an excellent way to maintain a vibrant social life. And socialization comes with its own health benefits, from a reduced risk of Alzheimer's and dementia to better physical mobility. With such a diversity of programs available, there's a way for every senior to stay active and social.
Image via Flickr by sima dimitric
Save
Save
Save