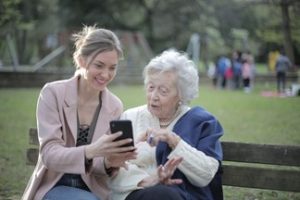 Working as a senior caregiver is a rewarding career choice. However, many caregivers find that their role doesn't pay as much as they would like. Whether you want to save for retirement or supplement your earnings to improve your quality of life, a side gig can offer an additional source of income. A side gig can also provide a sense of personal fulfillment that may be lacking from a job that's often associated with stress and burnout. As a result, you'll enjoy a welcome change of pace from your day job and achieve a better overall work-life balance. The trick is finding a side gig that not only pays well but is also enjoyable.
 Consider Running an Ecommerce Business
Launching an ecommerce business can be a great side gig for senior caregivers. As a caregiver, you might not have the luxury of a consistent work schedule, but you can run an ecommerce business from anywhere at any time. This will make it easier to balance your caregiving responsibilities with your side business.
Take advantage of online tools to get your business up and running as efficiently as possible. By setting up your business on an ecommerce platform, you'll be able to build website pages, track analytics, manage inventory, and even process payments from one intuitive dashboard.
Offer and Market Online Freelance Services
Freelancing online is another option. There are a variety of services you could sell to clients remotely, from writing and consulting to web design and development. Freelancing will allow you to work in a field where you have expertise and experience, using your skills to earn extra money on the side of your full-time job. Additionally, compared with launching an ecommerce business, freelancing has lower startup costs which can make it more accessible if you don't have a lot of money to invest in a side gig.
Creating brochures to advertise your freelancing skills is a great way to help generate more clients and can serve as an excellent supplement to your social media marketing, as well. If you aren't sure how to get started, there are plenty of free templates that you can customize as needed; click here to know more.
You should also look into content marketing to really expand your customer base. By producing more targeted and exciting content, you can build a reputation for professionalism and expertise in your field. That leads to deeper trust with your customers – and of course, greater sales! In today's extra-competitive market, freelancers in particular need every advantage they can get.
Provide Local Home Services
Not interested in working online? Selling Revolution suggests offering local home services to people in your community. For example, you could work as a cleaner, lawn care professional, handyperson, pet sitter, dog walker, painter, personal cook, personal shopper, or home organizer. Since you have experience caring for seniors, you could also offer in-home childcare or senior care services.
Pick something that aligns with your skills and interests so your side gig feels more like an enjoyable pastime than another job. You don't necessarily need professional experience in your field of choice. As long as you're confident in your skills and can produce great results for your clients, you'll be successful!
Consider Your Legal Obligations
Whether you decide to start an online business, try freelancing, or offer local home services, make sure you cover your legal bases. One of the first things you'll need to do is register your business. Pick a business structure, such as a sole proprietorship or LLC, and register with your state. Forming an LLC is generally a good idea as it will limit your personal liability and offer tax advantages. Keep in mind that you can use an online formation service to file your articles of organization if you'd rather not spend money on a lawyer.
If you work as a senior caregiver and you're looking for ways to bring in extra income, try building a side business! You could start an ecommerce business, freelance online, or start a local home services company in your own city. Pay attention to your legal responsibilities and pick a side gig that's compatible with your skills and interests to give yourself the best shot at success!