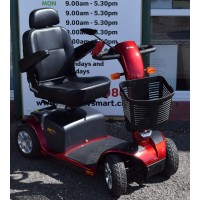 There's a common misconception that the moment you buy a mobility aid, such as a walking frame or mobility scooter, is the moment you give up your independence.
It's easy to see why someone could feel like they're giving in to old age, with stereotypes showing seniors that can't do anything for themselves.
Take a look at things a different way. Instead of feeling like you're giving up and accepting defeat, look at your mobility aid as a sensible choice for increasing independence and freedom.
Do they need to be a permanent fixture once you've bought them?
Nobody's going to connect you to a mobility scooter, or fuse you to a walking frame. They don't become a part of you, just because you've bought them. You're free to use them as little or as often as you'd like. You might just use your mobility aid for long-distance walks or days out with the grandkids. Alternatively, you might decide that you need to use them every time you go to the store.
Aren't some mobility aids too expensive for occasional use?
Mobility scooters certainly aren't the cheapest things, but they're a whole lot cheaper than a car! And they'll probably do more for your overall independence, too.
There are ways to keep your costs down. If you're confident that you need a mobility aid only in really rare circumstances, you might find that it's cheaper to hire a mobility scooter than to buy one to keep at home. Some attractions, such as theme parks, offer mobility scooter hire. Otherwise, look for a company that specifically offers this service.
If you think that you're going to need your mobility aid more frequently, but if you're really not ready to commit to a high value purchase, you might find that buying used is the best option for you and your bank balance.
Pre owned mobility scooters cost a lot less than brand new ones, and if you buy from a reputable company then they should be professionally refurbished, serviced and checked.
Alternatively, if you're planning to use your mobility scooter almost daily, it's probably worth buying brand new. That way, you'll get the longest possible lifespan combined with the newest features, and premium manufacturer support.
Is a mobility scooter always the best choice?
If you're really struggling to get around then a mobility scooter could be the best purchase for you. They can be used to travel over relatively long distances, comfortably and easily, and are for indoor and outdoor use.
If you simply need a little support to walk on your own two feet, crutches, a walking stick or a walking frame might be a better choice.
Wheelchairs, including electric wheelchairs, have always been a popular option. It's worth noting, however, that these don't have the same sturdy build as a mobility scooter and won't be so good on bumpy surfaces or long-term outdoor use.
Whatever you choose, feel free to use your mobility aid one day and set it aside the next. There are no rules as long as you're happy with your investment.
Mobility Smart is an online retailer stocking a wide range of mobility aids and daily living aids, including new and used mobility scooters and other walking aids for people with limited mobility. Click here to find out more.