Caring for the elderly and making a career out of this requires some professional training. In order to become a caregiver, it is important that you develop a set of skills first. The healthcare setting can be an incredibly challenging work environment. Since you'll be working in situations that require understanding, patience is a trait you'll just have to master. A respectful, tactful, and gentle manner is fundamental.
Even though there are no specific educational requirements for becoming a general caregiver for the elderly, most employers want to hire candidates with at least a high-school degree. If you have an authorized healthcare certificate though, then your chances of getting a job in this domain are even better.  There are specific requirements to become a licensed or certified nursing assistant or home health aide, but these vary by state.
Elder care career description
Elder care employees have the job to provide top quality assistance, support services and personal care for people that need ongoing or short-term care. Those without a degree in a healthcare field often work under the supervision of a registered nurse or licensed practical nurse. The personal assistance of elder care employers usually includes help with daily chores such as dressing, bathing, and meals. Caregivers are responsible for preserving as well as gaining the confidence of their client, but also their client's family members and relatives. Additionally known as health care aides, nursing attendants, and home support workers, these people make sure that your loved one's independence is maintained for as long as possible.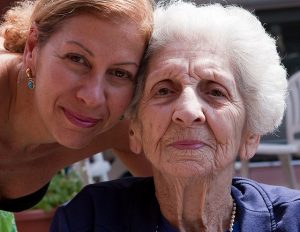 Caring for elder parents
Sooner or later, we will all become caregivers. But then again, that's a choice we have to make and not a demand. Some people don't want to be (or can't be) caregivers for their aging parents. Being a full-time caregiver for a relative, particularly if he or she suffers from a significant illness (Alzheimer's, dementia, impairment, etc.), is time consuming. It is important to be prepared, both emotionally and financially.
In the past fifteen years, the average number of individuals choosing to be caregivers for their parents has increased tremendously. Roughly 10 million adults above the age of 50 care for their aging parents. Back in 1994, seniors didn't have much help from their adult kids; only 9% or women and 3% of men chose this job. In 2008, the percentage grew to 28% in women and 17% in men. Some families help their parents to move to assisted living. If the care need is great, 24 hour per day residential living assistance is available at a variety of places.
Before quitting your daily job to become a caregiver, think carefully!
Most people can't just quit your daily job to care for parents 24/7. This is a decision that needs a bit of time to materialize. First of all, you need to be aware that you'll lose your steady income, which will damage your own retirement savings. Second, if you leave your current job, the odds of finding another after you are done with caregiving may be decreased. Would your skills be enough to prospective employers if you stopped working for 5-10 years?
The best thing that you can do in this case is to make caregiving a career. If you're 100% certain that you want to look after your parent, then do it. But think about your own future too. Consider obtaining a nursing assistant certification, and your chances of finding work in the future are greatly enhanced.
Stay informed
Prior to making any major lifestyle decisions, make a plan. Check your finances and see whether or not caregiving is something you can afford to do and maybe still have a part-time job in the same domain. Make a detailed list with your parent's financial income and then make a final decision.
There are plenty of websites that can offer assistance. The National Council on Aging features a benefits checklist service, while the National Association for Area Agencies on Aging can help you with extensive information on care giving tips and online support in your area. It is also good to get more information on Medicaid and Medicare.  The more informed you are the better chances your aging parent has of living a happy, comfortable lifestyle.
Save