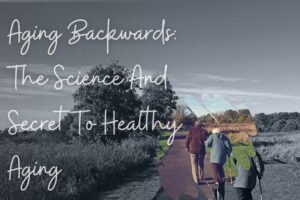 You will typically hear the word aging having negative connotations attached to it. This stems from the fear that as you age, you will not be able to enjoy life as you once did in your youth. But many ignore how it represents the beauty of life and the nature of the universe. While we cannot, in the literal sense, reverse aging, we can ensure that our aging process is as healthy as possible to enjoy life to its fullest.
Scientists are actively researching how to slow down to prevent age-related declines in physical health. However, we cannot ignore the archive of data on how to ensure a graceful aging process. Many have already discovered ways to improve the chances of maintaining optimal health. Small changes in your routine can go a long way. For instance, adopting simple, minimal, and healthy patterns like switching your diet and incorporating supplements like kava kava powder, limiting alcohol intake, or even managing exercise routines.
Let's look at some secrets to healthy aging backed by science.
Prioritizing physical health
Indulging in physical activity is the cornerstone of healthy aging. People who exercise regularly not only live longer but also may live better with more years of life without pain or disabilities.
A study with adults aged 40 and older found taking 8,000 steps or more per day compared to taking 4,000 steps was associated with a 51% lowers risk of death from all causes. Increase the number of daily steps by engaging in activities that keep your body moving, like gardening, taking the stairs instead of the elevator, and walking your dog.
You can also make smarter food choices to help protect yourself from health problems as you age and may even help improve brain function. Much of the Mediterranean-style pallet, which includes whole grains, fresh produce, and healthy fats, but less dairy and more fish than a traditional American diet, may positively impact health.
A good night's sleep
The importance of sleep in your youth is not stressed upon enough. Staying up late can, in many ways, hinder how active your brain stays during the day or work hours. While the negative impact may not show immediately, it may lead to visible problems once you age. Sleep helps you stay alert and healthy, whereas a lack of sleep will cause irritability, depression, and forgetfulness are more likely to have falls or accidents. It is also an essential factor contributing to your memory and mood. In a study with adults over 65, researchers found that people with poor quality of sleep had a more challenging time problem-solving and concentrating than those who received a good night's sleep on a regular basis.
Additionally, inadequate sleep is associated with the buildup of beta-amyloid, which is a protein involved in Alzheimer's disease. Conversely, getting good sleep is associated with lower rates of heart disease, insulin resistance, and obesity. It can also improve your decision-making skills and creativity.
Keep a gratitude journal.
Life may not be perfect, and you will encounter many hurdles in life that will take multiple forms. It's important to remember that stress takes years off one's life, so to counter stress, count all the blessings in life. Practicing gratitude is not just a simple "stay positive" outlook creating a placebo effect. The benefits of optimism are so powerful that they can help you to live a longer life. A study found that older adults with an optimistic disposition are at a lower risk of dying from any cause, with an exceptionally reduced risk of dying from heart disease.
Take a moment out of your day to report everything in life you are grateful for. Gratitude journaling will protect your physical and mental well-being as you age further into your life.
Staying social and connected
Staying socially engaged plays a vital role in maintaining cognitive functioning during your aging process. It helps the hippocampus, which is an area in your brain responsible for memory, stay active. Since depression is a significant contributor and indicator of poor mental health, keeping a social life will prevent loneliness and depression. Be more vocal about get-togethers, attend functions, and participate in activities that maximize your chance of socializing and making more friends.
Maintaining hobbies like baking or sports is also important since they are healthy for the mind and body and can provide more opportunities for social benefits.
Bottom Line
Maintaining physical health is key to living better with more years of life without pain or disabilities. This includes a good diet and regularly indulging in exercise. Sleep is another important element that contributes to a healthy lifestyle. It ensures a healthy mind and body. Another activity that focuses on keeping a healthy mind is gratitude journaling, which helps you live a longer, more fulfilling life. Remember to keep your social life alive, stay in touch with family and friends, and attend several functions to keep your mind active and your memory strong. We hope you find this article insightful.