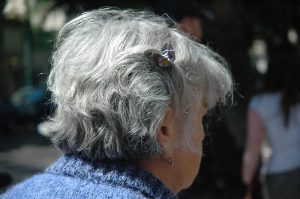 Many seniors lead active lives after retirement, and while some individuals have physical or mental limitations that prevent them from doing so, most want to remain in their own home for as long as they can. When faced with the choice of moving toward assisted living or staying comfortable in the house they have lived in for years, there's no question of which is the more appealing option. Yet for every senior, safety and comfort are two of the most important concerns when considering aging in place.
It can be difficult to think of all the things one must take into consideration when aging in place; not only does the home need to be assessed for hazards, it's also important to think of how you will handle daily life should you choose to live alone. Think ahead and consider the changes you might go through in the next few years; will it be a problem to climb stairs? Take care of the garden or lawn? If so, there are things you can do to combat the issues, but it's best to plan ahead.
Here are some of the best tips for aging in place safely.
Communication
It's imperative to have a good communication system with friends or family members. If you have a cell phone, make sure to program the phone numbers of all the important people in your life so they will be easily accessible. Landlines should have a list of important numbers beside them, in large print. It's also a good idea to install a phone in the bedroom and/or bathroom, in case of emergency.
Safety
If you have throw rugs in your home, consider discarding them or checking to make sure the corners don't turn up to create trip hazards. They also need to have non-slip backs. Living areas and stairwells should be well-lit, and chairs and toilets need to be at a good height for getting up without risk of a fall. The bathtub should have a non-slip mat and a grab rail or shower seat.
It's also a good idea to wear sturdy, rubber-soled shoes or slippers; this can prevent falls or other injury. Clear all walkways of clutter or furniture that could trip you up.
The reality is that your home may just not be a good fit for aging in place safely, particularly if you have any disabilities. Don't be afraid to consider the option of moving. You can still buy a home to live in rather than going to an assisted living facility.
Accessorize
Think about the things you might need to assist you in daily activities, such as a long-handled shoehorn, a walker, a rubber-soled cane, and medication. It's a good idea to keep these things organized, in reach, and in good working order.
Get some help
When it comes to living alone, from time to time you may need some help. Enlist a capable family member or friend to assist you in financial planning, cleaning, lawn work, or traveling if you aren't comfortable driving yourself. You might also consider getting a service animal; they can be extremely helpful to seniors in daily activities and can provide comfort, company, and stress relief.
Save
Save
Save
Save
Save
Save
Save