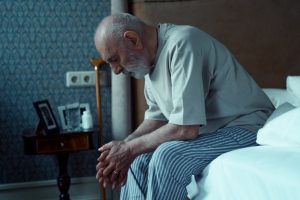 About 13 out of every 100 men will get prostate cancer. The older you are, the more at risk your body is to getting prostate cancer. Luckily, there are some clear signs and symptoms you can watch out for to seek treatment early.
Keep reading to know exactly how prostate cancer changes your body so you can catch it at its earliest signs.
Experience Frequent Urination
Feeling like you need to use the restroom every five minutes? This could be a warning sign of prostate cancer. There are other reasons you could be having to urinate more often but if you have a healthy daily routine and the problem persists, you may want to consider the possibility.
The urge to urinate is even worse at night. You might find yourself getting up to go to the bathroom several times in the middle of the night.
This all happens because of how close the prostate gland is to your bladder and urethra. If a tumor is growing on your gland it will cause pressure on your bladder, making you feel like you have to pee more often.
This can also cause difficulty when you're actually trying to go. You might notice you don't have as much control over starting and stopping.
If the problems continue over a period of days you'll want to set up an appointment with your doctor.
New Onset of ED
Another warning sign of prostate cancer is the onset of erectile dysfunction. You might have been performing just fine the week before, but all of a sudden you can't seem to get the job done.
Prostate cancer will push against your groin and urethra, causing the flow of blood to the area to be blocked. Normally, erectile dysfunction starts happening to men who are around the same age as men who get prostate cancer.
The two aren't always going to be directly linked so you'll need to get a consult from a medical professional to determine the actual cause.
Discomfort When Sitting
When you sit down do you experience a bit of discomfort? Maybe you even feel a significant pain when you sit down. If you do, consider the signs could be from a more serious condition.
As the prostate gland becomes enlarged due to the abnormal growth, it will cause a pain in your groin area when you sit down. The gland is putting too much pressure on the other areas of your body, causing them to be sensitive when they are squished together while sitting.
Your entire pelvic area could swell if it turns out to be prostate cancer and you haven't done anything about your pain. The gland will continue to get bigger as it progresses, causing you even more pain.
If your discomfort continues over several days you need to take action to prevent anything worse from happening.
Prostate Cancer Warnings
Your body will give you several warning signs and symptoms that you might have prostate cancer. You may experience ED, discomfort when sitting, or a frequent urge to urinate. If you do, consult a medical professional and set up an appointment as soon as possible

Caregivers for long-term cancer care
Long-term cancer care supports cancer patients throughout their treatment journey. Patients diagnosed with cancer may choose a friend or family member as their cancer caregiver. When taking on the role of caregiver, make sure to understand how to best assist them. Here are some tips below to help get you started.
Tip 1: Understand the diagnosis of your cancer patient and how it affects them
Aggressive Cancers
Being a cancer caregiver opens up new responsibilities and challenges. There are many types of caregiving that provide help for the general health and wellbeing of patients. With cancer caregiving, patients often require specialized help. You may be familiar with senior or disability caregiving, but certain cancers are more difficult to manage. For example, breast cancer is common but involves a different caregiving approach than mesothelioma cancer. Mesothelioma is an aggressive cancer of the lungs that typically targets older adults.
There is currently no available cure for mesothelioma. This results in a 79 percent, 1-year survival rate, even with multimodal treatment—which combines one or two cancer treatments. Cancer patients and caregivers may have many questions surrounding treatment. For this reason, caregiver resources help plan and ease long-term mesothelioma cancer care. Take time to understand the type of cancer your patient has and how mesothelioma will affect them physically, mentally, and socially. The decision to have long-term cancer care is hard on the patient, too. Caregivers relieve some of the burdens patients will have. With this in mind, preparing for your patients will help you fully grasp this role.
It's also crucial to work with the doctors and cancer teams to provide quality care. Depending on what type of caregiver you are, your responsibilities could change. More qualified caregivers may have to administer medications. Connecting with the doctor will help the cancer team with their prognosis strategy and your patient's long-term cancer care. This will also help you better understand the patient's needs.
Tip 2: Keep the patient, family and friends involved
It can be devastating when a loved one is diagnosed with cancer. Putting in the effort to work with your patient and their family will make them feel included and comfortable during this difficult time. Caregivers spend a lot of time with patients. By creating healthy relationships with them, you can give them the support and encouragement they need. Often, treatment is hard on patients and takes long recovery times. You will be one of their biggest advocates.
Tip 3: Pay attention to how you feel
Amidst the distress you and your patient will undergo, it's vital to check in on yourself. It may seem as though your feelings aren't as valid as those you are helping, but that isn't the case. You won't be able to fully care for your patient if you're not caring for yourself as well. To avoid burnout, dedicate time for yourself to process your emotions and feelings, especially because of how draining long-term cancer caregiving can be.
If you are taking a cancer caregiver position, keep these tips in mind. Caregiving is not babysitting. Patients and their families rely on caregivers to handle what they cannot. Taking on this role is both an immense commitment and a privilege.
It was in 1853, when a surgeon J. Adams, working at The London Hospital diagnosed prostate cancer for the 1st time. The disease was discovered during a histological examination and Adams described it as "a very rare disease". Today, 165 years later, this disease has progressed quite rapidly and is considered as one of the most severe health problems.
Why is there such an increase in the number of people afflicted with this disease?
There are three reasons behind, which include:
• First, in the early years until the 1900s, after the disease was discovered, there was no special diagnosis technique that could differentiate urinary obstruction from prostate cancer
• Second, this cancer increases rapidly with age, as compared to other types of cancer
• Third, it is believed that prostate cancer is linked with the "Western" lifestyle. While the main causes of prostate cancer are age, family history and ethnic group, research suggests that obesity and a diet rich in calcium can also contribute to this disease
Here's a timeline of how prostate cancer treatment reached radiation therapy:
In the early years, it took a long time to diagnose patients with cancer. By the time a treatment plan was created, the disease would take a dangerous turn and the patient would die within 1 to 2 years.
Androgen-Ablation Therapy
It was in 1786, when the Androgen-Ablation Therapy was discovered. However, it wasn't until 1940 that this technique was used to treat prostate cancer. This therapy involved oral estrogen and medical castration to treat the cancer. While this therapy did reduce the size of the prostate, it didn't provide any help with benign prostatic hyperplasia. Over the next 40 years, different hormone therapies were tried and a few were deemed successful. To this day, Androgen-Ablation Therapy is considered the best prostate cancer treatment.
Prostatectomy
During this time, other treatment options were in trial and in 1904; Prostatectomy emerged as a clear winner. This treatment involved removing the cancerous or all parts of the prostate gland to cut the disease from the root. There were several improvements in this therapy but almost all patients refused this treatment because it left them impotent.
Radiation therapy
Radiation therapy for prostate cancer took the stage in the early 20s. People were a bit skeptical about the treatment but when rapid advancements were made in the technology, they became more open to the treatment. Moreover, the therapy gave people the option to go for it during surgery or after surgery.
• X-ray Therapy
This therapy involves megavoltage and high-energy X-rays that penetrate the cancerous cells more deeply, which helps minimize the area of skin exposed to radiation. Doctors also used Imaging, so that they could specify the affected area and direct the radiation beams there.
• Proton Therapy
This radiation beam is more precise and doctors are able to control the depth of the beam penetrating the body. The proton therapy prevented "exit radiation", which made a single radiation dose more powerful.
• Stereotactic Ablative Radiation Therapy
This therapy allows surgeons to target small and specific areas with a high dose of radiation. It allows them to use radiation during complicated surgeries.
There is still much room to experiment with radiation therapy for prostate cancer. New technology is being tested and people with no hopes are being admitted into trials, to find out if they have a chance to beat this disease or not.