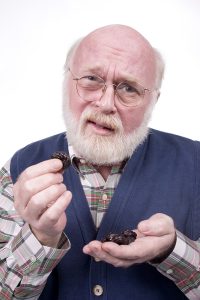 Background
Constipation is the most common bowel problem in older adults. The definition varies by patients and health care providers, but generally it means less frequent bowel movements than usual, and those which are hard, dry, and difficult to pass. Constipation is a preventable and treatable problem. Changes that occur with normal aging, such as peristalsis in the gut slowing down or decreased physical activity, predispose older persons to constipation.
Risk Factors/Warning Signs
Constipation is often due to a combination of causes. Some of the risk factors include decreased activity, medications (such as certain pain pills, iron supplements, and calcium supplements), depression, neurological conditions (dementia, Parkinson's disease, stroke, diabetes mellitus, and spinal cord injury), dehydration, low dietary fiber, metabolic disturbances (such as hypothyroidism), undergoing dialysis, obstruction, and decreased access to the toilet (Halter et al., 2009). The range of "normal" for bowel movements is three times per day to three times per week. A decrease in number of stools that is "normal" for the person and the occurrence of hard, dry stools that are difficult to expel are typical signs of constipation.
Diagnosis
If constipation is severe enough for the person to seek medical care, the patient may complain of abdominal pain and even have symptoms similar to other problems such as an appendicitis or diverticulitis. These more serious ailments can be ruled out through x-rays, CT scan or MRI. The diagnosis is based on clinical presentation, history, and physical examination. It is important to determine the onset and duration of the constipation, along with functional and nutritional status.
Treatments
Before starting a bowel program to prevent constipation, the existing problem should be dealt with. A physician may prescribe laxatives, suppositories, and/or enemas to get the stool moving and eliminated. Many such products can be obtained over the counter as home remedies, but severe and recurrent problems should be referred to the primary care provider for further examination of the cause. After starting with a clean bowel, interventions should focus on lifestyle and dietary modifications. All natural means should be tried first before adding medication to the regimen. This includes regular exercise, establishment of a regular routine for toileting (assure privacy), and encouragement of a high-fiber diet with adequate fluid intake (unless contraindicated)(Joanna Briggs Institute, 2008). Medications may be considered for those who do not respond to lifestyle changes. Residents of nursing homes appear to respond to stimulant laxatives (e.g., senna, bisacodyl) or Miralax. Enemas should not be used on a regular basis because they promote lazy bowel function. Most older persons can avoid constipation if they remain active, have proper nutrition high in fiber, and drink plenty of fluids.
Adapted from Mauk, K. L., Hanson, P., & Hain, D. (2014). Review of the management of common illnesses, diseases, or health conditions. In K. L. Mauk's (Ed.) Gerontological Nursing: Competencies for Care. Sudbury, MA: Jones and Bartlett Publishers. Used with permission.
Save
Save
Save
Save