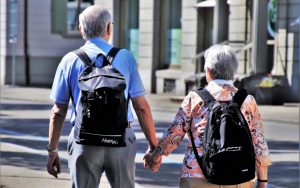 It is never too late to adopt a healthy aging routine into your everyday life. Healthy aging isn't necessarily about looking or feeling younger, but rather optimizing opportunities for overall good health. Making a simple skincare switch, keeping a balanced diet and getting at least 8 hours of sleep are simple things that can make you feel more energized and give your outer appearance a natural glow. To begin your anti-aging regimen on a positive note, check out these tips for some inspiration!
Skincare
Changing your skin care routine may seem like a daunting task at first. It's difficult to break from the products you have used for a long time, but once you establish a new routine that works for you, you will see the benefits in a short amount of time. Skin hydration, regeneration, and protection are all essential for seniors. Without these, and the use of an exfoliator weekly, your entire body, will lack smoothness and shine from the accumulation of dry or dead skin.
Remember, skin care isn't only about facial products. It's essential to moisturize your arms, hands, legs, and feet too!
Nutrition
Various diseases and illnesses form as a result of inadequate or unbalanced nutrition and poor dieting. Once you reach a certain age, it is critical that you eat more fruits and vegetables to prevent illness and nutritional deficiencies. Substitute processed foods for whole foods to ensure your body is receiving the nutrients necessary for a healthy life. According to the USDA, foods that are high in antioxidants (high Orac) can protect cells from oxidative damage. Kale, spinach, blueberries, and blackberries are all great options! Try implementing a few of these high Orac foods listed below into your diet to slow aging down: Visit here for more information.
Vitamins and Supplements
Many seniors rule out food they aren't willing to consume depending on their current health status or personal dislikes. Their pallets are fully developed, and for the most part, they aren't in the mindset to try new foods. However, avoiding certain foods can result in a lack of minerals, nutrients, and vitamins that aid in preventing deficiencies and diseases. Take vitamins such as calcium and zinc to help boost brain power, along with Vitamin E, B3 and B5 help support skin elasticity. Furthermore, don't leave out supplements that can help cellular health such as probiotics and products like Basis by Elysium Health.
Sleep
Sleep may come easier to some more than others. It is important to know that disrupting your circadian rhythm with poor rest can lead to metabolic disorders. Many seniors have insomnia which limits their hours of sleep. Exercise, sticking to a sleep schedule and establishing a bedtime routine can help aid seniors in gaining the rest they need at night or throughout the day.
Remember, it is never too late to make improvements to your current routine, especially if it will benefit you in the long run. Take the time to appreciate your body and embrace the natural process!