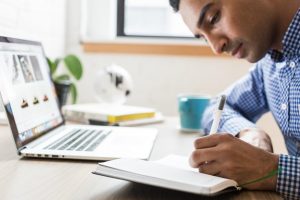 You can find this article and many other useful resources on the Senior Care Central website.
While the country has recovered just over half of all the 22 million jobs lost during the initial coronavirus outbreak, millions of people are still struggling to find work in the wake of permanent business closures. If this scenario hits home and you continue searching for your next full-time position, you must find ways to make ends meet.
Advance Your Education
If you're feeling limited by your job options, expand your skill set by going back to school. Earning a degree will open the door to more career opportunities and higher pay, and can be a great investment in your future. For example, if you want to pursue a career in the tech industry, give yourself a head start with a degree in IT management. A couple of other possibilities include nursing or business. Earning your degree from an online school like WGU is ideal if you're also working a part-time job!
Protect Your Financial Health
When money is tight, it's important to reevaluate your spending. Ensure you have what you need to pay the bills and keep a roof overhead, even if it means cutting out nonessential luxuries like cable and takeout. If debt is a problem, stop using credit cards and go cash-only for now. You could also consolidate your debt onto a low-interest line of credit or a new credit card with a promotional rate.
Get a Part-Time Job
Need money right now? Get a part-time job! A temporary job may not be able to match the income of your previous position, but it will help you make ends meet while you continue your search. According to Fast Company, there are plenty of industries that require part-time workers right now, including grocery stores and delivery services.
Try Freelancing
Another way to earn money during the pandemic is to look for remote opportunities online. Selling your skills through freelance work is an excellent way to do this! You can freelance in nearly any industry, including accounting, writing, marketing, project management, and data entry.
The pandemic is tough for everyone, but for those who are still out of work, things may be looking especially bleak. Keep moving forward, whether it means going back to school, landing a part-time job, or starting a freelance career.