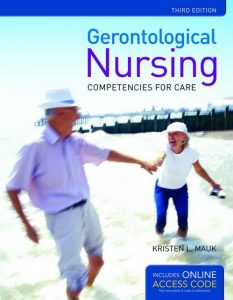 Gerontology nurse practitioners face a unique set of challenges within their field. It comes with the territory of caring for older adults that issues such as death, dying, terminal illness, and chronic illness are commonly addressed.
Common Challenges
There are many challenges families face when caring for an older relative. For example, the loss of independence a geriatric patient may have. Families may need to step in and care for the aging patient, which, unfortunately, can add stress to their daily lives. This buildup of stress can lead to caregiver burnout, depression, anxiety, tension within the family, and even anger or resentment.
Another possible challenge is the imbalance of perceived "power" within the family. A scenario for this would be if an elderly patient moves in with their adult child and their family. For many years, the patient was the head of household; the one who made decisions and ran the home. Now, the adult child is the head of household, while the aging parent/ family member is an occupant. The family may experience a "power struggle" which can lead to conflict and strife within the home.
Dealing with chronic illness is another prominent challenge – possibly one of the most significant. Dementia, for example, is a condition which does not improve over time. Dementia affects almost half of adults over age 85. The early stages are the most difficult, as patients experience forgetfulness which could lead to safety concerns (i.e., wandering away from home, leaving the stove on, etc.). Family members may become frustrated easy, but as the disease progresses, they may experience a prolonged "mourning" of the patient.
Along with situational components, there are other factors that contribute to a family's dynamic. Socioeconomic level, education level, cultural differences, and even something as basic as personalities all contribute to how a family interacts with each other and deals with stress.
Tips for Geriatric Nurse Practitioners
When dealing with geriatric patients and their families, it's important to first acknowledge that each family unit has unique dynamics. From there, utilizing the nursing process is a great way to address the individual needs of the patient and family. Below are some tips, using the nursing process, that can help geriatric NPs manage the sometimes-complicated dynamics within families.
Assess
The first thing geriatric NPs should do is assess the family's interactions and communication skills. Ideally, meeting with both the family and patient is ideal. Assessing communication skills such as active listening, non-confrontational statements, and body language will help the NP determine how effective communication is within the family, and what needs to be improved. Geriatric NPs can also assess the patient and family's knowledge base, readiness to learn, and if anyone is experiencing any of the stages of grief.
Diagnosis
After assessing the family dynamics and interactions, geriatric NPs can create a "diagnosis" of what they may need. For example, if the daughter of an elderly patient with dementia can no longer care for the patient, the NP will need to take action in terms of finding a suitable living arrangement. Another example is if the son of an elderly patient with a chronic disease becomes easily frustrated and angry with them. The NP would have to develop a plan to address the issue.
Planning
After assessing the family and patient's needs and determining what is needed, the geriatric NP must create a plan to meet their individual needs. Because the needs of the patient and family are unique, breaking apart the needs of each family member will help tailor a plan to help create a healthy family dynamic. For example, using the first scenario above, the NP can create a plan to help the family find a care home for the patient, while assisting to help them manage the emotions involved with possible feelings of loss of control and fear. In the other example, the NP can consider arranging appointments for the son to see a counselor to deal with his feelings regarding his parent's chronic illness, and how to communicate in a positive manner.
Implementation
The implementation phase of the nursing process is putting the plans into process. For the geriatric NP, this means arranging appointments, providing resources, and collaborating with the rest of the care team. Using the examples above, that could mean providing a list of care homes, putting the family in touch with a social worker, and/or recommending a counselor for the significant life change of transitioning to a care home. In the second example, the NP can recommend family counseling as well, and possibly provide tips for stress management for caregivers.
Evaluation
Evaluating a patient and family's response to the recommended plan is one of the most essential pieces of dealing with altered family dynamics. This phase is a delicate process, as the NP needs to ensure the family has not only followed through with the treatment plan, but that it was effective as well. If not, the planning and implementation phase would need to be re-structured. In the examples used above, that would mean making follow-up calls to see how the elderly patient is doing in the care home, how the family and patient are doing with the transition, and if there are any other needs. In the second example, the NP can follow up with the elderly patient's son to see how he is dealing with his parent's chronic illness. It may also mean working to help manage the chronic illness as well.
Conclusion
Working with families is not unique to nurses and nurse practitioners. However, working with aging patients and their families presents a different set of challenges. While it's impossible to provide tips on every potential challenge geriatric NPs may face, going back to basics using the nursing process will help identify each individual need so that a plan can be developed to address them. One of the most important things to remember is to include the family whenever possible in the decision-making process, and to maintain as much dignity and independence as possible for the geriatric patient.
The National League for Nursing and the National Students Nurses' Association (NSNA)(2012) stated that "although there is a shortage of registered nurses, the economic recession has flooded the RN market with experienced nurses who were retired, planning to retire, or went from part-time to full-time employment. The need for RNs has declined due to low hospital census". Nursing students graduating today face a competitive employment market. Much of your success at getting the position you want will depend on how well you interview for the job. Follow these steps to be better prepared and increase your chances for a successful interview.
Be prepared
Submit your resume and application in advance, but do not assume that the person interviewing you has read them carefully. Before the interview, think about how you can highlight important aspects of your experience or education.  Do some background research on the organization or place to which you are applying.
Familiarize yourself with the key people in authority, especially focusing on the person who will interview you. During the interview you can use this information to establish some common ground. Consider some key areas such as: How large is the organization and/or the unit where you are applying? What population and geographic area do they serve? What expertise do you have to offer that might be valuable to them? For example, if you are applying for a job on an inpatient rehabilitation unit, did you have a course in rehabilitation or do clinical rotations in rehab? If so, be sure to mention this during the interview.
Look professional
Paul Walden, writing on the NSNA website, stated, "appearance and attitude are everything. Dress in professional attire and smile. Make sure you arrive promptly". Although professional attire may be more casual than it has been in years past, employers still expect an interviewee to look his/her best.  This means no blue jeans, shorts, cut-offs, flip-flops, low-cut blouses, miniskirts, overbearing jewelry, or other extremes in attire.  Business casual is usually acceptable, but when in doubt, err on the side of dressing more formally in business attire than casual.
Start with a good beginning
Introduce yourself and offer to shake hands with the interviewer while making direct eye contact. Do not sit down until directed to do so. The interviewer controls the interview. Express enthusiasm for the interviewer taking time to speak with you and make a positive comment about the surroundings or reputation of the facility. Smile and convey friendliness, approachability, and confidence. Most nurse managers are looking for a "good fit" in a new employee with their existing staff and unit milieu. Your personality may be as important to the manager as your skill set. Listen for comments made by the interviewer that suggest he/she is seeking someone who will be a team player and then be sure to share ways in which you have successfully blended with similar groups in the past.
Ask thoughtful questions
Have a few thoughtful questions ready to ask. For example: How does the open position fit within the organizational chart? Is there opportunity for gaining additional education? What type of orientation or mentoring do they provide for new nurses? Are there opportunities for advancement? These types of questions show that you are interested in a long-term relationship with the organization and are willing to learn and increase your professional skills. Asking deliberate questions can also help you assess whether or not this job is the right one for you.
Be memorable
You want the person conducting the interview to remember you in a positive light. What sets you apart from others who might be applying for this job? Answering that question in advance will point you in the direction where you need to shine. This might be your engaging personality, strong evaluations from clinical professors, your flexibility or willingness to learn, your experience in another country with service-learning projects, or your good academic performance.
End the interview well
If you were fortunate enough to be given a tour of the unit or facility, be sure to take advantage of any opportunities to greet or interact with staff or patients. The interviewer may be watching to see if you display positive interpersonal skills. Before you leave the interview, be sure that you know how you will be notified if they wish to hire you. Thank the interviewer and shake hands again (if appropriate), expressing your enthusiasm for this wonderful opportunity. If possible, send a follow-up email or thank you note to the interviewer for his/her time and attention. Be sure to continue to display warmth and cordiality as you leave the facility. You never know who may be watching.
Save
Save
Listen to the webinar from authors Kristen Mauk and Mary Hobus, Engaging the Faith-Based Nurse: Exploring Nursing as Ministry.
Nursing as Ministry provides the foundations of Christian nursing as ministry, taking an interprofessional perspective with 29 contributors from backgrounds in theology, nursing, medicine, social work, and pastoral ministry. Designed to be a student-friendly textbook for faith-based schools, this first edition text focuses on the spiritual aspects of patient care, providing practical information ministering to specific populations. The reader is guided through topics such as homelessness, substance abuse, community health, vulnerable elders, prison ministry, culturally sensitive care, and more. Additionally, the text is designed to guide the reader through their own spiritual journey, with personal reflection questions in each chapter to help students and nurses to internalize the content.
With a need for a contemporary, evidence-based text on nursing ministry, this first edition offers an abundance of resources including critical reasoning exercises, interviews with nurse leaders, case studies, suggestions for faith integration in daily nursing care, and more.
Features and Benefits:
Video interviews with Christian nursing leaders
Scripture integrated throughout the chapters
Personal stories of nurse leaders woven throughout the text
Navigate 2 Advantage Access
Each new print copy includes Navigate 2 Advantage Access, unlocking a comprehensive and interactive eBook, student practice activities and assessments, a full suite of instructor resources, and learning analytics reporting tools.