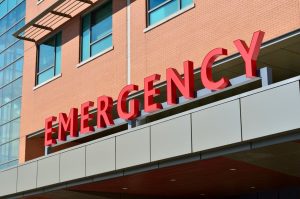 Reducing hospital readmissions is a noble goal for any long-term care facility, wound care practice, or other medical professional to work towards. Going up through the supply chain of medical care, we even find this shared vision amongst the professionals and companies which ensure that necessary prescriptions, medical products, and other shipped goods, land in the right hands at the right time. In short, reducing hospital readmissions represents a major community responsibility, and one that shouldn't be taken lightly.
However, in long-term and wound care, this goal isn't always so easy to achieve.
Nursing homes, long-term care facilities, and other medical care-adjacent companies can greatly help themselves and their communities' health infrastructures by adopting practices which reduce the number of residents who have to be readmitted to hospitals and other healthcare facilities. This phenomenon is known as re-hospitalization, or sometimes less formally as bounce-backs.
Hospital readmission is a very real and significant problem in America today. Studies have shown that one in five elderly patients are readmitted to their healthcare facility within 30 days after departing, and one-third of patients 65 or older are readmitted within three months. This results in Medicare costs that exceed $17 billion total every year.
In response, some insurers are adopting harsh penalties on patients with high readmission rates. As a result, healthcare providers are reassessing their relationships with long-term care providers in an attempt to address this issue. Beyond the issue of the need to improve patient care, this comes with very real consequences for home care agencies. The ratings awarded to such agencies by the Centers for Medicare and Medicaid Services (CMS) are also affected by readmission rates, and an agency with poor ratings in this area can dramatically decrease its reimbursement levels.
Greater Attention to Patients with High Risk of Re-Hospitalization
An effective method for dealing with this problem is for caregivers in long-term care facilities to develop ways of identifying those patients who are most likely to experience difficulties, and to enact measures to help them before these situations develop into crisis situations. A few specific techniques for achieving this are outlined below.
When patients first return home after a stay in a healthcare facility, they may have difficulties readjusting to their surroundings. This, in turn, increases the risk of falls and other injuries that may result from mobility issues. Caregivers can reduce these risks by looking for ways to simplify the spaces that recently-returned residents have to navigate. Similarly, caregivers should ensure that a resident has readjusted to life at home before undertaking physical therapy or other activities that may be overly-taxing for them.
Research has indicated that over 30% of bounce-backs among elderly patients result from the mismanagement of medications. Facilities can address this by reconciling medications often, and by providing reminders to their residents regarding the use of their medications.
Language barriers between a patient and staff at a long-term care facility, or patients whose cognitive condition makes it difficult for them to understand instructions, may leave them unwilling or incapable of following their caregivers' guidance. This can be circumvented by asking the resident to repeat any instructions they are given, so that the caregiver can be certain that they were properly heard and understood.
Practical Techniques to Avoid Re-Hospitalization
The installation of sensor technology in residents' rooms can also allow staff to react more quickly in an emergency, thus reducing the likelihood that minor incidents may develop into more serious issues. Data suggests that equipping residents' homes with sensors can reduce bounce-backs by nearly 50%. Facilities can also make it easier for residents to receive non-emergency visits from healthcare providers within the facility itself, rather than going to a hospital.
Caregivers at a facility should also be provided with clear lines of communication with other staff members to ensure that everyone is getting the information they need to address the needs of patients who are more acutely at risk. These communications should be well-documented, both to ensure the accuracy of the information exchanged, and to place responsibility where it belongs when something does go wrong. This can also be aided by establishing electronic health record protocols for the residents in a facility. These methods can also help to guarantee strong clinical oversight, which further ensures success in at-home treatment.
When re-hospitalization does occur, facilities should be prepared to examine the reasons why it happened in order to figure out what changes might have led to a better outcome for the patient. Statistics suggest that approximately 75% of hospital readmissions could have been avoided with better procedures in place.
Lastly, care facilities need to ensure that all of their staff are adequately trained to deal with a range of medical issues. Facilities who trained their caregivers in CPR and infection control, for example, saw 24% fewer readmissions in the first year after training and 41% during the second year.
Benefits of Treating Patients within a Long-Term Care Facility
Besides avoiding penalties, long-term care facilities have much to gain by addressing the problem of re-hospitalization among their residents.
Patients who spend less time outside the facility have more opportunities to participate in scheduled activities such as hobbies, physical therapy, and social interactions. A routine visit by a healthcare provider at a facility can be as brief as 15 minutes, leaving the patient free to go about his or her life as normal. This is as opposed to in-hospital treatment, which can often take an entire day or more.
Secondly, if residents are seen by healthcare providers in their homes, they can usually be accompanied by their regular facility nurse. This can greatly aid communication and ensure that the provider receives as much information as possible when planning treatments for a patient. This also reduces the time it takes to identify wound-related complications. In some cases, the patient may not be able to communicate at all with the healthcare facility, so the nurse may be the only person with necessary information about their needs.
Additionally, allowing healthcare providers to see their patients in a facility greatly reduces the transportation costs they would otherwise incur by taking the resident to a clinic and back. If this is the case, the facility must then undertake the fees associated with the wound care visit, as well as the cost of seeing the healthcare provider. When healthcare professionals can see their patients at a facility, it eliminates all costs apart from the price of the professionals' services. It also greatly reduces the amount of time that a patient must wait before he or she can receive treatment for an injury.
These are just some examples of the steps that long-term care facilities can take to prevent and decrease hospitalizations, improve the level of service they provide to their residents, and reduce their own risks and costs. Developing better strategies for preventing rehospitalization and allowing healthcare professionals to see residents in their homes are both a win-win for everyone involved.

Caregivers for long-term cancer care
Long-term cancer care supports cancer patients throughout their treatment journey. Patients diagnosed with cancer may choose a friend or family member as their cancer caregiver. When taking on the role of caregiver, make sure to understand how to best assist them. Here are some tips below to help get you started.
Tip 1: Understand the diagnosis of your cancer patient and how it affects them
Aggressive Cancers
Being a cancer caregiver opens up new responsibilities and challenges. There are many types of caregiving that provide help for the general health and wellbeing of patients. With cancer caregiving, patients often require specialized help. You may be familiar with senior or disability caregiving, but certain cancers are more difficult to manage. For example, breast cancer is common but involves a different caregiving approach than mesothelioma cancer. Mesothelioma is an aggressive cancer of the lungs that typically targets older adults.
There is currently no available cure for mesothelioma. This results in a 79 percent, 1-year survival rate, even with multimodal treatment—which combines one or two cancer treatments. Cancer patients and caregivers may have many questions surrounding treatment. For this reason, caregiver resources help plan and ease long-term mesothelioma cancer care. Take time to understand the type of cancer your patient has and how mesothelioma will affect them physically, mentally, and socially. The decision to have long-term cancer care is hard on the patient, too. Caregivers relieve some of the burdens patients will have. With this in mind, preparing for your patients will help you fully grasp this role.
It's also crucial to work with the doctors and cancer teams to provide quality care. Depending on what type of caregiver you are, your responsibilities could change. More qualified caregivers may have to administer medications. Connecting with the doctor will help the cancer team with their prognosis strategy and your patient's long-term cancer care. This will also help you better understand the patient's needs.
Tip 2: Keep the patient, family and friends involved
It can be devastating when a loved one is diagnosed with cancer. Putting in the effort to work with your patient and their family will make them feel included and comfortable during this difficult time. Caregivers spend a lot of time with patients. By creating healthy relationships with them, you can give them the support and encouragement they need. Often, treatment is hard on patients and takes long recovery times. You will be one of their biggest advocates.
Tip 3: Pay attention to how you feel
Amidst the distress you and your patient will undergo, it's vital to check in on yourself. It may seem as though your feelings aren't as valid as those you are helping, but that isn't the case. You won't be able to fully care for your patient if you're not caring for yourself as well. To avoid burnout, dedicate time for yourself to process your emotions and feelings, especially because of how draining long-term cancer caregiving can be.
If you are taking a cancer caregiver position, keep these tips in mind. Caregiving is not babysitting. Patients and their families rely on caregivers to handle what they cannot. Taking on this role is both an immense commitment and a privilege.
According to the Motley Fool, 69 percent of Americans will need long-term care one day. While this statistic may look scary, you can overcome these fears by preparing for that eventuality ahead of time. As long as you have thought ahead, long-term care does not have to be a financial or emotional burden on you and your loved ones. Senior Care Central brings you some tips and resources that can help you prepare for long-term care.
How to Finance Your Long-Term Care Needs
The best long-term health plan works to prevent it from being needed and plans for the eventuality that it will. Even as you change your home and lifestyle to decrease your chances of ever having to fund long-term care, you need to know where those funds would come from.
There are a few options available to you, each with their pros and cons:
You could simply set money aside for this purpose. If you choose to do this, it is worth understanding exactly how much money you need to save. The main benefit is that you will only ever spend as much money as is needed. The downsides are that you may find it harder to save for other expenses and that you can only really guess a target figure.
You can purchase long-term care insurance. The main benefit is the ease of mind that comes with it, but it can add up to a lot of money over the years. This article by Nolo details the pros and cons in more detail.
You can rely on existing health insurance, such as Medicare. Medicare can help fund some healthcare, but it does not cover what they call "custodial care," which are the services associated with any form of assisted living. Seniors are often best off signing up for a Medicare Advantage plan, which can offer additional coverage for prescription drugs and vision, dental, and hearing care. Just make sure you sign up during the yearly enrollment period.
How to Anticipate and Plan for Long-Term Care
Being smart about long-term care means facing the issue head-on and trying to determine, as objectively as possible, what issues you could have and how you could pay for them. Before thinking about the money, look at how you can possibly anticipate your future medical needs.
Of course, the answer is that you can't — not really. But you can take a look at your lifestyle, health, and genetics to determine particular risks. For example:
Are you exercising enough? If not, you are putting yourself at risk of stroke, high blood pressure, type 2 diabetes, depression, and certain cancers.
Are you eating a balanced diet? Many people overestimate how healthy their diets are, so go back to basics and get a real understanding of what eating well means.
Is your home safe for aging in? You can greatly reduce your risk of accident and injury if you make some small home modifications to keep yourself safe.
Is there a history of illness in your family? Collect all the information you can get about your family medical history to see if you are at risk of any genetic illnesses.
Asking yourself these questions can be scary. However, running away from the subject is likely to make things worse. Apart from genetic illnesses and accidents (which can be managed and prevented), your health is actually well within your control. No matter how old you are now, efforts to improve it could save you the need for long-term care in the future.
Illnesses and accidents do happen sometimes, and the elderly may need more help getting back on their feet afterward. This is something you can try to prevent, but it is ultimately outside your control. What is fully within your control is how responsibly you plan for this eventuality, so that you can just focus on getting better if that day ever comes.