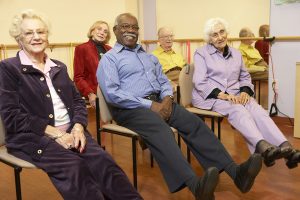 Guest Blog: How to Find the Right Senior Housing Community
By: Derek Hobson
First let's tackle the basics. Many people are wary of senior care homes because there's a stigma that surrounds them; people see them as gloomy, dreary, end-of-life communities. While certainly there was a time when this was the case (several decades ago), most communities have worked hard to battle this stereotype and they have succeeded.
Many communities have done away with "institution" or "hospital" –like settings. Even more have become increasingly lenient on policies regarding residents' possessions; some facilities have been known to permit pets and even furniture to help it feel like home. So, when the time comes to transition into one of these senior care homes, the question becomes, "How do I find the right one?"
1. Find out About Affordability
This is usually at the top of everyone's list and for good reason. Today, people are having children later in life. This isn't a bad thing, but it means that around the same time their kids are going off to college, their parents are starting to need extra care. This can put a lot of stress on adult children, but some senior homes provide help.
Some Assisted Living Facilities will accept private pay for a period of time and then accept the rest through Medicaid. This way, your senior does not need to move and they won't need to fear outliving their assets.
2. Visit the Community (Often)
If you think a community looks good for your loved one, then you should visit and revisit. You should tour the facility on different days of the week at different times. This way, you'll get a much broader view of the day-to-day.
See if people are out and about, if engaging activities are going on, and if there's a general feeling of community. If you show up to an elder care home that looks more like a ghost town, then it's probably not the one for your loved one.
3. Talk to the Residents & Staff
This one is critical, as nothing quite beats a first-hand view into the establishment. Ask residents if they enjoy the community, what they do on a daily basis, and if they're happy.
When asking the staff, of course they're not going to disparage against the home, but one of the most important things to take notice of is how they interact with the residents. If they refer to them by name and have clearly established relationships with them, then this can be a huge indicator of the level of personal care your loved one will receive.
These are the three most important criteria to face when choosing an elder care community and they should give you a well-rounded idea of the facility you've chosen.