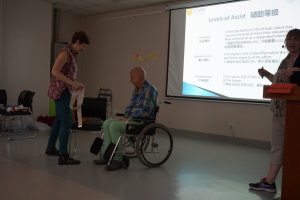 When you are involved in the healthcare sector in Australia, and dealing with aged caregiving, you need to know what you may need to take care of the elderly under your supervision. Aged care requires some equipment and aids to be accessible to healthcare workers in order for them to perform their duties responsibly.
After all, health care workers dealing with aged caregiving is more demanding than many other jobs. You have to be on call for tending to the needs of the elderly in your care. If the equipment you have is insufficient, there might be a drop in the level of service provided.
That reflects badly, not only on you but on the health care facility as a whole. If you are missing any of these 5 aged care aids at your facility, you need to get in touch with your supervisors to have access to them when you need them most.
1. Wheelchairs
This is an absolute essential and can be used with many of the other aids mentioned here. There are many elderly that face difficulty when walking and a wheelchair on hand ensures that they don't have to wait and suffer in discomfort to get to where they want.
It's really important to have wheelchairs available on the spot if there is an injury in the elderly as the statistics about hip injuries and lack of immediate care are not that bright.
2. Gel Cushions
There are times when the elderly patient complains of pain in their hip joints and that sends stress signals, as your mind starts to go haywire thinking of the implications. You don't need to be worried. With gel cushions, you'll be able to have support for the elderly when they sit down.
The gel cushions are especially formulated for multiple uses, and are recommended by physiotherapists for pressure problems that may lead to stress fractures down the road.
3. Arthritis Handles
If there are elderly in your aged care facility that you see, struggling to open doors due to arthritis, an arthritis handle can help them be more mobile with less effort. It can safely attach to doors and drawers to help open them easily.
There's no need to twist any knobs, grip firmly or any of the hard stuff. The elderly can get a hold of the things most important for them with an arthritis handle installed on doors and cupboards.
4. Hip Protection Pants
Safety+Mobility Aged Care Suppliers also have unisex protection pants with padded pressure guards, especially near the hip, for the elderly. It can be worn over undergarments as well, if they feel uncomfortable wearing it without underpants.
It's not embarrassing as it is barely visible to anyone and protects the most precious areas of the elderly's lower torso when they sit and walk. It's a necessary aged care aid for those prone to hip problems.
5. Back Support
Lastly, back support is also very important because as we age, our bones also start to weaken without the proper diet and exercise. It means that you need to have our most important body areas safeguarded as we approach our golden years. A cushion provides the back and head support to help the elderly with posture problems.