Fall is a time of beautiful colors and crisp, fresh air, especially in places like the Western slope in Colorado. There are many simple family activities you can do with children and grandchildren to take advantage of this time of year, from Halloween tricks and treats to Thanksgiving traditions. Here are some that our family enjoys.
Go apple-picking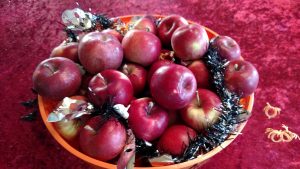 There's nothing like picking apples straight off the tree. Besides the amazement that a good fruit-bearing tree could actually feed a family all year with delicious fruit (provided you do the work of canning and freezing), you have the satisfaction of knowing right where the apples came from. No processing or waiting to see them in the grocery store. That is as healthy and fresh as it can get! Have the kids and grandkids help. Use laundry baskets to collect the apples, then take them home and wash thoroughly to remove any dirt or pesticides. Shine them up with a clean kitchen towel and store in the refrigerator to make them last longer. If you live in a cooperative climate, think about planting your own fruit trees. This year, one of our apple trees bore more than a thousand apples, and we picked them by hand, put them in cute bowls with scary spider rings and ribbons, then gave them to family members and friends. We had still plenty to eat, make pies and applesauce with, and experienced the joy of sharing with others.
Organize a costume exchange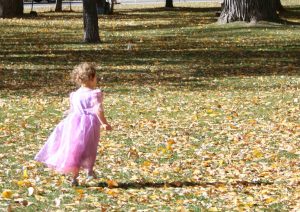 A lovely tradition at some churches is the annual costume exchange. Throughout October, the church gathers donations of gently used costumes from willing donors. Flyers are distributed in the community to advertise free costumes on a Saturday at the church for any who needs one. The women of the church bake cookies and have special treats available for that day. People from the town who might not be able to afford costumes for their kids visit as a family and get costumes free of charge while enjoying a time of neighborly fellowship.
Decorate pumpkins
Whether you have small children, teens, or grandkids, visiting the pumpkin patch is a treat. Some local farms will offer hay rides out to the field for everyone to find their perfect pumpkin. Have apple cider and donuts afterwards. For older kids, try a challenging corn maze at night with flashlights and glow rings. At home, decorate pumpkins by carving (but be careful to supervise – those carving knives are sharp), coloring, painting, gluing with felt designs, or other age-appropriate items. Display your creations in the window or on the porch for others to enjoy.
Share homemade baked goods
Around Thanksgiving time, many communities offer a complete turkey dinner for the homeless or those in need. Other towns provide a lunch for anyone who wishes to come and be part of a larger feast on Thanksgiving day. In some cases, cookies are taken to those who are in prison to brighten their day. To make such ventures a success, the sponsors often ask community members to bake pies or other baked goods. This is an excellent opportunity for children to learn to give to others who may be less fortunate. The entire family can be involved in baking and sharing with others in the spirit of being thankful.
Visit a special place to look at the changing colors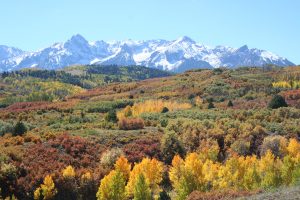 Chances are, there is a special place near you that has especially vibrant Fall colors. Certain parts of Colorado attract people from miles around for picture-taking of our aspen and other trees at the peak of the season. A drive through the mountains or hills can be quality family time. Stop and take early senior-pictures of your graduates or a family portrait for a Thanksgiving or Christmas card. Post your pics on FaceBook for friends and family to enjoy or make a Fall scrapbook to preserve the memories.
There are many ways to celebrate our gratefulness for all that God has given us. No matter how you participate in the wonder of the Fall season, be sure to stop and take time to breathe in the beauty of our great country.
Save