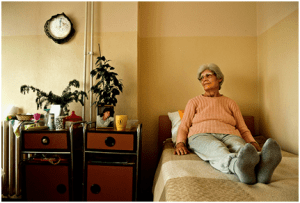 When you've started to notice changes in an elderly relative, you may wonder if a mental health issue is the cause. While it is important a mental health professional diagnoses these issues, some signs exist indicating that the time has come to make an appointment.
Depression
Depression can occur for a host of reasons. Elderly individuals may be suffering from the loss of a loved one, or they may feel alienated, isolated or otherwise separated from their friends or from their interests outside of the house. Individuals who seem filled with sadness and negative emotions or who are hinting about emotional turmoil may need outpatient or inpatient treatment for depression.
Anxiety Issues/Bipolar Disorder
You may also notice that your loved ones are having heightened periods of elevation followed by periods of deep sadness. They could be suffering from bipolar disorder. Serious anxieties could begin to manifest at this age too. For example, you may notice that your elderly relatives always seem to be thinking about their own death or about expected loss of other loved ones.
Memory Loss
As people age, you may think that it is a normal occurrence for them to forget information that they would have once remembered. However, these early slips could be signs of a more serious problem that is coming into fruition. Your loved ones might now be forgetting about certain dates or social events, but these struggles could turn into failures to take medication or complete other necessary medical tasks.
Personal Care
If you notice that your loved ones are not taking care of themselves as they used to, this situation could also be a sign of mental health issues. For example, you may have noticed that your relatives are no longer brushing their teeth or bathing on a regular basis. Seeking professional help can uncover the root of the issue so that a plan of treatment can be devised.
Social Withdrawal
Your loved ones might also seem to not want to participate in social activities anymore. Whether they are constantly declining invites to attend family functions or they do not want to participate in community activities any longer, these decisions could be signs that a mental health issue is present.
As your loved ones age, you may be the lookout for physical health issues. While addressing these problems is imperative, so is watching for signs of mental health struggles. May is mental health awareness month, get involved to help bring awareness to this important cause!