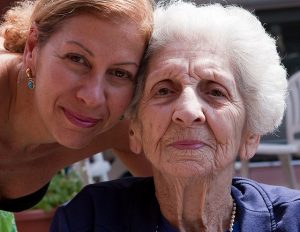 Self-care is defined as caring for ourselves physically, psychologically, spiritually, and socially. Because when we are focused on those things outside of ourselves it is so easy to overlook our own needs, self-care is a concept that applies to everyone.
For example, imagine that your boss lays a new project in your lap with an impending – and almost impossible – deadline. You put everything aside because the project requires all of your energy. So, you don't do those stretches that keep your low back pain at bay. You don't return non-professional emails, texts, or messages. You reschedule every appointment that doesn't apply to this project.
In the end, the project does get done, but you find yourself completely exhausted, and in serious need of a break. The truth is, any of us can find ourselves in this situation at any time, but especially when we undertake the care of a dependent other.
People who rely on us for their daily living cannot be put on the back burner. Maybe they need help getting dressed, making meals, taking a bath, or just getting out of bed. (In some cases, the care may mean just being turned in bed to avoid developing bedsores.)
For caregivers, the work never ends. Every single day they are a requirement to another person and it is simply not possible to call in sick when someone else depends on you more than you need a day off.
The result is that caregivers are often the worst at self-care. When this happens, they can end up feeling exhausted, irritable, resentful, and hopeless. And the quality of care they can provide suffers. For caregivers, quality care starts and ends with consistent self-care.
Remember The Why
Tony Robbins is famous for always asking for the WHY. The reason for this is because when we have a why, we can find a how. This becomes monumentally more important when what we are doing is hard, long-lasting, and with little gain.
It is these times when it makes the most sense to give up because the energy we put out can seem out of proportion to what we get back. But this is also when it is so important to stop and ask ourselves why we got into this work in the first place. What was it about caring for others who depend on us that attracted us? Why did we choose this profession over others? And why do we keep at it despite the long, exhausting hours?
Answering questions like this will bring us back to the fundamental reasons for our decision to go into caregiving. It will also bring us back to a fundamental human need – which is to have a purpose.
To be content with our lives, we must feel that what we do has meaning. We must feel like we matter in one way or another, and that what we do makes a difference. Whatever our why is, it carries us forward when times get challenging. It reinforces us, stabilizes us, gives us solid ground on which to stand.
Find Something To Be Grateful For
Gratitude is such a powerful emotion that even just keeping a daily gratitude list has been shown to have a dramatic effect on many measures of our lives – from happiness and wellbeing to creativity and productivity.
While gratitude can be described as a "top end" emotion that is most effective when everything else in our life is going well, in many cases, it is just the opposite. It is through being grateful that we find a way to get through things that confound us, challenge us, overwhelm us, and make us want to quit.
For caregivers, gratitude is especially effective because not only is caring for another person inherently hard, when they are dependent, it is without end. It is at these times that our psychological systems most need bolstering, and on a daily basis.
What gratitude effectively does is bring us out of the dreariness of our daily lives and into a new perspective where things look different. And when we begin to see differently, those things we see begin to change. The sunrise looks brighter, the trees greener, the flowers brighter, and the people more kind.
Make Humor A Part Of Your Daily Life
Humor is a wonderful resource that has been associated with feelings of wellbeing, happiness, vitality, creativity, and even cognitive functioning. Humor is something that has also been demonstrated in a variety of species and seems to play a central role in bonding. But perhaps most importantly, humor acts like a tonic for the brain.
Humor allows us to temporarily escape our reality, to transform our situation is a way that brings us levity and lightness. When we can stop to laugh, we can, for the moment, suspend any negative emotions we might otherwise be feeling. We can, momentarily, make our situation and ourselves feel different.
For caregivers, humor is an essential resource because it acts like a reset button. Performed regularly, humor doesn't just make every day better, it makes the tough ones survivable.
Caring for another person may be one of the most challenging jobs we can choose. But it is also one that is essential. By remembering why we choose to become caregivers, finding things to be grateful for and incorporating humor into our daily lives, we can keep ourselves at our best for ourselves and those who depend on us every day.