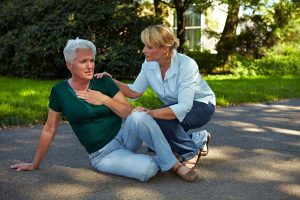 Reviews.com recently spent over 100 hours researching the medical alert system industry to help you choose the right product for you or your loved one. Bay Alarm may be the best choice when considering a home emergency alerting system, yet other systems also won praise for the services they provide.
Officially known as a personal emergency response system (PERS), an alerting device enables the elderly and those with physical disabilities to live independently and still be capable of seeking emergency assistance when needed. Such systems are invaluable when considering that one in three Americans aged 65 or older will experience at least one fall every year. In the event of a disabling injury, a PERS can turn a potentially fatal accident or illness into an event that is survivable.
Reviews.com medical alert systems study evaluates consumer products to determine the best in terms of both efficiency and cost. In this particular inquiry, Reviews.com examined 69 alerting devices. Ratings were based on a number of factors, including the services provided by the parent company. Reviews.com noted that PERS equipment is usually rented rather than purchased from the provider.
They also found wide gaps in the services that are available. In some cases, medical alert systems must be attached to a regular home security system. Some systems received low ratings due to their lack of mobility, while higher ratings were given to those that are easier to install and use or have certain features, including their ability to function even when submerged in water. Other options that were considered important included automatic fall detection and blood-pressure monitoring capability.
Bay Alarm Medical was given high marks for both its capabilities and the personalized service from the provider. Reviews.com concluded in its evaluation that Bay Alarm would be the most efficient in dealing with a medical emergency. Also receiving praise from Reviews.com was Medical Guardian alerting system and MobileHelp.
The Reviews.com evaluation noted the importance of PERS facilities, especially when considering the aging of the American population and the fact that many of these men and women prefer to continue living in their own homes, possibly alone.
You can see the full resource and find the right medical alert system for you or your loved one here: http://www.reviews.com/medical-alert-systems/