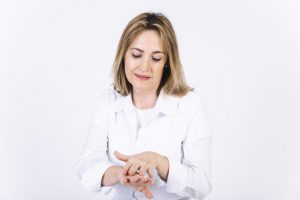 Psoriasis is a chronic skin ailment caused genetically, triggered by environmental factors. A psoriasis patient shows symptoms like scaling, itching, abrasions and localized redness. P
Affected people are also prone to other health problems like diabetes and heart diseases. It is not contagious, but difficult to cure completely. There are many effective remedies for Psoriasis like medications and skin therapy using essential oils.
Essential oils are used for aromatherapy and oil therapy to treat psoriasis. A lot of research is still needed in the direction of skin treatment using essential and carrier oils. One must also test skin sensitivity for side effects of oils. One should consult a doctor prior to having oils in their treatment regime for psoriasis.
Coconut oil
With its natural anti-inflammatory properties, coconut oil can help in reducing scalp pain. Lauric acid, the primary ingredient in coconut oil blocks bacteria and viruses from getting inside the body. Coconut oil can be taken internally or applied externally over the affected dry scalp surface. One can ingest 2 tablespoons of virgin coconut oil in food every day. Else, coconut oil can be applied on skin directly after taking bath.
Tea tree oil
Tea tree oil is an exotic product, as it is produced using leaves of a native Australian plant. Its natural properties protect body from infestation of bacteria, fungi and viral action. Applying tea tree oil over a psoriasis affected area minimizes any risk of infection. It also brings down the inflammation caused due to Psoriasis. Not only this, tea tree oil also enhances body immunity.
Tea tree oil is available in lotions and soaps. One should however be careful of allergic responses. One must apply only limited quantities to prevent its side effects. It is preferable to test tea tree oil over a small area of skin to find if the person is allergic to it. A lot of research is still to be done to find the benefits and side effects of tea tree oil.
Castor oil
Castor oil is used as the base for essential oils and has a softening or lubricating effect on the skin. It reduces flaking on Psoriasis affected skin if used regularly. It also increases the healing speed of skin. Castor oil when directly applied on skin detoxifies it. By raising lymphocyte count, it raises body immunity.
Lavender oil
It is one of the best known therapies for Psoriasis and other skin problems. Lavender oil has treated skin problems in cases where other forms of medication have failed. The application of Lavender oil upon skin protects it from bacterial and fungal infestation. In addition, it also protects skin from abrasions, muscular pains and headaches.
By applying Lavender oil on your temples, stress is minimized. It reduces itching sensation on skin. Diabetic patients should use Lavender oil in limited amounts. If the oil is used beyond prescribed limits, it may cause irritation, nausea, vomiting or headaches.
It can be mixed with lotion before application. A few drops of Lavender oil may be added to a carrier such as coconut oil to moderate the effects. Lavender oil may be added to water while taking bath for getting best results.
Geranium oil
Geranium oil reduces inflammation due to Psoriasis. It also improves circulatory system and helps in bringing down the stress levels. Geranium oil also enhances cell regeneration and renewal.
Geranium oil can also stop blood flow. So, people suffering from high blood pressure and those prone to cardiovascular ailments must use it with caution. Mixing geranium oil with carrier oil can be applied on psoriasis hit areas for best results.
It is better to test for side effects before applying it on skin. It can be diluted using a carrier oil for reducing side effects.
Peppermint oil
Peppermint oil is an effective cure for Psoriasis and other skin ailments. There are 25 species and 600 varieties of Peppermint, through which the oil is extracted. The curative ability of peppermint oil is attributed to menthol, its main ingredient.
Peppermint oil is harmless in limited dosages. But, otherwise there are chances that its application may cause allergic reaction on skin. One should rather test by applying over a small area of skin before actual use.
As a home remedy, 5 or 6 drops of peppermint oil are mixed with distilled water. The mixture is then sprayed on painful and itch-prone areas to stimulate skin relief.
Argan oil
Argan oil has anti-inflammatory as well as antiseptic properties. Because of such properties, it provides effective treatment for Psoriasis. Argan oil is a Vitamin E rich carrier oil. It helps in skin hydration and in enhancing skin's metabolism.
It also reduces inflammation and protects skin from adverse effects of solar heat intensity. The oily part fights psoriasis symptoms such as redness, swelling, dryness and itching sensation. Argan oil can be applied directly over the Psoriasis affected parts. It can also be mixed with essential oils for proper action upon skin.
Black cumin seed oil
Black cumin seed oil protects skin from attack of bacteria, fungi, worms and viruses. It brings down intensity of skin inflammation in Psoriasis affected people. Simultaneously, it enhances skin's healing process. It helps in minimizing scale thickness and also has a moisturizing effect on skin.
Black seeds have natural blood clotting properties. In addition, they bring down blood pressure levels. So they are safe for people affected with high blood pressure. Low pressure patients must first consult a doctor before using black seed oil for Psoriasis treatment.
One should also be wary of the intoxicating effect of overusing black seed oil. Black seed oil can be applied directly on human skin. Alternately, it can be mixed with a carrier oil prior to application on skin.
Consideration of risk factors
While applying a specific oil for psoriasis treatment, one should first research about it.
Essential oils and carrier oils have pharmaceutical properties. Hence, it is mandatory to follow the precautions for effective therapy . Essential oils must never be used beyond a certain quantity.
Also, it is better to consult a doctor to find the safe limits of essential oils to be applied for psoriasis treatment. Females must not use them in state of maternity or lactation.
Before application, one must meticulously go through product labels and follow attached instructions. One must know how the particular essential oil reacts with skin in order to meet the therapeutic purpose.
Michael Swift is a connector with Caffeinated who help businesses find their audience online. In his spare time, he reads books, writes for his blog reviewlatest.com and commits to do any activities that take place outdoors.