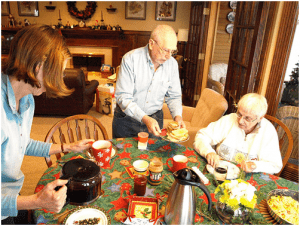 Do mobility issues have your aging parent down in the dumps? Losing the ability to get around independently can definitely strike a blow to confidence and wellbeing levels. Mobility issues don't need to stifle a senior's sense of purpose or enjoyment of life though. Don't miss these 8 fun activity ideas for seniors with mobility issues:
Board games – bring on the board games and give your loved one a cognitive boost. Everything from cards to Scrabble to Monopoly, Dominos, and Checkers is a great place to start. Stock up on gently used board games from local re-stores like Goodwill and invite friends and family to join in on the fun.
Puzzles – putting puzzles together stimulates critical thinking and problem-solving skills as well as engages spatial awareness and concentration. Don't reserve your fun to jigsaw puzzles either; games like Sudoku and Jenga have similar brain-boosting effects too!
Cooking – maybe standing at the stove to stir a big pot isn't feasible, but mixing a green salad at a lower table is. Or helping scoop cookie dough onto a baking sheet. Cooking with your aging parent not only gives them something fun to do but helps them feel like a productive contributor in the home too.
Chair exercises – routine workouts are critical for all older adults, even people who are limited to canes, walkers or wheelchairs. Physical fitness helps prevent unwanted weight gain and lifestyle diseases like diabetes and heart disease. Guides to chair exercises and exercises for those recovering from injuries like fractured hips can be found online.
Art project – get the creative juices flowing and find an art project geared towards your loved one's interests. Perhaps it is painting on a canvas, collaging, knitting, coloring, making jewelry, or even simply framing family photos – the act of creating something can is truly invigorating.
Planting – potting plants is easy and accessible when your loved one can sit in a chair at a table. Mixing soil, placing plants inside pots, and even snipping dead leaves or picking herbs are monthly activities that your loved one can do with minor assistance.
Reading – Nothing beats a good book. If your loved one is unable to hold a book or see words on a page, audiobooks are a great alternative (and can be borrowed for free at your local library).
Video chatting – for seniors with mobility limitations, social isolation is a very prevalent and dangerous reality. Technology makes it easy, however, to connect with friends and family near and far via free services like Skype, Google Hangouts or Facetime. You simply need a smartphone or webcam with speakers for your computer.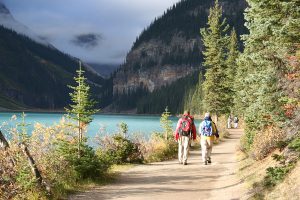 While senior fitness offerings continue to explode in gyms around the country, the age-old tradition of simply 'going for a walk' still touts loads of health benefits, especially for older adults.
Brisk walking a offers low-impact activity that is relatively simple, can be done most anywhere, is fun to do with friends, and is easily modifiable to increase calorie burn. In addition to strengthening your bones and muscles, routine walking can also help prevent lifestyle conditions like diabetes and high blood pressure, as well as improve your balance, coordination, and even your mood.
If you are looking for quick ways to take your daily walk to the next level, don't miss these expert tips:
Speed Up
The best exercise is that which gets your heart rate up to at least 55 to 85% of your MHR (maximum heart rate). The formula for MHR = 220 – your age. So if you are 65, for example, your maximum heart rate is around 155. Speeding up your walk so your heart rate climbs over 109 (70% of 155) for at least 10 minutes is going to count as good aerobic exercise that is helping strengthen your heart muscle.
Climb Hills
Walking up an incline naturally requires the body to work harder and use up more energy. This can help you build endurance over time and tone muscle groups in your legs you weren't previously engaging. If you are concerned about a weak knee, reduce lateral knee movement and prevent discomfort with a knee brace specifically designed for walking.
Change Terrain
Instead of doing your usual walk around the roads in your neighborhood, head to a local trail and take a hike. Hiking up and downhill will burn more calories as well as pose a greater challenge to your balance and coordination skills. Exercising like this in nature has also been shown to boost feelings of attentiveness and positivity.
Add Intervals
Incorporate more intervals of high-intensity activity into your walk and you can both improve your endurance and aerobic capacity as well as give your metabolism a boost. 5 minutes of brisk walking punctuated with 30 seconds of squats, lunges, or crunches, followed by another 5 minutes of walking and then 1 minute of jogging and so on and so forth also spices up your walking routine and makes it a little more fun.