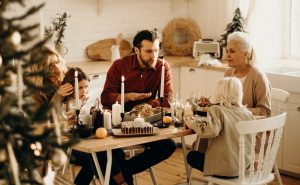 The way things are going, 2020 is going to give us the most miserable peacetime holiday season we've ever seen.
This is most especially true of our senior loved ones, who have found themselves becoming increasingly isolated from their families because of the COVID-19 pandemic.
With adults 65 years old accounting for eight of every ten COVID-19 deaths in the United States, it's normal for us to take every precaution to keep the seniors in our family safe.
The problem is, isolating our elderly family member does not contribute to a healthy senior lifestyle, as it could increase their risk of suffering cardiovascular and mental health issues, among other things.
However, the country is slowly reopening and easing up a bit on COVID-19-related restrictions. Consequently, many American families are now planning family get-togethers for the holidays, which should help break our seniors free from isolation.
If you belong to one of those families and want to keep everyone, especially the seniors, safe, here are some tips that will help you do just that.
Refrain From Kissing or Hugging
It's tempting to give our seniors kisses and hugs as soon as we see them during the holidays, but you won't be doing them a favor if you do so.
Social distancing protocols should still be in place, even when you're at a family gathering for the holidays. No matter how much you miss your parents or grandparents, keeping them safe is a priority, and that means no close physical contact.
Keep Face Masks On
Even if everyone at the gathering is family, face masks should be worn properly at all times to reduce the risk of coronavirus making its way to your senior loved one.
For good measure, have the seniors in the family wear a face shield the entire time, if possible.
Always Wash or Sanitize Hands
Everyone at your holiday gatherings must wash their hands frequently. It would also be great if they all have portable hand sanitizers as well.
The Fewer People, The Better
Family gatherings are typically sizable, but in the time of COVID-19, keeping the number of people in your holiday party to a minimum is recommended.
With fewer people in one place, the risk of your senior loved one being exposed to the coronavirus is reduced.
Ideally, nothing beats an online video conference session as the safest way for a family to gather over the holidays. However, if your family is determined to see each other face-to-face, the tips listed above should help keep your senior loved ones safe from COVID-19 during the holidays.
About the Author
 Melissa Andrews is the Content Marketing Strategist for Paradise Living Centers, an assisted living center for seniors with locations in Paradise Valley and Phoenix, Arizona. In her spare time, she enjoys cooking and going on hiking trips with her siblings and cousins.