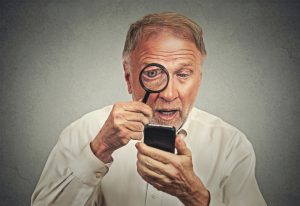 If you're past your 40th birthday, you've likely noticed some subtle signs of aging despite your best efforts to eat right and exercise regularly.
One of the most common signs of aging is changes in our vision. The eyes gradually lose their elasticity as we age, leading to a variety of vision problems, including difficulty reading and seeing things up close.
Fortunately, many of these issues can be corrected, with corrective lenses or laser eye (LASIK) surgery.
Common eyesight problems for people over 40
There are more than a dozen vision problems directly related to aging. Some of the more common issues include:
Dry eye syndrome 

— As we age, we have fewer tears in our eyes and they can become dry and irritated as a result. This problem is especially prevalent in women. You can combat this problem by using artificial tears.

Changes in light and perception — Aging also affects the eye's ability to adapt to darkness. This problem is particularly common among African-Americans. Prescription eye drops usually help ease this condition.

Presbyopia

 — Presbyopia is the gradual hardening of the eye's lens as we age. This usually results in difficulty reading or seeing things at close range. Reading glasses are generally prescribed to correct this problem.

Cataracts

 — Cataracts are a cloudiness on the retina that affects vision. More than 22 million Americans are affected by this vision problem. In fact, more than half of Americans will develop this problem by the time they reach age 80. When vision becomes so cloudy it affects a person's quality of life, cataracts are treated by eye surgery, a common and safe operation.

Age-related macular degeneration (AMD) — AMD is the leading cause of irreversible eye damage in those over age 50. This condition destroys the sharp, central vision needed for things like driving and reading. Lasik surgery can help prevent further damage to the eye, but can't restore vision that has been lost.
Diabetic Retinopathy — Diabetes affects more than 4.5 million Americans over the age of 40. This chronic condition affects the blood flow to all parts of the body, including the eyes, resulting in blurred vision and "floaters." Lasik surgery is usually performed to correct this problem.
How to prevent, reverse and/or retard eyesight problems related to aging
There are many things that you and your eye doctor can do to help you keep your good eyesight well into your golden years. Proper eye care is not just your doctor's responsibility. Some of the things that you have control over include not smoking, eating eye-healthy foods full of vitamins C and E, exercising regularly, protecting your eyes with UV-rated sunglasses when outdoors and breathing clean air. In addition, it's important to keep your regular, annual eye exams, so your doctor can identify and treat any problems early.
Lasik surgery and eye problems due to aging
Lasik surgery can help treat a number of vision issues associated with aging. In fact, more than 11 million Americans have had some sort of LASIK eye surgery since it became widely available in 1991. LASIK can help to improve vision in patients who are near-sighted, far-sighted and/or have an astigmatism. This type of eye surgery works by reshaping the cornea and is effective in improving vision in more than 96 percent of patients, according to WedMD.
Sources:
http://cvw1.davisvision.com/forms/StaticFiles/English/Over40_01ys.pdf
http://www.webmd.com/eye-health/lasik-laser-eye-surgery
http://bmctoday.net/crstodayeurope/2013/02/article.asp?f=ndyag-treatment-of-epithelial-ingrowth
Save