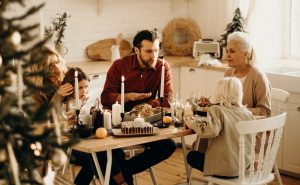 The way things are going, 2020 is going to give us the most miserable peacetime holiday season we've ever seen.
This is most especially true of our senior loved ones, who have found themselves becoming increasingly isolated from their families because of the COVID-19 pandemic.
With adults 65 years old accounting for eight of every ten COVID-19 deaths in the United States, it's normal for us to take every precaution to keep the seniors in our family safe.
The problem is, isolating our elderly family member does not contribute to a healthy senior lifestyle, as it could increase their risk of suffering cardiovascular and mental health issues, among other things.
However, the country is slowly reopening and easing up a bit on COVID-19-related restrictions. Consequently, many American families are now planning family get-togethers for the holidays, which should help break our seniors free from isolation.
If you belong to one of those families and want to keep everyone, especially the seniors, safe, here are some tips that will help you do just that.
Refrain From Kissing or Hugging
It's tempting to give our seniors kisses and hugs as soon as we see them during the holidays, but you won't be doing them a favor if you do so.
Social distancing protocols should still be in place, even when you're at a family gathering for the holidays. No matter how much you miss your parents or grandparents, keeping them safe is a priority, and that means no close physical contact.
Keep Face Masks On
Even if everyone at the gathering is family, face masks should be worn properly at all times to reduce the risk of coronavirus making its way to your senior loved one.
For good measure, have the seniors in the family wear a face shield the entire time, if possible.
Always Wash or Sanitize Hands
Everyone at your holiday gatherings must wash their hands frequently. It would also be great if they all have portable hand sanitizers as well.
The Fewer People, The Better
Family gatherings are typically sizable, but in the time of COVID-19, keeping the number of people in your holiday party to a minimum is recommended.
With fewer people in one place, the risk of your senior loved one being exposed to the coronavirus is reduced.
Ideally, nothing beats an online video conference session as the safest way for a family to gather over the holidays. However, if your family is determined to see each other face-to-face, the tips listed above should help keep your senior loved ones safe from COVID-19 during the holidays.
About the Author
 Melissa Andrews is the Content Marketing Strategist for Paradise Living Centers, an assisted living center for seniors with locations in Paradise Valley and Phoenix, Arizona. In her spare time, she enjoys cooking and going on hiking trips with her siblings and cousins.
America's senior citizens are often stereotyped to be bad (sometimes unsafe) drivers.  But the truth is that simply growing older does not impair a person's ability to be safe behind the wheel by default.  Many healthy seniors remain skilled drivers and are as adept and alert as anybody, but others struggle with the early signs of health conditions that can affect driving, and would like to do what they can to keep driving and be safe.  If physical or cognitive health conditions have progressed to a point where focus and reflexes are hindered even during daily activities not behind the wheel, then driving is not advised.
How Age Affects Driving Competence
Dementia:  Cognitive diseases, like Alzheimer's can hinder an elder's memory, critical thinking, and problem solving skills needed for minding the road.
Vision and Hearing Impairment:  Aging may naturally dull a driver's sense of sight and hearing.  Aged eyes may be more sensitive to sunlight in the windshield or headlights at night.  It is important for senior drivers to routinely schedule vision and hearing tests to make sure they are safe to drive.
Arthritis and Weak Joints: Conditions like arthritis can hinder hand dexterity required for turning steering wheels or shifting gears.  When joints are weak, actions like buckling a seatbelt or pushing the brakes may be difficult which can be unsafe for drivers.
Reflexes: Sometimes it's not you who mess up, but other drivers around you. Adept reflexes are crucial to reacting to dynamic developments on the road.  Reflexes can be tested by doctors during checkups and physicals to guarantee senior safety.
Over-cautiousness:  Sometimes seniors become self-conscious about their difficulty focusing on what's going on, and may be too safe by going dangerously slow to prevent speeding or car crashes, but actually put other drivers in danger who try to maneuver around them.
Tips for Senior Drivers to Keep License
 It's wise for very aged seniors who notice the warning signs to stick to familiar destinations with short distances and avoid any anxiety or possibility of getting lost.
Driving while stressed or tired can lead to making mistakes on the road, which can lead to a revoked license.  Only drive when you feel completely ready.
Keep track of how medications may impact driving skills.
Always make sure to check your mirrors constantly, especially when changing lanes.
Give other drivers space by not driving too close behind.
Save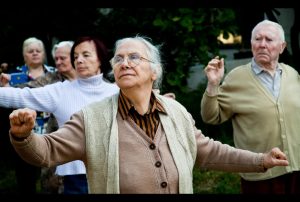 Aging Baby Boomers want fun, creative exercise that not only keeps them active, but also provides an avenue for making friends. Luckily, programs across the country are stepping up to meet this growing demand. Here are five innovative places and programs that are keeping seniors active, independent, and social.
SilverSneakers
SilverSneakers is a unique senior wellness program that gives older adults access to over 13,000 fitness centers and classes across the country, all free of charge through qualifying health plans. Organizations that participate in SilverSneakers offer senior-centric fitness classes like low-impact circuit training, yoga, seated exercise, water aerobics, and fall-prevention fitness. More than just an exercise program, SilverSneakers emphasizes the value that friendship and social support bring to senior health. In fact, 74 percent of active SilverSneakers members report they've made friends through the program.
The YMCA
The YMCA and YWCA offer a wide range of fitness programs designed for seniors. Whether you've just hit your senior years and want to stay fit with Zumba, or you're limited to chair exercises but still want to get out and stay healthy, your local Y has a senior fitness program for you. Most Ys also have pools, which means that seniors of all ages can enjoy low-impact water exercise to build flexibility and endurance without straining arthritic joints. Seniors can make friends in class and join senior group outings led by YMCA staff.
Multigenerational Community Centers
Senior centers are becoming a thing of the past, and multigenerational centers are taking their place. The new multigenerational centers mix the therapeutic recreation typically found in senior centers with social activities, fitness classes, and recreational sports that appeal to all ages. By creating a place where active people of any age can come together — without neglecting the unique needs of aging adults — multigenerational centers let seniors stay healthy side-by-side with friends of all ages. And since interaction across ages has been shown to be more beneficial to senior mental and cognitive health than senior-to-senior socialization alone, multigenerational centers can help keep seniors stay fit in more ways than one.
Ageless Grace
Ageless Grace combines physical and mental fitness to keep seniors healthy in both body and mind. With lessons that range from memory recall and imagination exercises to upper body strength and joint mobility, Ageless Grace takes a holistic approach to senior fitness. The classes are taught by independent instructors and can be found in churches, retirement homes, schools, and community centers around the country. Since Ageless Grace lessons incorporate both physical activity and mental games, they provide ample opportunity for seniors to interact and make friends. Ageless Grace participates in the SilverSneakers program, so qualified seniors can access their classes free of charge.
Senior Sport Leagues
Nothing promotes bonding quite like team sports, and senior sport leagues are a great option for active older adults who want to meet friends while staying fit. Seniors can access established programs like Granny Basketball, Senior Softball, National Senior League Wii bowling, or the National Senior Games Association. There may also be team sports for seniors available through local community and recreation centers. And if there's no established league in your town? Enterprising seniors can start their own social league by advertising through existing fitness and community centers.
Staying active in your later years does more than keep you fit. In addition to helping you retain flexibility, improve your balance, and reduce your risk of heart attack and stroke, staying active can also be an excellent way to maintain a vibrant social life. And socialization comes with its own health benefits, from a reduced risk of Alzheimer's and dementia to better physical mobility. With such a diversity of programs available, there's a way for every senior to stay active and social.
Image via Flickr by sima dimitric
Save
Save
Save