Background
Diverticulosis results from pouches that form in the wall of the colon (or large intestine). Diverticulitis is an inflammation or infection of these pouches. Diverticular disease is more common among older adults than younger people (Tursi, 2007). Sixty-five percent of older adults will develop diverticulosis by age 85 (Kennedy-Malone et al. 2004). The exact cause of diverticulosis is not known, but it is speculated that a diet low in fiber and high in refined foods causes the stool bulk to decrease, leading to increased colon transit time. Retention of undigested foods and bacteria results in a hard mass that can disrupt blood flow and lead to infection. The earlier the diagnosis and treatment, the better the outcomes will be; however, if complications such as bleeding increases the risk of less- than- optimal outcomes.
Warning Signs
Risk factors for diverticulosis include obesity, chronic constipation, and straining, irregular and uncoordinated bowel contractions, and weakness of bowel muscle due to aging. Other risk factors are directly related to the suspected cause of the condition. These include older than 40 years old of age, low-fiber diet, and the number of diverticula in the colon (Thomas, 2011). Diverticulosis may result in pain in the left lower quadrant (LLQ), can get worse after eating, and may improve after a bowel movement. Warning signs of diverticulitis include fever, increased white blood cell count, bleeding that is not associated with pain, increased heart rate, nausea, and vomiting.
Diagnosis
Evaluation of the abdomen may reveal tenderness in the LLQ and there may be rebound tenderness with involuntary guarding and rigidity. Bowel sounds may be initially hypoactive and can be hyperactive if the obstruction has passed. Stool may be positive for blood. The initial evaluation is abdominal Xx-ray films, followed by a barium enema, though a CT scan with oral contrast is more accurate in diagnosing this condition (Thomas, 2011). A complete blood count may be done to assess for infection.
Treatments
Diverticulosis is managed with a high-fiber diet or daily fiber supplementation with psyllium. Diverticulitis is treated with antibiotics, but in acute illness the person may require hospitalization for IV hydration, analgesics, bowel rest, and possible NG tube placement. Morphine sulfate should be avoided because it increases the intraluminal pressures within the colon, causing the symptoms to get worse (Thomas, 2011). Patients should learn about a proper diet, avoidance of constipation and straining during bowel movements, and when to seek medical care. The diet should include fresh fruits, vegetables, whole grains, and increased fluid intake, unless contraindicated. In extreme cases, either where the person has complications that do not resolve with medical management or has many repeated episodes, a colon resection may be needed. Patients will need to work closely with their primary care provider to manage any ongoing problems.
Adapted from Mauk, K. L., Hanson, P., & Hain, D. (2014). Review of the management of common illnesses, diseases, or health conditions. In K. L. Mauk's (Ed.) Gerontological Nursing: Competencies for Care. Burlington, MA: Jones and Bartlett Publishers. Used with permission.
Save
Whether you enjoy the company of dogs, cats, or even iguanas, pets have been proven to benefit seniors in plenty of ways. For many, they have become an integral part of the family. In fact, assisted-living facilities have adopted a few animals from shelters to keep residents company and uplift their spirits. Pet ownership has helped so many seniors by keeping them physically active, providing emotional support, and even improving cardiovascular health.
However, keeping up with your pet's needs may not be as easy as it was when you were younger. Elderly individuals may be at a disadvantage when matched with highly-energetic pets. The costs of pet care are also a big consideration in this situation, especially when you have your own care costs to contend with.
To keep all the hassles and stresses at bay, we have listed a few tips in living a happy life with your beloved pets.
Care providers who include pets
Many care providers include pet care in their list of services. This may consist of dog walking, pet sitting, boarding, grooming, and even training. So check with your care providers if they can also accommodate your pets.
Maintain a regular schedule for feeding and walking
Schedules and routines do not just benefit the animals; these also can help you maintain a good quality of life. Create a schedule for you and your pets to eliminate surprises and memory lapses that could possibly come with old age.
Set a spending limit and sticking to it
Though pets undeniably cost money, these expenses can be cut down to affordable amounts. Many veterinarians offer senior discounts, so check if yours provides any for special rates.
There are also various pet-care support programs, like selected Meals on Wheels, which help seniors in providing food for their pets. Low-cost clinics are also a great option for individuals on a budget.
Individuals get affected by emergencies, which is why they plan and prepare for it. This is also true for our pets. As their caretakers, it is your duty to ensure their safety before, during, and after an unforeseen incident.
Using Ready.gov's list of steps to take, you will be able to safeguard and care for your pets through pet and animal emergency planning. Through this, you get to rest soundly knowing that they are protected even when you are not present.
ALTCP.org provides free long term care information, resources, long term care insurance quotes and expert planning advice for seniors and adults. Our mission is to raise awareness and promote self-education on the need to plan for long term care and buy long term care insurance.
Save
Save
Save
Save
Save
Save
Being a Grandmother is a wonderful benefit of aging. The experience is truly all that your friends told you it would be. When you didn't think you could love anyone as much as your own children, your grandchildren come along and prove you wrong. You can spoil them and send them home, feed them junk food and cookies for dinner, snuggle and take time to play like you didn't have time for when you raised your own kids. And the best part is that all those things that would have made you a bad parent then, make you an awesome, fun Grandma now.
But what happens when, for reasons beyond your own control, your find yourself moving from the role of Grandma to Mom? According to the Profile of Older Americans (2016), "approximately 1 million grandparents age 60 and over were responsible for the basic needs of one or more grandchildren under age 18 living with them in 2015. Of these caregivers, 593,495 were grandmothers and 429,377 were grandfathers" (pg. 15). The role change from Grandma to Mama is a significant one. The little one you have spoiled and coddled is now yours to raise for the next 20 years into adulthood. This can be a shocking transition, but also a tremendous blessing.
This surprise happened to me at the age of 57. My husband had just retired and we had relocated to a more relaxing place in our life. We already had 7 children between us with an age span of 15 – 34 years of age, the last two of whom were adopted from Russia. So, when our teenagers were ready to graduate from high school, we were looking forward to being empty nesters, having raised children for many years.
Then, along came JJ. Substance abuse, which our pediatrician calls "the scourge of our community", was the culprit that led to our current situation. This is a common problem, although not all children of substance abusers are fortunate enough to be placed in a loving home out of the influence of parents who use drugs. Our journey started when we offered to take our 6 week old grandson for a few hours so his parents could enjoy some free time together. Those hours turned into several days when the parents didn't show up to get their son and nobody could find them. They didn't call to check on him and seemed not to mind that they didn't contact us for days. It wasn't long before CPS removed little JJ from his birth parents due to their substance abuse and neglect of their infant and placed him with both sets of grandparents sharing temporary kinship care. Unable to break free of the chains of drugs, even with unlimited free resources and counseling provided by the community, JJ's parents lost custody of him permanently and we became new parents again through adoption of our precious grandson.
The process of adapting to this life-changing event affects everyone differently. If you find yourself in a similar life-altering stage, then you may benefit from this series on Grandparents Raising Grandchildren. Today's tips are for Grandmas who are now Moms again:
Some things have changed
If you are anything like me, your last biological child may be in his/her 30's, so raising a little one might be a bit intimidating. Lots has changed in 30 years! There is so much more technology to help children learn and play. But this means we have become more tech savvy and not avoid the latest cellphones, computers, or apps. (Any teenager is happy to help you learn to be more techie). Toys are more fun now. Clothes are cuter. There are great innovations like disposable diapers, better bottles, and on-the-go baby food. Kids go to preschool and all-day kindergarten now. But, there are negatives too, like many more immunizations to keep track of. The world doesn't seem as safe in the big cities as it did long ago when we let our children play outside without as much fear of gang violence, guns, or being kidnapped. Yet, there are more guidelines for child-rearing, research on how to educate kids, and better job opportunities for when they are grown. While all these changes may be daunting, you can use them to your benefit and to make your life easier when raising children in your later years.
Some things never change
Fortunately for us, some things never change. Babies are babies, kids are kids, and teenagers are still teenagers. Changing diapers, bathing a baby, suctioning a nose with the blue bulb syringe, putting clothes on a wiggly toddler, and rocking a little one to sleep are still the same. Strategies for teaching math have changed, and maybe kids don't always have books in high school, but the major concepts of the major subjects are ones you will remember. Don't worry – this will all come back to you and you might be surprised how much better you are at parenting now than when you raised your first set of children. You are more relaxed and comfortable because you have decades of experience to draw on.
Your experience is a plus
One of your best assets as a new Grammy Mama (as I like to call this role) is your experience. For me, I raised or help raise 7 children before JJ, so I am way ahead of the new mother learning curve. We already know what works and doesn't work in raising kids. We are not novices, but seasoned experts! So, when you are tempted to feel you are not up to this new challenge, remind yourself that this is not your first rodeo.
You are not too old
It is a normal feeling to think you might be too old to raise another child. Let me assure you that you are not, and you are not alone. There are more than a million other grandparents in America just like you who are doing it, and many are older than you are. Your age gives you wisdom and experience. If you were in another job, you would be a Senior Executive, VP, or CEO – that is what you are in this new job. Embrace your Grammy Mama role. There is a reason why this child (or children) has been entrusted to you. You have been chosen for a remarkable task: to nurture a child who will later thank you for not giving up on him. You are never too old to undertake such a legacy as that.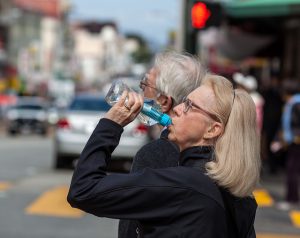 I had always heard that kidney stones were the closest thing to labor pain and childbirth that a man could experience, but being a woman who had been through labor four times, I didn't quite believe it or understand the comparison. That is, until the other day…
I was sitting at the computer writing and felt a pain like a muscle cramp in my right side. But, since I couldn't recall having done anything strenuous the day before, I just figured I had been sitting too long in one spot. Moving around helped for a brief time until the pain returned, more intense and radiating from the right flank around my side and down to my groin. Hmmm….being a nurse I wondered what this could be so I tried the usual techniques as the pain intensified: Tylenol, the massage chair, walking, lying down, sitting up, and having the kids rub my back. Yikes, the pain that can only be described as an unrelenting, constant hurt of the greatest magnitude, a 12 on the pain scale of 1 – 10, which no positioning or over the counter pain medication can touch had me rolling on the floor and telling the kids to call Dad to come home from work now.
Yes, that was just the beginning of my kidney stone experience. In trying to explain the pain to my husband on the phone, he said I sounded so short of breath that he thought I was having a heart attack and called EMS. When they arrived, the pain had subsided and I was left to diagnose myself with a kidney stone, with which the paramedics agreed. But since the pain was completely gone, did I really need to go to the hospital and in an ambulance no less? On their recommendation, the answer was yes.
In the ER, the IV was started and a CAT scan done to confirm our suspicions. Having no history of kidney stones, I was surprised at this painful attack that came on with no warning at all.
The ER doctor came in to see us and said in a thick accent, "Well, you were right. In 5 – 7 days you will have a special delivery!" he laughed.
I glanced at my husband who had turned white and later told me he thought for a second, "you mean she's having a baby?!" (which at 53 surely would have been some sort of miracle). My first thought was "5 – 7 days of this pain? Are you kidding me?" How will I survive?
Another painful bout came as I lay on the gurney, and four strong IV medications didn't completely take away the pain. We were told the pain comes from the spasms of the ureter as the stone blocks the flow of urine and irritates the inflamed tissues. Who could imagine that a 2 mm stone the size of a grain of sand could cause so much discomfort? The word intractable pain had new meaning for me now and I wished I had been more sympathetic to people and patients with kidney stones.
They sent us home with a urine strainer and prescriptions for Flomax and a combination of anti-inflammatories and pain medications. Another attack in the car and all I could do was writhe in pain and pray for relief. My husband kept repeating, "I hope I never get one of those". It is the type of pain that one would do almost anything to stop but that nothing relieves short of passing the stone.
As I took my pain pills, strained my urine, and drank copious amounts of water to help the delivery along, I had time to reflect on the age old debate of kidney stone pain being akin to labor and childbirth. Having some experience in the childbirth area, I still found no way to compare the two in terms of what hurts more, but here were my reflections:
Labor pains were more predictable and increased with intensity as you moved towards the goal of delivery. Kidney stone pain, on the other hand, was unpredictable and had the most intense pain with every bout.
Doctors can predict when the baby will be delivered by closeness of contractions, and examining cervical dilation and effacement. Kidney stone delivery is much less predictable.
If your baby is too big to be delivered vaginally or there are complications, a C-section can be performed. And if your kidney stone is too big to pass, you may have laser treatment to break up the stones or major surgery to retrieve them. Both can mean painful recoveries.
There are medications they can give you for labor and delivery. You can even get an epidural, which I never had, but am told they can make the experience much less painful. But the kidney stone pain didn't seem to be completely obliterated by anything short of passing it.
In comparing types of pain, I guess I can see where men would say they come close to labor pain with a kidney stone, but 10 hours of back labor was equally as bad, and having your OB doctor turn your baby internally prior to a natural birth still rates as the #1 pain I have ever had (but at least it was over quickly).
And last, but most significantly, with labor and childbirth you expect and usually earn a wonderful, lasting, happy surprise at the end of the process, where you hold your newborn in your arms and experience the glory of motherhood, quickly forgetting the pain that was endured to have your bundle of joy. Whereas, at the end of your kidney stone passing, you collect a little grain of something that goes into a plastic container for the urologist to later analyze and you can't believe how much that little devil hurt to get out. You may experience relief and joy at the passing, but there are lifestyle modifications to make to try to avoid it ever happening again, and still without the assurance that it can be prevented, so unlike the conception process. Who, having had one kidney stone, would ever make plans to have another?
Fortunately, my stone did not take 7 days to pass and was gleefully collected in a matter of hours.
So, my answer to the question of which is more painful, a kidney stone or labor and delivery, is a simple one: they cannot be compared. It's like apples and oranges. Different types of pain, but both extremely intense, though the kidney stone is much more unpleasant because the outcome is not a lasting joy for the rest of your life. Since every person experiences pain differently, no one could really answer this question anyway because pain is a subjective experience.
For me, given the choice between labor and a kidney stone, I pick labor. Childbirth is definitely more fun and with rewards that last a lifetime.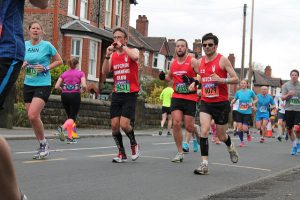 Running a marathon is one of the toughest things that you can do. Doing the full 26.2 miles requires grit, determination and a bit of luck. Luck in the sense that it reaches a point along the marathon whereby your will to run is gone and all you can do is hope that your body doesn't give in. You require a lot of energy to run a marathon but the fact that it is a competitive event makes it difficult for stop and snack up. You, therefore, have to do with the food reserves stored in your body. The problem with this, however, is that the body can only store a limited amount of food reserves. This reserve is depleted way before you complete the marathon and it is at this point that the "wall" appears.
The wall.
To provide you with the energy to run, food is broken down to supply you with this energy. The primary food item that broken down to generate energy is carbohydrates since it requires very little oxygen to do so. When you are running, you let in very little oxygen into the blood stream and that is why carbohydrates are broken down first. The body can hold about 2000 calories of carbohydrates at any given time and this reserve can only last up to the 20th mile. From this point, the body turns to the fat deposits in the body for energy generation. Breaking down fats to produce energy generates a lot of waste products and this contaminates your interior. It also requires a lot of oxygen but since you are not taking in enough air, the body resorts to burning your muscles to generate the needed oxygen. This has the effect of making you feel like you are pulling a heavy load with your feet. Since your body is concentrating on generating energy, your focus shifts from running to this activity. You, therefore, find it difficult to concentrate on running and those who are not of strong will find it easy to give up.
Marathon caring and 'The Wall".
Aging brings with it a lot of challenges and at some stage in life, we would be expected to take care of our loved ones. It could be our parents, grandparents or other family members. Most would think that it will only be for a short period of time but the truth is that it usually stretches several years and this is what makes it a marathon. Taking care of another person is very challenging and it will overwhelm even those claiming to be strong willed. It requires that you feed, clothe as well as clean up the person under your care. You are in charge of their medication as well and this means that you have to monitor their pills to make sure they never run out. See how overwhelming that can be?
When compared to a marathon, all these responsibilities represent the various stages of a marathon. It is easier at the beginning since you are all psyched up and full of energy. It gets difficult with time as your 'energy reserves' are depleted and your enthusiasm fades. At this point, it is only a matter of time before you 'hit the wall'.
The wall of a marathon caregiver.
The wall to a marathon caregiver represents that point when you see your dependent as a burden. This is that point when you are no longer excited to see those in your care. The wall is a very difficult point since it could see you neglect those in your care.
Keeping the wall at bay.
There are a few things that you can do to keep the way at bay. The first thing is to understand the course and this entails understanding your dependents better. If they have any illnesses, get to understand them as this will make it easy for you to manage them. Learn how to take care of old people and you can do that by checking out care homes near me. This will make you a better care giver and better equipment to avoid the wall.
Save
Save