I have been fortunate to have a number of mothers in my life – by birth, marriage, or adoption. Each of these women has helped to shape my perspectives and  values in various ways during different seasons of life.  As Mother's Day approaches, reflecting on the role that mothers play in our lives is a worthy exercise. So, here is my tribute to my mothers.
My first mother is the one who gave me life. I like to think of this as the Spring of my life. Mom Phyllis raised me until the age of 9 years. She tended to the scrapes and cuts, helped to mold my personality, hand-made my clothes, and made life an adventure, all whilst being the wife of a busy doctor who was studying to be a pediatric surgeon. Thank you, Mom, for treasuring my childhood.
When my parents got divorced, a second mother entered the Summer of my life. Mom Kay took three confused and fragile children under her wings as a young step-mother in her early 20's. She nurtured us as if we were her own. She helped me navigate the difficult teenage years and transition into young adulthood, listening to countless stories of puppy love, crushed hearts, and future dreams. Mom brought faith and light into a home that had been shattered by divorce. She has given me an example of a loving and faithful wife to my father for 45 years. Thank you, Mom, for preserving my spirit and encouraging my faith in God.
In college, I attended a little Baptist church where they had a program in which families could "adopt" a college student. Through a round-about way, I was adopted by Marvin and Patsy Bell. Grandma Bell, as my children later called her, saw me through my first 17-year  marriage, a painful divorce, and was a second mother to many other young women like me. She has been a faithful friend and mentor for more than 38 years. Ma Bell stood in the place of the mothers who couldn't be with me during some of the coldest and darkest Winters of life. She attended countless school programs for my kids and never forgets a birthday to this day. Thank you, Ma, for giving me the example of the kind of Grandmother I want to be.
Lastly, when I remarried to my current husband, Jim, I gained a wonderful mother-in-law. Gracie is true to her name. She has a loving and nonjudgmental spirit. She always thinks the best of people and is kind and gentle.  In the Fall of my life, she embraced me as a daughter and is always ready to help in times of need.  Thank you, Mom Mauk, for showing me what unconditional love looks like.
All of us have mothers in our lives that we need to thank. So, this Mother's Day, purpose to give a special blessing to those women who have so influenced your life. Without them, our days would be less rich and the journey much lonelier. Celebrate those who have traversed the seasons of life with you!
This week we celebrate National Nurse's Week beginning on May 6th and ending on May 12th (Florence Nightingale's birthday). The profession of nursing has come far since its inception. When I went to nursing school in the late 1970's, we were still wearing blue pin-striped uniforms and caps. There were striping and pinning ceremonies to mark milestones in the 4 year journey to the Bachelor of Science in Nursing degree, and it wasn't until the early 1980's when my nursing school started to eliminate those bulky caps that were so difficult to keep on our head. When the mandatory uniforms and nursing caps were no longer the symbol of the nurse, we had to develop other ways for patients and families to recognize us. I hope that we are now recognized for the knowledgeable care and comfort that we provide to others. It has been said that nurses are the backbone of the healthcare system.  I would suggest that we are that and much more:
Nurses are timeless. Florence Nightingale left the comforts of home care for the sick. Nurses are there for the beginnings and ends of countless lives. We hold the hands of the young, the old, and everyone in between. The shifts are long and if a patient needs us, we work overtime to finish the job. We might wear a uniform, scrubs, a lab coat, or a suit, but we transcend fashion to don whatever our patients need for safe, quality care.
Nurses are trusted. Gallup polls consistently show that the public trusts the ethics and honesty of nurses above even that of physicians, making us one of the most trustworthy professions in the eyes of the people.  Nurses adhere to the ANA Code of Ethics that emphasizes supporting patients' autonomy and the concepts of beneficence, justice, fidelity, and veracity. All nurses receive education in ethics, with patient care at the center.
Nurses are inspiring.  How many people can say that their jobs changed a life? As a rehabilitation nurse, one woman who had experienced a stroke told me, "I had stroke and died three times. I was in ICU for weeks, but I didn't feel alive until I came to rehab. Rehabilitation nurses helped me live again!" Yes, transforming lives is what nurses engage in daily. In fact, many of us can name that one nurse that we remember and would choose to have with us if we were sick or dying – that nurse who knows how to inspire and care.
Nurses are experts.  Nurses are expert caregivers, patient advocates, teachers, and researchers. We know the realm of health care better than anyone because we are the licensed professionals who are there 24/7. There are more nurses with advanced practice degrees and certifications than ever before. Nursing has evolved into a discipline with multiple specialties that support best practice in numerous areas that affect health and wellness. Nurses hold positions of leadership in government, the military, organizational systems, health care corporations, and major companies, all attesting to the value of our knowledge and education.
Nurses are still carriers of light. Florence Nightingale was known as "the lady with the lamp". I always found that image inspiring. One of my favorite memories from my early career occurred while I was working the night shift on a geriatric unit. An elderly man couldn't get the music he liked to play on the radio, so he asked for someone to sing some old hymns to him. I did so reluctantly at first, holding his hand and singing all the old songs of the faith that I could remember. The next day, I heard him excitedly telling his family members, "An angel came to my room and held my hand and sang to me last night!"  I was puzzled when later he didn't seem to recognize me as the singing "angel".  The following night, he died unexpectedly. Reflecting on that experience, I believe that higher powers were at work there. Maybe I was just the vessel through which a bit of healing flowed. Since then, I have seen countless similar examples of extraordinary happenings when caring nurses are involved.
Nurses do more than just enact art and science. Sometimes…our work is like a little piece of heaven.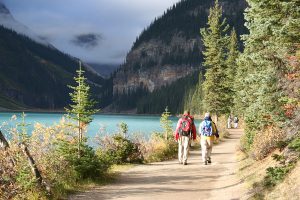 While senior fitness offerings continue to explode in gyms around the country, the age-old tradition of simply 'going for a walk' still touts loads of health benefits, especially for older adults.
Brisk walking a offers low-impact activity that is relatively simple, can be done most anywhere, is fun to do with friends, and is easily modifiable to increase calorie burn. In addition to strengthening your bones and muscles, routine walking can also help prevent lifestyle conditions like diabetes and high blood pressure, as well as improve your balance, coordination, and even your mood.
If you are looking for quick ways to take your daily walk to the next level, don't miss these expert tips:
Speed Up
The best exercise is that which gets your heart rate up to at least 55 to 85% of your MHR (maximum heart rate). The formula for MHR = 220 – your age. So if you are 65, for example, your maximum heart rate is around 155. Speeding up your walk so your heart rate climbs over 109 (70% of 155) for at least 10 minutes is going to count as good aerobic exercise that is helping strengthen your heart muscle.
Climb Hills
Walking up an incline naturally requires the body to work harder and use up more energy. This can help you build endurance over time and tone muscle groups in your legs you weren't previously engaging. If you are concerned about a weak knee, reduce lateral knee movement and prevent discomfort with a knee brace specifically designed for walking.
Change Terrain
Instead of doing your usual walk around the roads in your neighborhood, head to a local trail and take a hike. Hiking up and downhill will burn more calories as well as pose a greater challenge to your balance and coordination skills. Exercising like this in nature has also been shown to boost feelings of attentiveness and positivity.
Add Intervals
Incorporate more intervals of high-intensity activity into your walk and you can both improve your endurance and aerobic capacity as well as give your metabolism a boost. 5 minutes of brisk walking punctuated with 30 seconds of squats, lunges, or crunches, followed by another 5 minutes of walking and then 1 minute of jogging and so on and so forth also spices up your walking routine and makes it a little more fun.
 
You may have heard of rehabilitation nursing, but are you familiar with what rehabilitation nurses do and their essential role in health care? According to the Association of Rehabilitation Nurses (ARN), there are four major domains within the new competency model for professional rehabilitation nursing (ARN, 2016) that can help us understand what rehabilitation nurses do.  In this blog, we will look at the ARN model from a layperson's viewpoint to help explain the role of the rehabilitation nurse. Rehabilitation nurses:

Promote successful living
Rehabilitation nurses do not only care for people, but they promote health and prevent disability. This means that rehab nurses engage in activities that help patients, families and communities stay healthy. Proactively, you might see rehab nurses helping with bike safety (such as promoting the wearing of helmets), car seat fairs (to keep children safe from injury), or stroke prevention through community screenings and teaching about managing risk factors. As rehab nurses, we also help patients towards self-management of existing chronic illness or disability, teaching them how to be co-managers with their health providers so they can maintain independence and have a good quality of life. Another key activity is facilitating safe care transitions. This means that rehabilitation nurses have a special skill set to know which setting of care is best for the patient to move to next and how to make this happen smoothly. For example, if Mrs. Smith has had a stroke and finished her time in acute rehabilitation in the hospital, but she lives alone and is not quite ready to go home, what is the best care setting or services for her to receive the help she needs?  Many errors, such as those with medications, happen when patients go from one place to another in the health system. Rehabilitation nurses can help persons successfully navigate these complexities and be sure that clients get the continuity of care they need and deserve.
Give quality care
The interventions or care that rehabilitation nurses provide to patients and families is based on the best scientific evidence available. Part of being a rehab nurse is staying current on the latest technology, strategies for care, and best practices. This is to ensure that all patients receive the highest standard of care possible. We stay current in many ways, including reading journal articles, attending conferences, obtaining continuing education, and maintaining certification in rehabilitation. Research shows that having more certified rehabilitation nurses on a unit decreases length of stay in the hospital. In addition, all of rehab care focuses on the patient and family as the center of the interdisciplinary team. To this end, rehabilitation nurses teach patients and families about their chronic illness or disability across many different areas including: how to take medications; managing bowel and bladder issues; preventing skin breakdown; dealing with behavioral issues that might be present with problems such as brain injury or dementia; coping with changes from a disabling condition; sexuality; working with equipment at home; and ways to manage pain.
Collaborate with a team of experts
Rehabilitation nurses are part of an interprofessional team of physicians, therapists, psychologists, nutritionists, and many others who work together for the best patient outcomes. For persons who have experienced a catastrophic injury or illness, the work of this team of experts sharing common goals will provide the best care, and rehab nurses are the ones who are with the patient 24/7 to coordinate this process. Through effective collaboration, excellent assessment skills, and communication with the rest of the team members, rehab nurses ensure that patient and families are getting well-coordinated care throughout the rehabilitation process. Remember that rehabilitation takes place in many settings, whether on the acute rehab unit, in skilled care, long-term care, or the home. The nurse's role is to be sure that the holistic plan of care is followed by all staff and that the physicians overseeing medical care are continually informed of patient progress for the best decision-making possible.
Act as leaders in rehabilitation
 Not only do rehabilitation nurses provide direct patient care, they are also leaders in the rehabilitation arena. You might be surprised to learn that rehabilitation nurses advocate at the highest level for legislation surrounding funding and policy for those with disabilities and chronic illness, talking with Senators and Congressmen about key issues. ARN has professional lobbyists that continually watch health policy movement in Washington and keep rehab nurses informed. Rehab nurses help patients to advocate for themselves in holding government and communities accountable for needed care services. Lastly, rehab nurses share their knowledge with others. This is done in a variety of ways through conducting and publishing research, presenting at conferences, serving on local and national committees, and serving in public office. All of the leadership activities done by nurses in rehabilitation are to promote the best quality of care for patients with chronic illness and disability.
Save
Save
Bone spurs, which are small projections that develop on the edges of bones, are a highly common ailment that affects about 2 percent of the U.S. population.
People of any age can develop bone spurs, but they're especially common in senior citizens since they are often associated with osteoarthritis-related joint damage.
Bone spurs don't always require medical treatment, but, depending on their location, they can contribute to joint inflammation, pain, and stiffness that limit mobility. Bone spurs along the spine are particularly problematic, as are ones that develop in the knee or ankle joints.
For seniors who are struggling with bone spurs, there are lots of different treatment options available, including the four listed below.
1. Weight Loss
Weight loss is one of the most effective treatments for managing bone spurs, especially spinal bone spurs.
Changing your diet will is, generally speaking, the most effective weight loss tool. Focus on limiting your caloric intake and cutting out greasy fast food and highly processed snacks. Replace them with high-quality protein, fruits, vegetables, and healthy fats like avocados and olive oil.
Foods rich in omega-3 fatty acids can also help lubricate the joints and relieve inflammation.
2. Lifestyle Aids
There are lots of tools out there as well that can help relieve pain caused by bone spurs. Some good options to invest in include:
Supportive shoes that cushion the feet and avoid putting extra strain on the joints
Orthotic inserts to provide extra support
A shoe horn to help you avoid bending over and aggravating your back while getting dressed
3. Regular Exercise
Exercise releases natural painkillers in the form of endorphins. It also strengthens the muscles to help support the joints and relieve pressure placed on them.
Resistance training, walking, and swimming are all good exercise options for people struggling with bone spurs. Work with a trainer or physical therapist to make sure you're practicing proper form and not doing anything to aggravate your condition.
4. Minimally Invasive Surgery
Finally, some people require minimally invasive surgery to get rid of their bone spurs. When you undergo surgery, a doctor will use state-of-the-art equipment to identify the spur and extract it.
This is typically an outpatient procedure, and the recovery time only lasts a few hours — you'll be up and walking shortly after and won't have to deal with an extended hospital stay.