The golden years come with their advantages. There's the newfound freedom, for example, and the chance to relax and revel in all that you have accomplished. But your retirement years also bring age-related challenges that can really put a damper on enjoying them. It's important for seniors to place high priority on their health and well-being, but it can be difficult to know where to begin. Here are four ways that you can place yourself first.
Social Well-Being
Although retirement usually includes the benefit of having more free time, having extra time on your hands can also have its disadvantages, especially if you live alone. Too much idle or alone time can lead to boredom, unhealthy inactivity, and even depression. Here a couple of activities to consider if you're feeling isolated or unstimulated.
Get a part-time job
Finding a part-time job in retirement has its advantages. Not only will you have a little extra cash coming in, but you'll meet new people and feel a sense of responsibility that you may be missing from your working years.
Senior Citizen Groups and Clubs
Joining and participating in senior groups, clubs, and organizations is often free or inexpensive, and some will even provide transportation. You can find groups that are general interest as well as others that focus on specific activities and niches.
Ensure Home Safety
Making sure that your home is a safe place to be is important for anyone, but it's perhaps especially vital for seniors who are more at risk of falling as well as those who live alone. Here are four simple ways to make your home a safer place.
Bathing
Installing grab bars is one way to provide added safety when bathing. You can also invest in hands-free toiletry dispensers that save you the hassle of slippery bar soap or handling bulky containers.
Air Quality
It's impossible to know exactly what toxins may be lurking in your household air, but there are steps you can take to reduce them. You can protect your home's air quality by replacing air filters regularly and having your HVAC system checked by a repairman.
Natural Cleaning Products
Because of the current social awareness of toxins found in many cleaning and hygiene products, it has become easier to find brands that make products using only natural ingredients. You can also easily mix your own natural cleaning products using things like vinegar or lemon juice.
Maintain a Balanced Diet
There are a number of things that can hinder seniors from getting proper nutrition. These include a lack of transportation, dwindling finances, and medications that cause nausea or reduce appetites. It's important for you to make healthy food choices at all ages. Try eating foods high in omega-3 fatty acids, calcium, and fiber, as well as drinking plenty of water.
Gentle Exercise
As a senior, it's more important than ever to exercise regularly, and the good news is that you don't have to put out a lot of effort. Just 30 minutes a day, 5 days a week will suffice. Walking, yoga, or swimming are gentle and effective forms of exercise for seniors. If you don't have access to a pool at home and don't have your own transportation, you may be able to find a senior swimming group similar to the ones discussed above that offers transportation. Then, your exercise regimen could include a social outlet as well.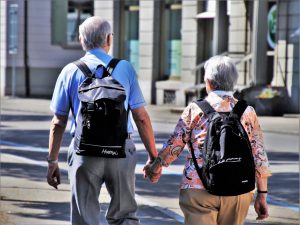 Research indicates that Americans are living longer than any other period in history. The best way to ensure your quality of life in your senior years is by addressing mental and physical health. Here are some tactics that can help make your golden years even more exciting.
Be Active in Your Healthcare
Not only do you need to make sure you have a primary care physician familiar with your health history, you also need to make sure you stay up to date on how you'll pay for regular checkups, appointments with specialists, and medication. This includes keeping an eye on your Medicare plan and making changes to it as necessary. You may want to consider signing up for a Medicare Advantage plan, which offers perks that regular plans don't cover. For instance, a Humana Medicare Advantage Plan offers benefits like a Nurse Advice Line, which saves you from the time and hassle of visiting your doctor for every little ache and pain, and enrollment in SilverSneakers, which will help you stay active throughout your golden years — another critical component of your quality of life.
Exercise Regularly
The body isn't able to repair itself as quickly when we become older — not to mention, the loss of muscle mass contributes to mobility issues. Not only can regular exercise improve both of these concerns, but it can also regulate blood pressure and sugar management, boost mood, strengthen the immune system, improve gastrointestinal function, enhance cognitive ability, prevent heart disease and diabetes, and make it easier to manage weight. There's no need to push yourself too hard. Even simple walking for 30 minutes four times a week is enough to get going. Seniors can also work out at home with exercise videos, fitness apps, and Wii games.
Eat Well
Eating a healthy diet is crucial at every stage of life, but takes on an even more important role as our bodies change with age. Your doctor may recommend a specific diet that tailors to your unique health needs — if you need to consume more protein or calcium, for example — but in general, you'll need to eat foods that make your microbiome happy. Not only will eating probiotic-packed and fermented foods help you stay regular, you'll actually feel happier and more energized overall by taking care of your gut health, since doing so ramps up your body's production of the feel-happy chemical serotonin.
Improve Quality of Sleep
Research suggests that seniors can benefit from quality and quantity of sleep more than they did in their younger years. There are several tactics that can make it easier to get ample shuteye, since it can be a challenge for the elderly. This includes increasing daytime light exposure, ditching caffeine and alcohol in the evening hours, exercising early in the day, making your bedroom a cool and dark respite, unplugging from electronics at least one hour before bed, and consistent bed- and wake-up times.
Stay Social
It's important to stay social in order to keep your mental health in check. Some easy ways to stay socially engaged include connecting with friends via social media, joining a club or senior center, volunteering, helping out your family (such as babysitting the grandkids so your adult children can enjoy a date night), and taking up a part-time job.
It's important that you have an established primary care physician and that you visit him or her regularly. You're more likely to prevent illness and disease when you've got a health care schedule in place (as well as a plan to pay for it). A pro can also direct you to other specialists and help guide you through the financial side of care, too.
Photo Credit: Pixabay
Are you on the hunt for low impact exercise ideas that will help lower your risk for common killers like heart disease? If you have been interested in yoga but hadn't worked up the nerve to "hit the mat" yet, don't miss this quick guide:
What is Yoga for Seniors?
Yoga at its core is an ancient practice in breathing, stretching, meditation, and guided poses. Originating in eastern culture, yoga made its way to the U.S. in the late 20th century, building quite a following across the country as different modalities and styles were developed and specialized studios popped up in more and more places.
Yoga has been adapted for seniors specifically by incorporating more seated movements for those with mobility issues, as well as gentler and more educated approaches to limit joint stress and other common age-related ailments. Common yoga styles for seniors include:
Chair yoga – practiced entirely with the use of a chair, either to sit on or support yourself with, this type of yoga incorporates poses that are modified for seniors who cannot bear weight for long periods of time on their legs.
Water yoga – yoga in a pool is the name of this style's game and offers a weightless, low-impact practice that is hard to find anywhere else.
Restorative yoga – spend extended periods of time practicing stillness and aligning the body and mind in this yoga style that embraces mental wellbeing.
What are the Benefits of Yoga for Seniors?
In addition to offering generous physical exercise for seniors, routine yoga practice also touts a handful of health benefits including:
Weight management
Pain relief
Stress relief
Social interaction
Lowered blood pressure
Joint mobilization
Skin rejuvenation
Better sleep
Senior yoga can be adapted for older adults with a range of ailments including arthritis, diabetes, mobility issues, and even Alzheimer's.
Where Can I Find a Senior Yoga Class?
Because of the continued boom of the retiree demographic, more and more yoga classes are being offered to seniors in a variety of environments. You can look for senior classes at your area senior or community recreation center as well as at boutique yoga studios, fitness gyms, health clubs, and even within your own retirement community.
If you would rather see what senior yoga is all about at home, try streaming free instructional yoga videos online either on your computer, tablet, smartphone, or smart TV. You can conduct a quick search for "senior yoga tutorial" on Youtube.com or check sites like DoYogaWithMe.com.
A diet is simply a way of eating. Some people diet with too much food, some people with too little food. But for most people, it's just the wrong foods. However, one thing is for sure, diets don't work. They never had and they never will. Just ask anyone who has been on any of the well-known, celebrity-endorsed diet plans for any length of time.
Note: Check out this guide to flexible dieting on how to escape the dieting life!
Dieters are often excited about the quick weight loss, but invariably, the diet doesn't last forever and they quickly find that not only did they gain back all they lost, but they have taken on extra pounds too.
Dieting in the typical sense actually sets you up to fail in your attempt to lose those extra pounds. Immediately on any diet plan, your caloric intake is limited. That in itself isn't a bad thing. Most meal portions have become unnecessarily large these days and actually need to be kept in check.
When you limit the number of calories consumed to get quick weight loss results on your diet plan, your body has to compensate for this loss. That's when it begins to break down muscle tissue so as to maintain energy levels. The body also adjusts its requirements for energy and slows down its rate of metabolism.
But what happens when you go back to eating the way you did before? Well, your body is still functioning in diet mode. Your metabolism has slowed, so all that extra food is stored as fat. So you end up heavier than you were before you started dieting.
It's also important to stress that activity can play a vital role in this too. If you can maintain your normal activity while dieting then you're one of the few. Take a look at athletes for example. They follow a nutrition plan that that's heavy in calories as activity like rugby training needs to be fueled. Dieting wouldn't be an option for athletes and they do not put on unnecessary weight. The point here is that you need to also try and be active to help with your new lifestyle, dieting makes it even harder.
Aside from calorie restriction, here are other reasons why dieting isn't sustainable for most people;
Too Restrictive – frankly speaking, diets are depressing. They take away all the fun foods and all of a sudden you can't have chocolate anymore. Oh, now all you see is chocolate, it's everywhere and everyone is having a bite… except you. Then, you cheat and go right back to square one.
Your Body Rejects It – your body likes eating and wants to eat. Denying your body means your body fights you to get more food. It forces you to cheat and go right back to square one.
The 'fad diet of the week' is not right for your metabolism – your body needs certain nutrients. Your cravings match those nutrients. When you force your body to eat a way it doesn't like, it slows downs, becomes clogged, and sick. You don't even need to cheat and you're worse now then you were at square one.
So how do you really lose fat and keep it off for good?
Getting down to your ideal weight and maintaining it means eating a balanced diet and getting plenty of exercise. It doesn't mean a severe restriction in calories and spending hours at the gym. Simply pay more attention to the foods you eat and move around more.
Easy exercises like walking, cycling and swimming can go a long way to shaping a leaner, healthier you. Even walking 5 minutes per day is enough to get started. Then, work up to better and better exercises until you are exercising every day, alternating between strength training, cardio, and stretching.
Attaining and maintaining a healthy weight is as much about adjusting your self-concept and attitude as it is your lifestyle.
When you change the way you see yourself, it's easy to make those necessary changes. In fact they often happen subconsciously. Your weight is governed by your self-concept. When you change the assumptions about yourself and your body, you change the results. That's how you master weight loss forever.
Anxiety is a serious issue for older adults. Between three and fourteen percent of seniors experience symptoms that meet the criteria for diagnosable disorders like generalized anxiety disorder, panic disorder, and obsessive-compulsive disorder.
Even though they don't have a diagnosable disorder, another 27 percent also experience symptoms of anxiety on a regular basis that have a significant impact on their day-to-day functioning.
If you have a parent or loved who may be struggling with anxiety, keep these four tips in mind to help them manage symptoms in a healthy way.
1. Recognize the Signs
The first step to helping a loved one manage anxiety is being able to identify their symptoms. Common signs of anxiety disorders include:
• Excessive fear or worry
• Refusing to do activities they used to enjoy
• Being obsessed with a routine
• Avoiding social interactions
• Sleep troubles
• Muscle aches and tension
• Shakiness or weakness
• Self-medicating with alcohol or drugs
2. Let Them Know You're There for Them
Many seniors are hesitant to talk about their struggles because they don't want to be a burden. If you think your parent or a loved one is dealing with anxiety, it's important for them to know that you're there for them and aren't judging them.
3. Prevent Falls
As they age, seniors typically struggle with impaired balance, which can cause a lot of anxiety and make them worry about falling and getting hurt.
One way to show the senior in your life that you support them is to take steps to prevent falls and help them feel safe in their homes. Some ways you can do this include:
• Installing grab bars in the bathroom
• Removing loose rugs and other slip hazards
• Rearranging cupboards and cabinets so items are within easy reach
• Investing in a medical alert system
4. Encourage Them to Seek Professional Help
You should also encourage your parent or loved one to work with a professional.
Make an appointment with their doctor and let them know what you've noticed. You may also want to schedule an appointment with a therapist or hire a home care aide to come in and check on them a few times a week.
There are lots of things you can do to help a parent or loved one manage their anxiety in a healthy way. If you're not sure where to begin, start with these four tips.