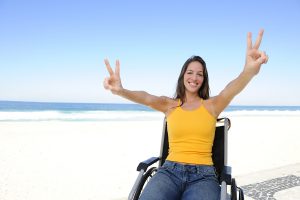 While you don't have to be overly observant to recognize that difficulty walking can spell trouble for your mobility, you may not necessarily be on the lookout for less subtle signs that can serve as red flags too. Check out this quick list of three hidden signs of mobility problems:
Avoiding Stairs
Are you opting to take the elevator more than normal? How about spending more time on the ground floor of your home to avoid using a staircase? Stairs can be one of the most difficult environments to traverse when mobility problems are starting to set in.
Stairs require extra leg strength, coordination, and balance. Avoiding stairs, whether conscious of it or not, could be a red flag. Same goes for exercise. If you are finding excuses to skip regular exercise because of mounting difficulties with getting around, it's time to seek assistance.
Frequent Falling
While falls aren't all that uncommon for seniors (one out of four seniors experiences a fall every year), frequent falling could indicate mobility difficulties. Even if you have not yet experienced an injury due to a fall, the fact that you fall even more than once a year could shed light on underlying risk factors negatively impacting your mobility including motor impairment and balance problems.
Chronic Illness
You may think that only chronic illnesses which directly affect your leg strength and coordination would impair your mobility, like Parkinson's or multiple sclerosis, however, you would be wrong. Conditions including diabetes, arthritis, and even heart disease can play a role in reducing your ability to quickly and safely move with ease.
Heart failure, for example, can leave your short of breath when you walk or stand for long periods of time. Diabetes can affect nerves in the legs and feet and arthritic joint inflammation can make walking painful.
Researchers have found less common risk factors that also increase an older adult's chances of developing mobility problems. These include drinking or smoking, recent hospitalization, having symptoms of depression and experiencing memory and critical thinking problems.
Mobility difficulties do not need to be the end of the line for you. Advancements in technology, design, and engineering have revolutionized the assistive devices people with mobility problems can use. Utilizing equipment to help keep you mobile like motorized scooters, walkers, canes, and specialty wheelchairs can play an important role in both your health as well as your outlook on life.
Alzheimer's disease (AD) is the most common type of dementia seen in older adults. An estimated 5.4 million Americans of all ages had Alzheimer's disease in 2012. Nearly half (45%) of people over the age of 85 have AD. By 2050, the number of individuals age 65 and over with Alzheimer's could range from 11 million to 16 million unless science finds a way to prevent or effectively treat the disease. One in eight older adults has AD, and it is the sixth leading cause of death in the United States (Alzheimer's Association, 2012). Those affected with AD may live from 3–20 years or more after diagnosis, making the life span with this disease highly variable.
Risk factors
Advanced age is the single most significant risk factor for AD (Alzheimer's Association, 2012). More women than men have AD, but this is because women live longer than men, not because gender is a risk factor. Family history and heredity are also identified risk factors for AD, as are head trauma and poor cardiac health.
Warning Signs
Alzheimer's disease is characterized by progressive memory loss. The person affected by AD is gradually less able to remember new information and memory lapses begin to affect daily function. It is a terminal disease that over its course will eventually leave a person completely dependent upon others for care.
Diagnosis
Initially, the clinical progression of the disease is slow with mild decline; however, deterioration increases the longer the person lives, with an average life span of 8 years after diagnosis (Cotter, 2002; Fletcher, Rapp, & Reichman, 2007). The underlying pathology is not clear, but a growth of plaques and fibrillary tangles, loss of synapses, and neuronal cell loss are key hallmarks of AD that interfere with normal cell growth and the ability of the brain to function. Absolutely definitive diagnosis is still through autopsy, although clinical guidelines make diagnosis easier than decades ago when less was known about the disease. Primary care physicians generally make the diagnosis through a thorough history, physical exam, cognitive testing, and labs. New criteria for diagnosis include staging the disorder and biomarkers (beta amyloid and tau in the cerebrospinal fluid and blood) (Alzheimer's Association, 2012b). An MRI of the brain may be ordered to rule out other causes of symptoms.
The clinical course of AD is divided into several stages, depending on the source consulted. In the early course of AD, the person may demonstrate a loss of short-term memory. This involves more than common memory loss, such as where the keys were put, and may involve safety concerns such as forgetting where one is going while driving. The inability to perform math calculations and to think abstractly may also be evident. In the middle or moderate phase, many bodily systems begin to decline. The person may become confused as to date, time, and place. Communication skills become impaired and personality changes may occur. As cognitive decline worsens, the person may forget the names of loved ones, even their spouse. Wandering behavior as well as emotional changes, screaming, delusions, hallucinations, suspiciousness, and depression are common. The person with AD is less able to care for her- or himself and personal hygiene suffers. In the most severe and final phase, the person becomes completely dependent upon others, experiences a severe decline in physical and functional health, loses communication skills, and is unable to control voluntary functions. Death eventually results from body systems shutting down and may be accompanied by an infectious process. Although there is no single test, and the diagnosis may be one of exclusion, early diagnosis is important to maximize function and quality of life for as long as possible. Persons experiencing recurring and progressing memory problems or difficulties with daily activities should seek professional assistance from their physician.
Treatment
Treatment for AD is difficult. There are several medications (such as Aricept, Namenda, Razadyne, and Exelon) that may help symptoms (such as memory), but they do not slow the course of the disease. There is currently no cure; however, research continues to occur in pharmacology, nonpharmacology, and the use of stem cells to manage symptoms and perhaps one day eradicate the disease.
Treatment will focus on symptom management, particularly in the areas of behavior, safety, nutrition, and hygiene. Behavioral issues such as wandering and outbursts pose a constant challenge. Many long-term care facilities have special "memory care" units to care for Alzheimer's patients from the early to late stages of the disease. These units provide great benefits such as consistent and educated caregivers with whom the patient or resident will be familiar, a safe and controlled environment, modified surroundings to accommodate wandering behaviors, and nursing care 24 hours a day. Additionally, nurses are present to manage medications and document outcomes of therapies. However, many family members wish to care for their loved ones at home for as long as possible.
Thus, another important aspect of care in AD is care for the caregivers. Howcroft (2004) suggested that "support from carers is a key factor in the community care of people with dementia, but the role of the caregiver can be detrimental to the physical, mental, and financial health of a carer" (p. 31). She goes on to say that the caregivers of persons with AD would benefit from training in how to cope with behaviors that arise in these patients and how to cope with practical and legal issues that may occur.
Research has shown that ongoing skills are needed by family caregivers to deal with the progressive decline caused by AD. In fact, "a 63% greater risk of mortality was found among unpaid caregivers who characterized themselves as being emotionally or mentally strained by their role versus noncaregivers" (National Conference of Gerontological Nursing Practitioners & National Gerontological Nursing Association, 2008b, p. 4). Adapting to stress, working on time management, maximizing resources, and managing changing behavior were all skills caregivers needed to develop in order to successfully manage home care of their loved ones. When interventions and resources were not used by caregivers in the early stages of the care recipient's AD, the risk of a healthy patient being institutionalized due to caregiver burden was higher (Miller, Rosenheck & Schneider, 2012). Caregivers needed not only to acquire knowledge and skills, but also to make emotional adjustments themselves to the ever-changing situation.
Such findings suggest that nurses should focus a good deal of time on educating caregivers of persons with AD to cope with, as Nancy Reagan put it, "the long good-bye." Scientists continue to explore the causes of AD and hope in the near future to be able to isolate the gene that causes it. In the meantime, results from a fascinating longitudinal study (called the Nun study) on aging and AD, which used a group of nuns who donated their brains to be examined and autopsied after death, has suggested that there is a connection between early "idea density" and the emergence of AD in later life. That is, essays the nuns wrote upon entry to the convent were analyzed and correlated with those who developed AD. It was found that those with lower idea density (verbal and linguistic skills) in early life had a significantly greater chance of developing AD (Grossi, Buscema, Snowdon, & Antuono, 2007; Snowdon, 2004). The nun study has allowed researchers to examine hundreds of brains so far in nuns who died between 75 and 107 years of age and discover other important facts such as a relationship between stroke and the development of AD in certain individuals, and the role of folic acid in protecting against development of AD (Snowdon, 2004). Scientists from a number of fields continue to research the causes and possible treatments for AD and the Nun study project is continuing at the University of Minnesota. Snowdon's research suggests that early education, particularly in verbal and cognitive skills, may protect persons from AD in later life.
For more information on Alzheimer's disease, visit the Alzheimer's Association website at:
http://www.alz.org/
Adapted from Mauk, K. L., Hanson, P., & Hain, D. (2014). Review of the management of common illnesses, diseases, or health conditions. In K. L.
Mauk's (Ed.) Gerontological Nursing: Competencies for Care. Sudbury, MA: Jones and Bartlett Publishers. Used with permission.
Save
Save
Commonly known as shingles, herpes zoster is the reactivation of the varicella virus that causes chicken pox. Older persons may be infected with this latent virus after initial exposure to it in the form of chicken pox. The virus then lays dormant in the neurons until it is reactivated, often due to immunosuppression, when it appears in the form of painful vesicles or blisters along the sensory nerves. This reactivation tends to occur once in a lifetime, with repeat attacks occurring about 5% of the time (Flossos & Kostakou, 2006). Herpes zoster occurs in both men and women equally, with no specific ethnic variations, but is more common in the elderly.
Risk Factors
Risk factors for developing shingles are age over 55 years, stress, and a suppressed immune system. For many older women particularly, emotional or psychological stress can trigger recurrence.
Warning Signs
Signs and symptoms of herpes zoster include painful lesions that erupt on the sensory nerve path, usually beginning on the chest or face. They may appear as initially as a rash, looking much like chicken pox, often wrapping around the chest area in a band-like cluster. These weepy vesicles get pustular and crusty over several days, with healing occurring in 2-5 weeks (Kennedy-Malone et al., 2004; NINDS, 2013).
Diagnosis
Diagnosis is usually made by viewing the appearance of the lesions and a history of onset. A scraping will confirm some type of herpes virus. The most common complaint of those with herpes zoster is the painful blisters that usually subside in 3–5 weeks (NINDS, 2013). Postherpetic neuralgia, a complication of herpes zoster, may last 6–12 months after the lesions disappear and may involve the dermatome, thermal sensory deficits, allodynia (the perception of pain where pain should not be), and/or severe sensory loss, all of which can be very distressing for the patient (Flossos & Kostakou, 2006).
Prevention
Zostavax, a vaccine for shingles, has become available, and it is recommended for all persons age 60 or older who have already had the chicken pox. A person can still get shingles even after having the vaccine, but the symptoms and complications would be less severe. The vaccine has also been approved for persons age 50 – 59, and research has shown that receiving the vaccine significantly decreases the rate of shingles in the population (NINDS, 2013; PubMed Health 2012).
Treatment
Antiviral medications (such as Acyclovir) are used to treat shingles, but must be given within 48 hours of the eruption of the lesions. Topical ointments may help with pain and itching. Pain medications, particularly acetaminophen (Tylenol), are appropriate for pain management in older adults. If a fever is present, rest and drinking plenty of fluids is suggested. Persons with pain that lasts past 6 weeks after the skin lesions are gone and that is described as sharp, burning, or constant require re-evaluation by a physician. Postherpetic neuralgia may be a long-term complication lasting years (PubMed Health, 2012).
The person should be advised to seek medical attention as soon as he or she suspects shingles, in order to receive the best results from Acyclovir. The virus will run its course, but the person is contagious while vesicles are weepy. Persons should not have direct contact (even clothing) with pregnant women, people who have not had chicken pox, other elderly persons, or those with suppressed immune systems. The older person with shingles may experience concerns with pain management and feel a sense of isolation, particularly if they live alone. Arranging for a family member or friend who does not have a high risk of infection to check on the older person at home is advisable.
Adapted from Mauk, K. L., Hanson, P., & Hain, D. (2014). Review of the management of common illnesses, diseases, or health conditions. In K. L. Mauk's (Ed.) Gerontological Nursing: Competencies for Care. Sudbury, MA: Jones and Bartlett Publishers. Used with permission.
Save
Rose's family knew that she was having some memory problems as well as balance issues when walking, but they told themselves that she was getting long okay and was safe to stay at home alone. After all, of Rose's three grown children, only one lived near her, and all the kids had their own families to tend to in addition to working. Rose told herself this as well. She didn't want to be a burden to her kids and she didn't want anybody in her house. She was 86 but she could still take care of herself…until one day.
That one day, Rose was in the attic trying to get down some Christmas ornaments. She was standing on a chair and fell, crashing to the floor. Rose felt a searing pain down her leg and she wasn't able to stand up. She lay there crying, not knowing what to do. She felt so confused. There was no phone in the attic, and no windows to call out for help. She couldn't get herself up and every time she moved, it hurt so bad that she stopped trying. Rose lay on the cold, wooden floor of that attic with no food, water, or help for 2 days before the neighbors got worried and called the police and her family. By the time they found her, Rose was confused and dehydrated, in bad shape. She had broken her hip when she fell, had a mild concussion and bruised ribs as well. She spent a week in the hospital and then another 3 weeks in a rehabilitation unit within the nursing home after hip surgery to repair the fracture. During her hospitalization, she was diagnosed with middle stage Alzheimer's dementia. When it came time for discharge from the rehabilitation unit, Rose's children felt she was no longer safe to stay at home alone and sent her to a memory care unit in a local nursing home. Rose felt like she had done something wrong. Because she fell, she could no longer live in her home and she felt her children didn't care about her. She didn't get to set her affairs in order or say goodbye to her beloved home and neighbors.
Recently, I have noticed this alarming trend in the care of older adults. Family members know a crisis is coming, but still they wait. They wait to get help into the home. They wait to tell the doctor what is going on. They don't seek help or even want to talk about the physical and mental problems they see in their older parent. The older adult is afraid of losing independence so she hides her problems. Sometimes the older person doesn't realize how serious her memory problems are until there is a crisis. Often the family is too busy or overwhelmed to deal with the realities of what is happening to their loved one. Maybe the older person refuses to have help…until that day when she no longer has a choice.
Planning ahead at the first sign of problems is a positive step for older adults and their families. It avoids the crisis scenario that so often happens. Waiting for the crisis to occur puts everyone in an uproar when it does. Wouldn't it be better and easier to avoid the crisis by planning ahead? Getting an assessment from the physician done early and making plans for help in the home as soon as it is needed can help avoid all the negative feelings and emotions that come when a catastrophic event occurs suddenly. You may even be able to avoid traveling down the crisis road altogether.
So, don't wait for the crisis to happen. Be proactive. Take action now. Taking the time to explore assisted living options or arrange for some help in the home could make all the difference in your loved one's quality of life and will help preserve positive family relationships for the future.
When you think about your sleep, you typically think about a period of restoration and rejuvenation. Your sleep is supposed to be the time your mind and body have an opportunity to rest and repair for the next day.
What most people don't know is that you could be sleeping incorrectly and making your pain worse instead of better.
How you could be sleeping incorrectly
You may not realize there's a specific technique to the way you sleep. Besides, you've been sleeping all of your life. How could you possibly be doing it wrong?
One of the most important factors to your sleep, especially when you're dealing with aches and pains, is your sleeping posture. Most sleepers sleep on their sides, and this can cause a lot of complications. For one thing, half of your body is crushed under the weight of the other half of your body. This can specifically target your pain points, so you'll wake up with soreness in your shoulders, hips, and knees.
It's not only sleeping on your side that can amplify your pain. Stomach sleepers are in an even worse position, putting undue stress on their lower backs all throughout the night, especially with thicker pillows that raise your neck up even higher.
You probably knew your sitting posture was important for your neck and back pain, but keeping proper posture while unconscious is a little more challenging to account for. Here's how you can work on it.
What you can do to correct your sleep
If you're a stomach sleeper, you should probably work on trying to get comfortable in other positions. It takes some time to adjust to sleeping in a new position, but it is possible to make a change. If possible, try to adjust to becoming a back sleeper. This is the best position for maintaining spinal alignment and decreasing your chances of waking up in pain.
If you're absolutely committed to stomach or side sleeping, there are ways you can fix your technique. As a stomach sleeper, sleep with less, or no, pillows to eliminate the arching up that causes lower back pain. As a side sleeper, try to keep your body elongated rather than curled into the fetal position. This can help reduce morning pains (and snoring, too).
Author's bio: Laurie Larson is a writer based in NC who writes on health topics.